Student-athlete profile: Cam Gibbar '13
---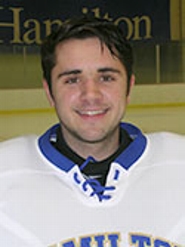 Cam Gibbar '13 has made more than 300 saves in three-plus seasons in goal for the men's ice hockey team. Cam is a three-year letter winner and two-time member of the NESCAC winter all-academic team. He was a sophomore when the Continentals won 14 games and captured the No. 1 seed in the NESCAC championship for the first time in 2010-11. Cam and his teammates host a pair of NESCAC games this weekend. Colby College visits Russell Sage Rink on Friday, Jan. 4, and nationally ranked No. 6 Bowdoin College comes to campus on Saturday, Jan. 5.

Q: Tell us a little bit about where you grew up.

I grew up in a suburb of Denver called Highlands Ranch. My parents' house is 10 minutes from the front range of the Rockies and about an hour from most of the major ski resorts, so it's always great to get back home whenever I can.

Q: How did you get interested in ice hockey?

My dad played a little bit growing up and my parents had me try out a few sports when I was little, but from a young age I knew I just wanted to play hockey. I was born in St. Louis, so I grew up a huge fan of Brett Hull, Grant Fuhr and the Blues.

Q: Did you play any other sports before you came to Hamilton?

I played baseball all through high school but stopped when I left to play junior hockey. Although I still like to think of myself as the heart and soul of the Psi Upsilon spring intramural softball team.

Q: What attracted you to Hamilton College and the hockey program?

The education was obviously a big motivating factor for me, so I knew I wanted to end up in the NESCAC. But when I visited here there was such a great core of guys on the team, it was a pretty easy decision after that.

Q. As a hockey goalie, how do you get excited about getting in the way of a hard, rubber puck that's flying towards the goal?

At this level, most goalies aren't really thinking too hard out there. We have to rely on instinct. The puck has a way of finding some tender parts of the body from time to time, but the gear is so well-designed these days that you just focus on your movements and making the right saves.

Q: You were a sophomore in 2010-11 when the team won 14 games and captured the No. 1 seed in the NESCAC Championship for the first time. What sticks out in your mind about that season?

The SUNY Oswego tournament was a huge moment for us, even though we dropped a close one to Hobart College in the championship. Oswego scheduled us as their first game thinking they would steamroll us, but we came out and beat them 5-1 in front of a big crowd. That's when guys began to realize what we were capable of, since Oswego was ranked No. 1 in Division III at the time.

Q: What is your favorite Hamilton men's ice hockey highlight from your three-plus seasons so far?

I think I selfishly have to go with my first college win up at Saint Anselm College in February 2011. That was a great feeling. I also have some close friends who play at Bowdoin College, and we've definitely had some fun battles at Sage Rink over the years.

Q: So far the team has a record of 2-5-2, but four of the five losses have been one-goal games. What are some things we can do to get back on the right side of those close contests?

We've obviously been great in our own end. We play a tight defensive game and Joe Quattrocchi has been rock solid for us. Coach Haberbusch has had us focus on our play in front of both nets -- get stronger on the puck and finish our chances -- in the last couple weeks of practice. We're going to see a lot more pucks bounce our way in the second half, and we're definitely going to surprise a lot of teams.

Q: What/who has been your favorite class and/or professor so far at Hamilton?

I'm lucky enough to be a history major here, and most of the people I've interacted with in that department have been awesome. Professors Ambrose, Paquette and Isserman have all taught me so much about what it means to be a good writer, so they stand out in my mind. I can't leave out professor Guttman in the creative writing department. She's such a talented poet and one of those professors I can always turn to for help.

Q. A two-part question...Will the NHL lockout end in time for there to be a 2012-13 season, and do you place more blame for the lockout on the league or the players' association?

I'm a glass half-full kind of guy, so I'm going to predict that there will be some NHL hockey this season. It's easy to blame the owners because the players are always blowing up my Twitter feed with their whining, but there are two sides to the problem. At the end of the day, though, it's a lockout not a strike. Regardless, go Team USA in the World Junior Championship!

Q: What will Cam Gibbar be doing five years from now?

I'm going into retail merchandising next year at American Eagle Outfitters, so hopefully I'll still be somewhere in that industry. I'll be trying to make my way back to Denver eventually, but five years seems a little unlikely.