Student-athlete profile: Gabe Klein '13
---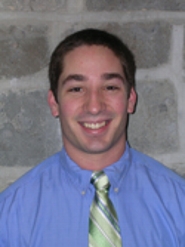 Gabe Klein '13 has a lot on his plate in his final year at Hamilton College. Not only will Gabe play for the baseball team in the spring, but he is the 2012-13 President of Hamilton's Student-Athlete Advisory Committee. Gabe, who transferred from Connecticut's Fairfield University after his freshman year, enjoyed a breakout season on the baseball diamond in 2012. He made the NESCAC all-conference team and the D3baseball.com New England Region all-region team after he led the conference in on-base percentage and set a team record for walks in a season with 26.

Q: Tell us a little bit about where you grew up.

A: I grew up in Mamaroneck, New York, in Westchester County. Its location is incredible, as New York City and all that it offers is essentially at your disposal. My favorite part of Mamaroneck is Manor Park, which is a beautiful park right on the Long Island Sound. It is a great place to read a book, think about life, or just watch the water.

Q: Did you play any other sports before you came to Hamilton?

A: I played soccer, hockey and tennis when I was younger, but injuries made me decide I should focus on baseball. Throughout my high school years, I was playing competitive baseball nearly year-round, always trying to improve my skills.

Q: How did you get interested in baseball?

A: I grew up when the New York Yankees' dynasty was starting, and I liked the nature of the sport. The intricacies of the game still amaze me. I love the history and how it relates to all types of people. Anyone can go to a baseball game and have a good time, as it is also a social event.

Q: You transferred here after your freshman year. What attracted you to Hamilton College and the baseball program?

A: I was enrolled in the business school at my prior school. While I was learning the specific skills an accountant needs, I was searching for a better liberal arts approach to education. Any of my friends from home will agree that an obvious (and positive) change in my thought process occurred after I enrolled at Hamilton. That is in large part due to my professors, coaches and peers who constantly challenge me. Hamilton baseball does not have a good history, but it did not discourage me from wanting to become a member of the team. I saw it as an opportunity to help change the culture, and although it has not resulted in many more wins during my first two seasons, the program is absolutely heading in the right direction.

Q: What has been your favorite Hamilton baseball highlight from your two seasons?

A: Last season we took two out of three games from Middlebury College at Royce Field. It was great to see all of my smiling teammates rewarded after a well-deserved series win.

Q: Are you excited for your senior season? What goals does the team have for this year?

A: I'm really excited for the season and am confident that our hard work will result in a better on-field performance. Last year we won one NESCAC West Division series, and this year we are looking to improve that number. Another goal is to compete in every game. If we give our best effort every day, there is no reason for anyone to hang their head.

Q: You are a member of SAAC here on campus. What is SAAC?

A: SAAC is the Student-Athlete Advisory Committee, which serves as a collective voice for all student-athletes to communicate with the athletic department. SAAC allows individual teams to directly express both issues and ideas to administrators. A few of our initiatives include brother & sister teams, a Bleed Blue game of the week series and a partnership with the Special Olympics. The first two initiatives are an attempt to encourage better attendance at all athletic events on campus. Varsity athletes are the largest group of students at Hamilton, but our voice is often drowned out by other groups. This year SAAC aims to get our voice heard by the broader Hamilton community.

Q: What is your role in SAAC and what do you like about it?

A: I am the President of SAAC. I like to help solve problems and enjoy interacting with other teams on campus. In the past, the group hasn't done much on campus, and it is rewarding to see the group serve a purpose within the community. Even though our sports may be different, there are a lot of common interests among athletes.
Q: What will Gabe Klein be doing five years from now?

A: Hopefully I will be doing something that makes me happy day in and day out while surrounded by good friends.