Student-athlete profile: Harry Keeshan '13
---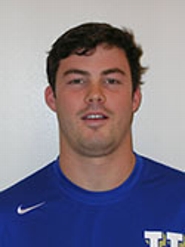 Harry Keeshan '13 (Greenwich, Conn./Brunswick School) will help lead the Hamilton College men's squash team this weekend at the 2013 NESCAC Championship, which will be held at Trinity College from Feb. 1 through Feb. 3. Harry, who just played his final home match at the Little Squash Center on Wednesday, has won 27 matches in his Hamilton career. He was named to the 2010-11 NESCAC All-Sportsmanship Team. The Continentals -- seeded eighth for the NESCAC championship -- take on No. 9 seed Colby College in the first round on Friday at 7 p.m.
Q: Tell us a little bit about where you grew up.

A: I grew up in Greenwich, Connecticut, and went to Brunswick School, which is in my hometown.

Q: Did you play any other sports before you came to Hamilton?

A: I played a variety of sports growing up, but only squash and lacrosse in high school.

Q: How did you get interested in squash?

A: Squash is a pretty big sport in my hometown and I grew up playing with my parents. Brunswick had a really strong program and squash became my primary sport in high school. I enjoyed playing on a team a lot more than playing in individual tournaments.

Q: What attracted you to Hamilton College and the men's squash program?

A: I knew that I wanted to play squash in college, which effectively narrowed my list to the Northeast. One of my sister's best friends went to Hamilton and spoke so positively about the school that I decided to visit during my junior year. I loved the campus, but meeting with Coach Jamie King ended up being the deciding factor. I could not have had a better college coach than Kinger. Hamilton is extremely lucky to have a coach who is respected by the entire squash community and every one of his players.

Q: What has been your favorite Hamilton squash highlight from all of your seasons?

A: It is too hard to choose a single event as a highlight. In a few years I do not think that I will remember particular matches or tournaments, but I will remember countless hours spent hanging out with the team on buses and in hotels. Squash introduced me to friends that I might not have met otherwise.

Q: You just played your last home match on Wednesday and the NESCAC Championship begins on Friday at Trinity. How are you feeling going into this weekend?

A: I am confident that we have the strongest team that I have been a part of during my four years at Hamilton. We are coming off very significant and close wins against Colby and Drexel, and I am excited to see what our team can do at the NESCAC tournament when it counts.

Q: You were selected for the 2010-11 NESCAC all-sportsmanship team. What type of characteristics do you think people with good sportsmanship possess? Why do you think it's important to show good sportsmanship?

A: I think it takes a lot of maturity to display good sportsmanship, especially when playing an individual sport such as squash. It can be so difficult to remain calm when you are not playing your best or a call does not go your way. But displaying good sportsmanship is as much a part of squash as winning, and is a characteristic that Kinger looks for and instills in all of his players. It is important to understand that people remember how you act a lot longer than how you play on a particular day, and a reputation you gain on court reflects upon the whole team.

Q: What will Harry Keeshan be doing five years from now?

A: Celebrating the fifth-year anniversary of being featured on the Hamilton web site.