Student-athlete profile: Jake London '14
---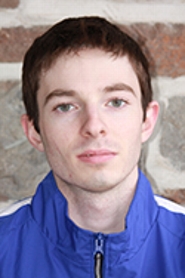 Jake London '14 is a member of the indoor and outdoor men's track & field teams at Hamilton College. Jake will help lead the Continentals at the 2013 New York State Collegiate Track Conference Outdoor Championships at St. Lawrence University on Friday and Saturday, May 3 and 4. He competed in the heptathlon during the indoor season and qualified for the 2013 Eastern College Athletic Conference Division III Indoor Championships in the high jump. During the outdoor season, Jake competes in the 200-meter dash, the high jump and the 4x100-meter relay.

Q: Tell us a little bit about where you grew up.

A: I grew up in Boxford, Mass., a town about 25 minutes north of Boston. Boxford has one stoplight and a thousand trees to every one resident. I attended high school at Masconomet Regional High School, which was located 20 minutes from the nearest Five Guys. My friends and I would spend our free time playing pickup basketball at the elementary school downtown, and then eating chicken fingers and mozzarella stick subs at the Boxford House of Pizza.

Q: What attracted you to Hamilton College and the men's track & field program?

A: I knew I wanted to compete in a varsity sport in college. Coach Hull, the head men's track and field coach, said that I could be competitive in a competitive NESCAC league. I also wanted the rewarding experience of being a part of a small and close team. The track team is a family, and I wanted to be part of a team of individuals that care about their teammates' achievements as much as their own.

Q: Did you participate in any other sports before arriving at Hamilton?

A: In high school I participated in both varsity basketball and varsity track and field. I played soccer and baseball when I was younger, but as I grew older my ability to bowl a 120 score outweighed the prospects of pursuing soccer or baseball at a higher level.

Q: You competed in the heptathlon in each of the last two New York State Collegiate Track Conference indoor championships. How did you decide one day that you wanted to compete in many different events and not just one or two?
A: Track meets can be long and there can be a lot of down time between events, especially if you are competing in only one or two. I am a very active person and sitting around does not fit my personality. I wanted to compete in a variety events because I wanted to stay busy. There are so many different events in track and field, and each one tests a different athletic ability. Learning a new skill and becoming proficient at it is incredibly rewarding. The heptathlon also challenges you to compete in events that aren't always comfortable for you. There is an aura of uncertainty in which anything could happen that I find to be highly exciting and slightly nerve-racking.

Q: What does your training regiment look like with so many events to prepare for, as opposed to focusing on just running or a few particular field events?

A: I am usually the first athlete in the field house and the last to leave every day during the season. My training is a constant balance between doing enough for my technical events, conditioning and strength training. Because I compete in so many explosive events, there is a high risk of injury. I must do all of this training and remain healthy throughout the season, as every day I am out with a nagging injury is a day I am not improving my shot put form or my pole vault technique. The same goes for eating right, drinking lots of water and getting enough sleep. In season, I try to emulate the training regiments of great multi-event athletes such as Olympic gold and silver medalists Ashton Eaton and Trey Hardee. Preparing for a heptathlon is a lifestyle, not just an activity.

Q: Do you have a favorite heptathlon event? A least favorite?
A: My favorite events are the ones I am most comfortable with -- the high jump and the 60-meter dash. These are the events where I usually score the most points. I have been high jumping since high school and I feel the most comfortable competing in these events. My least favorite events are pole vault and the hurdles, not because they are not fun (they are fun), but they are new events for me since coming to Hamilton. Both events are highly technical, and there is so much that can go wrong that they can be intimidating. However, these events can also be the most rewarding.

Q: What has been your favorite memory from all of your seasons with the track team?

A: We do so much together since it's such a small team, so there have been many memorable moments. Competing at the Eastern College Athletic Conference Division III indoor championships at the New York City Armory was incredibly exciting given the history of the track and the high level of competition on the track. If I had to choose one memory, however, it would absolutely have to be watching the Mighty Morphing Power Rangers Movie on the bus ride back after the NYSCTC meet.

Q: Being a member of both the indoor and outdoor track & field teams, you are busy competing and practicing throughout the entire spring semester. What is your advice for excelling both on and off the track?

A: The coaching staff is extremely helpful when it comes to academics. The track and field coaches fully recognize that "student" comes first in "student-athlete" and they are truly accommodating. I have become extremely proficient at reading and writing on the bus to and from meets. Prioritizing my studies and communicating with my professors when I need assistance are the keys to staying on top of the work load.

Q: What has been your favorite class at Hamilton?

A: I recommend Introduction to Ceramics to every Hamilton student, but my favorite class that appealed to my personal interests was Professor Klinkner's Legislative Process. The course was offered last fall and fit well with the 2012 election cycle.

Q: What will Jake London be doing five years from now?

A: I have no idea what my future self will be doing in five years. Although I hope it will involve politics. As long as I am having fun and doing something that benefits others, I know I will be happy.