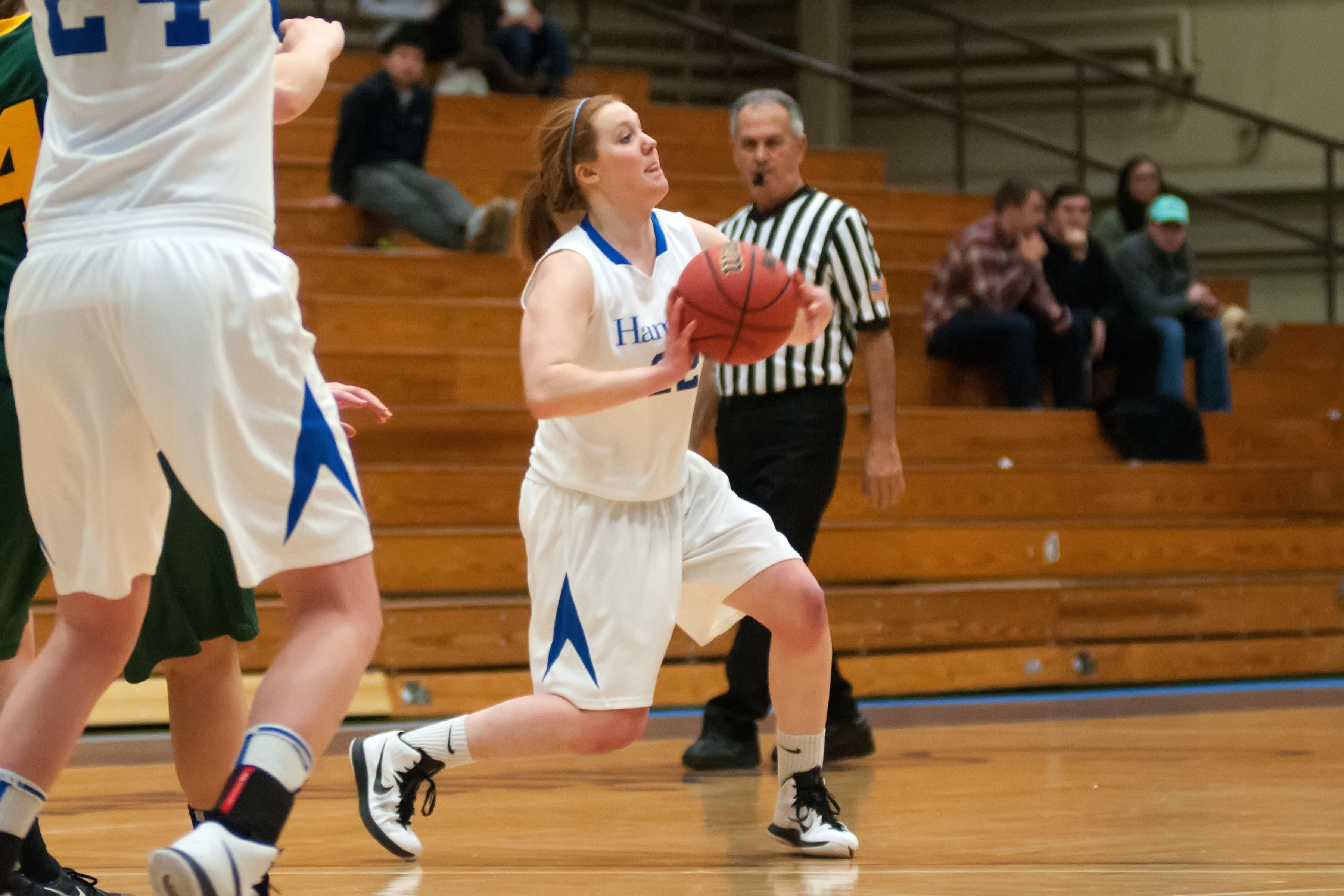 Adrianna Pulford '15 has started all 21 games at guard for the women's basketball team this season. Adrianna will help lead the Continentals into the final games of their regular season this weekend as they chase a postseason bid. Hamilton is at Wesleyan University on Friday, Feb. 13, and travels to Connecticut College on Saturday, Feb. 14. She is a two-time member of both the NESCAC Winter All-Academic Team and the NESCAC All-Sportsmanship Team. Adrianna is ranked seventh in the conference with 59 offensive rebounds.

Q. Could you tell us a little bit about where you grew up?
A. I grew up in Groton, Massachusetts. It's one of those picturesque New England towns where people go leaf-peeping. I've lived there my whole life and am thankful that my parents decided to settle down in Groton, as it was a great place to grow up.

Q. How did you become interested in basketball?
A. My parents are sports fans and I have always had a ton of energy. As soon as I could, I got into organized athletics. I played so many different sports growing up and basketball was one of them.

Q. Why did you choose to attend Hamilton?
A. Ultimately it came down to the fact that Hamilton has an open curriculum, I could play basketball here and everyone I had spoken with that went to Hamilton or knew someone here could not speak highly enough about it.

Q. What is your most memorable Hamilton women's basketball moment so far?
A. It probably has to be our comeback win against Middlebury during my sophomore year. We won at the very last second when Sam Graber '16 stole the ball and laid it in after two of our seniors hit back-to-back 3-pointers. It all happened in less than 30 seconds. It was truly remarkable and so fun to be part of that win. As an added bonus, Madie Harlem '13 scored her 1,000th point that game.

Q. Was there a basketball player you looked up to when you were growing up? Who was it and why?
A. Honestly, no. When I was younger, I was much more into baseball and followed the Red Sox closely. Consequently, the athlete I most admired was Nomar Garciaparra, the shortstop for the Boston Red Sox.

Q. Which academic/extra-curricular/community service project that you have been a part of has been the most rewarding? Why?
A. Project SHINE was the most meaningful community service-type project I have been involved in at Hamilton. I cannot imagine how difficult it would be not to speak the language of the country in which I live. As such, being able to help teach people English was really rewarding because I understood how important it must have been to their success.

Q. Where is your favorite place on campus?
A. My favorite place on campus is probably the admissions patio. It feels really secluded but has a great view and can function as a brief escape.

Q. As a two-time NESCAC all-sportsmanship team selection, what does sportsmanship mean to you?
A. To me, sportsmanship means playing for my teammates and for the love of the game. It also means respecting my fellow competitors.

Q. If you could have lunch with anyone, who would it be and what one question would you ask them?
A. I would probably have lunch with my high school headmaster and ask him what the rationale was behind a certain important decision he made.

Q. Who is your favorite professor? Why?
A. The professor that I most admire is Professor Werner. I took his Theory and Practice of Nonviolence class and truly felt changed by the experience. If I could be as content with my life and my role in this world as Professor Werner appears to be, I would be very happy.

Q. What internships/research projects have you participated in?
A. I've had internships in both investment banking and investment management.

Q. What do most people don't know about you?
A. Most people don't realize that I am a huge softie. I've been told that I come across as quite intense and occasionally intimidating. In reality, I melt at the sight of puppies and cried for two hours at the senior women's basketball banquet.