Student-athlete profile on Alice Grant '14
---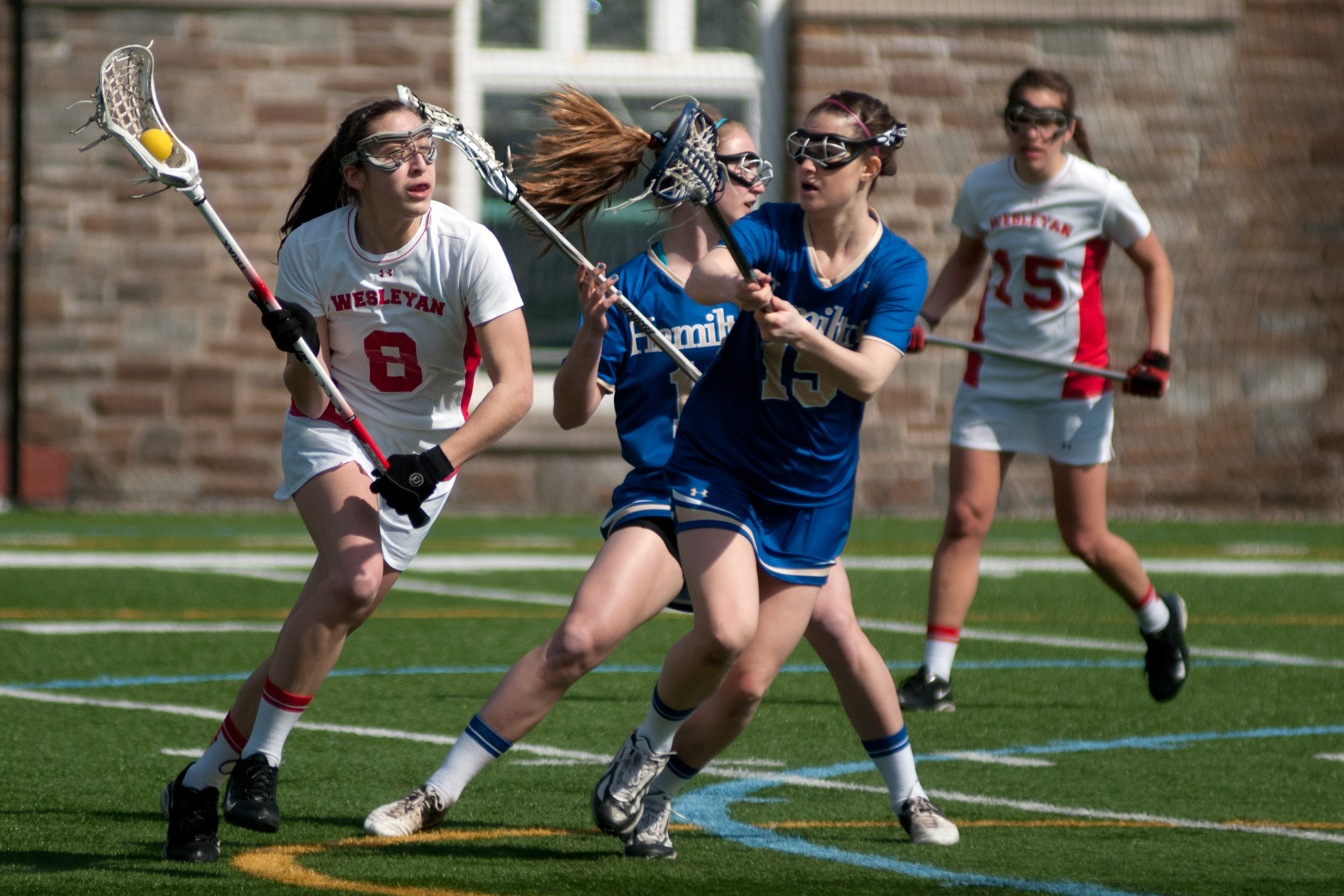 Alice Grant '14 is a starter on defense for the nationally ranked No. 13 Hamilton College women's lacrosse team. Alice and the rest of the Continentals host No. 8 Colby College for a NESCAC contest on Saturday, March 8, at noon. She is a two-time member of the NESCAC spring all-academic team and was on the 2013 Intercollegiate Women's Lacrosse Coaches Association Academic Honor Roll.

Q. Can you tell us a little bit about where you grew up?
A. I grew up all over the place. I was born in Texas and lived in Nashville, Tenn., until I was 10 when my family moved just outside of Boston. I spent every summer in New Hampshire and that is now where I consider home.

Q. How did you get interested in lacrosse?
A. I started playing in middle school on my school team and just fell in love with it instantly. I loved sports growing up and wanted to be on every team possible. Lacrosse was another sport and another team to join. I have two older brothers and neither of them played and I liked the idea of having a sport of my own.

Q. Did you participate in any other sports competitively before college?
A. So many. I come from a crazy competitive and active family so I grew up doing almost everything from organized soccer, lacrosse, ice hockey and softball to family cross-country skiing, downhill skiing, tennis, biking and so on. My parents made me pick three sports to stick with before starting high school, so I played soccer, ice hockey and lacrosse throughout my four years.

Q. What factored into your decision to choose Hamilton College?
A. I looked at all the NESCAC schools because I knew I wanted a small school that would challenge me academically and where I could play lacrosse. I loved the small class size at Hamilton and thought the campus was beautiful, especially the science center where I knew I would be spending a lot of time! During my visit before applying, I met many lacrosse players and knew that it would be a fun team and a supportive environment.

Q. Hamilton is ranked 13th in the Division III coaches poll and Colby is ranked eighth. What can fans expect to see in this Saturday's NESCAC game?
A. Every game in the NESCAC is a close and competitive game, no matter the rankings. I personally feel rankings reveal nothing about how a team will play on game day. It all comes down to which team shows up wanting the win more. Fans can expect to see an intense competitive game between two very talented teams, and expect to see Hamilton women's lax giving it their all and wanting it more.

Q. Six NESCAC teams are ranked in the Top 20 in this week's poll. What's it like to compete week in and week out in this conference?
A. As I said above, the NESCAC is insanely competitive. But that is what makes playing in this league so much fun. Every single game is a challenge and no game is an easy win. You have to focus on the next game and never look ahead in the schedule. Every day of practice is important in preparing for your next opponent.

Q. You were credited with three caused turnovers in last Saturday's one goal-win at Wesleyan. How would you grade your performance in that game?
A. It was a great game! The best part about it was that every single person on the team contributed. I have found that especially with defense, you cannot only look at stats. We work as a unit and back each other up. Those caused turnovers happen because I know if I take a chance, my D is behind me and will always have my back.

Q. In less than two weeks you will make your fourth trip to Florida for two games during Spring Break. What is the Florida experience like for you and the team?
A. Florida is amazing. Not only do we finally get manageable weather (yes, I am complaining about the snow and cold in Clinton), but it is also amazing bonding time for our team. This is the closest Hamilton team I have ever been on so I can't wait to be in Florida with these girls.

Q. As a two-time member of the NESCAC spring all-academic team, what do you think are some keys to effectively balancing athletics and your studies?
A. For me, time management and the ability to plan ahead are the most important tools for staying on top of academic work while in season. Getting things done before the due date when I know I have time can make life much less stressful while in season. I view practice as a break from my busy school day and a time to let go of all stress and just forget about what is going on in school. This break and release helps me refocus when it is time to work.

Q. What is your fondest Hamilton women's lacrosse memory that can be shared?
A. This is tough because honestly there are so many. I think my fondest memories have to do with the tailgates that our parents put on for us after games. Not only is the food delicious, but it is so amazing to see what supportive family and friends my teammates and I have. Those people stand out in the freezing cold for us! And occasionally the karaoke machine is taken out.

Q. Do you have a favorite professor or a favorite class from your time here at Hamilton?
A. I have tried to take a very wide range of classes while at Hamilton, and have loved many of my classes and professors. To give a few shout outs … Elaine Heekin is one of the nicest women in the world and if you haven't taken a dance class with her, do it. And Professor Miller has taught me more biology than I ever thought I could know. I have taken anatomy, embryology and my final thesis with her. She certainly knows how to challenge you and push you to do your best.

Q. What are your plans after graduation?
A. I will be attending Yale School of Nursing to become a nurse practitioner after graduation.