Student-athlete profile on Allie Reeder '14
---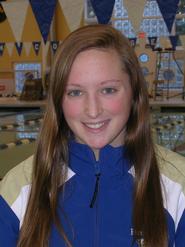 Allie Reeder '14 will help lead the Hamilton College women's swimming and diving team into the 2014 NESCAC championships this weekend at Williams College. The meet begins on Friday, Feb. 14. Reeder is a two-time member of the NESCAC winter all-academic team and was honored by the College Swimming Coaches Association of America for academic performance in 2012.

Q. Can you tell us a little bit about where you grew up?
A. I was born in Vermont but I have lived in Wilmot, New Hampshire, since the fourth grade. I went to Kearsarge Regional High School with only 200 kids in my graduating class so I am very used to the small-town feel of Hamilton.

Q. How did you get interested in swimming?
A. I started taking swimming lessons around the age of 6 from a woman who also coached a swim team. After passing all the levels, I had the choice of joining the swim team or just being done with swimming. I loved being in the water and my parents were looking for an outlet for my energy, so I joined the swim team and have been participating in the sport ever since! Since then, I have been on a total of six different swim teams, including team.

Q. Did you participate in any other sports competitively before college?
A. I played soccer from elementary school until freshman year of high school. I also played lacrosse and ran track for three years in middle school. However, land sports were never my forte!

Q. What factored into your decision to choose Hamilton College?
A. When I was looking at colleges, I was immediately drawn to the NESCAC schools because I was looking for a place with a small, close-knit community that also had great academics. What made Hamilton stand out for me was the open curriculum policy. I liked the idea of not having to follow set requirements and having more freedom to explore different courses. As soon as I arrived on the first day of orientation I knew I had made the right decision!

Q. Which events do you regularly compete in? For those readers unfamiliar with swimming, please describe those events.
A. I swim sprint and middle-distance freestyle with some occasional backstroke. This means that I compete in the shorter races, usually the 100- and 200-yard freestyles. In the 200 free I swim eight lengths of the competition pool and in the 100 free I swim four lengths. I am always in awe of my teammates who swim the mile, which is 66 lengths!

Q. The NESCAC championships are at Williams this weekend. What are some goals you and the team hope to accomplish?
A. This weekend at NESCACs I think the most important goal that we have as a team is to have fun! It can be a long, stressful weekend and it is important for us to remember to have fun with it. Of course, we're all hoping to swim fast and this is a much less daunting task when you can let loose and laugh with your teammates.

Q. You are approaching the end of your college swimming career. Have you had any time to reflect or will you do that after the season is over?
A. I have been asked numerous times this season how I feel about the end of my college swimming career. So far I have been feeling pretty calm about it but I don't think I will truly be able to give an answer to that question until the season actually ends. Swimming has been a big part of my life for almost 15 years and even though I'm nearing the end of my college career, I think it will be a lifetime sport for me!

Q. What is your favorite Hamilton swimming and diving memory?
A. All of my memories as a part of the Hamilton swimming and diving team are great ones! I think one of my favorite memories is from NESCACs freshman year when I realized how lucky I was to be a part of this amazing team. On the first day of the meet, all the girls on the team were dancing around and having a great time on the pool deck. I looked around at the rest of the teams and saw that they were all sitting on their benches looking serious. Since then I have always taken note of the environment on the pool deck, and Hamilton continues to be the team that has the most fun!

Q. You are a two-time member of the NESCAC winter all-academic team. What is the key to effectively balancing athletics and your studies?
A. Being on the swim team is a big-time commitment but I have never found that it interferes with my schoolwork. After team dinners, most of the team will head to the library to do work. Having swim practice actually helps me to use my time more efficiently because it forces me to plan when I'm going to do work for my classes.

Q. Swimming is held during the summer Olympics, but if you could compete in any winter Olympic sport, which would it be and why?
A. Definitely speed skating! I would prefer the long track because it looks less scary and dangerous! It is similar to swimming in that you compete in your own lane but you get to stay dry! I have also always wanted to learn how to skate well!

Q. Do you have a favorite professor or a favorite class from your three-plus years here at Hamilton?
A. All my classes at Hamilton have been wonderful and it is hard to pick just one as my favorite. Last semester I took a senior seminar in math on the topic of Graph Symmetries with Professor Boutin that I absolutely loved. Neuralplasticity with Professor Weldon was another one of my favorite classes at Hamilton.

Q. What are your plans after graduation?
A. I am still in the midst of job-hunting, but after graduation I hope to work for a year while I am applying to medical schools. I spent this past summer working at the Burke Rehabilitation Hospital in White Plaines, N.Y., and it helped solidify my desire to attend medical school.