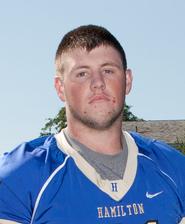 Brendan Cunningham '15 is an offensive lineman on the Hamilton College football team. Brendan will help lead the Continentals into a NESCAC home game against Williams College at Steuben Field on Saturday, Oct. 25, at 1 p.m. He graduated from Babylon High School on Long Island and is a public policy major.

Q. Could you tell us a little bit about where you grew up?
A. I'm from Babylon, New York, which is a small town on the south shore of Long Island. It's a really tight-knit community, which I loved, especially since the whole town would usually come out to our Friday night football games.

Q. Knowing that your hometown is on Long Island, are you a Giants or a Jets fan?
A. I'm a Jets fan, and I get a lot of heat for that up here since so many of my friends are Giants and Patriots fans. Besides those back-to-back AFC Championship appearances a few years ago, it's been a rough ride. But that fact will make it that much sweeter when they finally win it all, even if that's not for another 20 years.

Q. How did you become interested in football?
A. My sixth grade teacher also happened to be the head coach of the varsity football team, and I was a water boy for the team that year. Our football team is one of the most successful athletic programs in Long Island history and I knew I wanted to be a part of that. I started playing the following year in seventh grade.

Q. Why did you choose to attend Hamilton?
A. The excellent academic reputation and the open curriculum were immediate incentives for me but I just loved the campus as soon as I set foot on it for the first time. All the students were so friendly and welcoming, as were the coaches and players in the football program. I had offers to play football at Trinity and Hobart, which are very successful programs, but I wanted to play an immediate role in the challenge of turning around Hamilton's program. With the coaching staff and players we have in place now, it's inevitable that the program will finally turn the corner and have a great future.

Q. What can fans expect to see in the Williams game this Saturday?
A. It's going to be a physical, hard-fought battle. We're going to play our hearts out. For the other seniors and me, it's our last shot at Williams. We've competed neck-and-neck with them every year since I've been here, and it's a great opportunity for us to establish ourselves as legitimate contenders around the league by sending them out of here with a loss.

Q. What is your favorite Hamilton football memory so far?
A. We beat Bowdoin 14-13 at home my sophomore year, and I blocked my man to the ground when my teammate Jeff Hopsicker '15 threw the game-winning touchdown pass. I didn't even see the play but I knew from the roar of the crowd that something big happened. We were ecstatic.

Q. Could you share your experience from the sports camp you attended in Tampa, Florida, last winter?
A. It was one of the best things I've ever had the pleasure of being involved with. A few years ago I got in touch with Sam Fuld, who was an outfielder for the Tampa Bay Rays at the time and a fellow type-1 diabetic athlete. Sam started a sports camp for kids with type-1 diabetes down in Tampa and was looking for professional and collegiate diabetic athletes to coach different sports. I went down there last winter and helped out with the football drills and competitions. It was really cool being around 100-plus other people who were dealing with the same thing as me. Sam now plays for the Oakland A's but he's going to continue hosting the camp down in Tampa and I'll be heading down there again this year. It's been really awesome getting to know Sam on a personal level as we frequently keep in touch. We're hoping to get Chicago Bears quarterback Jay Cutler (also a type-1 diabetic) to help out this year, so that's really exciting.

Q. What extra-curricular activities do you participate in?
A. I play tuba in the brass ensemble and I'm the Philanthropy Chair for my fraternity, Delta Upsilon. I'm also a member of the Hamilton Democrats and I participated in the annual Family Weekend debate a few weeks ago.

Q. Where is your favorite place on campus?
A. I would have to say The Little Pub. My friends and I go there for lunch pretty much every day, and it's just a cool place with a great atmosphere. The food is always really good too. I always want to play pool when I'm there but the same four kids are always hogging the table. Hopefully I'll get a chance to show off my skills one day.

Q. If you could have lunch with anyone who would it be, and what one question would you ask?
A. Dave Matthews, hands down. The Dave Matthews Band is my favorite musical group and I would probably ask him what his favorite live performance was.

Q. Is there a class you have taken that has been especially rewarding/interesting?
A. I'm currently taking a government class on political parties and elections with Professor Rosenfeld that I'm really enjoying. I worked on a campaign over the summer, so it's interesting to be able to relate what we talk about in class to a real-life experience. It's also a great course because so much of what we discuss is relevant as the midterm elections in Congress are only two weeks away.

Q. What is something most people don't know about you?
A. I started learning the bass guitar on my own a few years ago. A few of my best friends back home are great musicians and it's a good stress reliever to play with them every once in a while.