Student-athlete profile on Bryan Hopper '14
---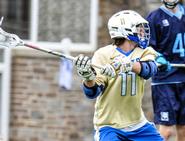 Bryan Hopper '14 is a midfielder on the Hamilton College men's lacrosse team. Bryan is a two-time team captain and was selected to the 2013 NESCAC all-conference team. He has scored 41 goals and added 15 assists for 56 points and picked up 60 ground balls in 32 games. Bryan and the Continentals host nationally ranked No. 18 Bowdoin College for a NESCAC game at Steuben Field on Saturday, March 15, at 1 p.m.

Q. Can you tell us a little bit about where you grew up?
A. I grew up in Ridgewood, New Jersey, which is just about 25 minutes outside New York City. I grew up going to school in Ridgewood, but in high school I wanted to go to boarding school and ended up graduating from The Lawrenceville School, which is down by Princeton. I have two younger sisters Mia and Madeline, who are a junior in college and a senior in high school, respectively. And I have a black lab; we've always had one since I was young.

Q. How did you get interested in lacrosse?
A. Ridgewood has a very proud lacrosse tradition. The main sport in town is lacrosse – kind of like football in Texas you could say. I started playing in third grade, which is the youngest program they have in town. I mainly played because it was fun and all my best friends played. There aren't many sports where you get handed a metal stick and are told it's OK to go hit someone with it.

Q. Did you participate in any other sports competitively before college?
A. I played ice hockey competitively up until my sophomore year in high school. I started playing hockey probably a few years before I started playing lacrosse because it was my dad's favorite sport. Memories of youth hockey are still some of the fondest sports memories I have. Hockey and lacrosse utilize a lot of the same skills so it was a smooth transition from the ice to the lacrosse field.

Q. What factored into your decision to transfer from Lehigh University to Hamilton College three years ago?
A. I had a great experience at Lehigh, academically and athletically. That being said, I had come from a small boarding school with only 800 students and Lehigh's total student population was closer to 6,000. I missed the atmosphere of a small school, so after my freshmen year I decided to look at small liberal arts colleges. Needless to say, things worked out great and I have enjoyed my three years at Hamilton.

Q. What can fans expect to see at this Saturday's NESCAC home game against Bowdoin?
A. Two very competitive teams playing a very important conference game. Every single NESCAC game is intense and goes down to the wire. It's going to be a knock-down, drag-out game.

Q. This Saturday marks the third time you have played a ranked opponent in five games so far. Did you realize the first part of the schedule would be this tough before the season started?
A. Yes, we knew that going into the first two weeks of our season we would be playing very competitive teams. That was a challenge we were up for and a reason why we put so much emphasis in our off-season training. We want to be ready to roll the moment February 15th comes around so that we can get into playing shape before the season opens. We knew from preseason polls that teams were ranked this number and that number, but preseason polls don't mean anything. As a team we knew that these first five games were going to be challenges and we liked that. We get better every time we're challenged.

Q. The team has already had three games decided by one goal this year. Is there a reason for all the close games or is it just one of those things?
A. Last year we had five one-goal games and the year before that we had seven one-goal games. It is just part of playing in the NESCAC. Every game is competitive and that's what makes playing in the conference so much fun. Of course, it's always nice to come out on top of those one-goal games but you learn from your mistakes and get better from them.

Q. In less than a week you will travel to Florida for two games during spring break for the first time since 2009. What does the team want to accomplish with this time away from campus?
A. To beat Amherst and Keene State who are very solid opponents. Yes, we are on spring break and in some warmer weather (thank God), but at the end of the day we are going down there to play two lacrosse games. It will be a great bonding experience for everyone but make no mistake about it, we are going down there to win lacrosse games.

Q. As a two-time captain of this team, what makes someone an effective leader?
A. A leader leads by example. That was something I was preached at a young age. As a captain, you set the standards for what is acceptable and what is your measure of success. My main job is to keep guys motivated and focused on our goals as a team. Communication is also a huge part of being an effective leader.

Q. What has been your greatest Hamilton men's lacrosse moment thus far?
A. It's hard to pick out just one. On the field, it was definitely beating Amherst at their place my sophomore year when they were ranked No. 3 in Division III. Off the field, it's a toss-up between paint balling as a team or last year's trip to Golden Corral in Bethesda, Maryland.

Q. Do you have a favorite professor or a favorite class from your time here at Hamilton?
A. Every class and/or professor here at Hamilton has been top-notch. If I had to pick a favorite professor it would probably be my advisor Elizabeth Jensen. She has helped me tremendously in navigating the trickiness associated with transferring and has always been there to support me and point me in the right direction. I've had two classes with her in economics that were awesome, and she always brings a bowl of candy to class.

Q. What are your plans after graduation?
A. To work for a year or two, then apply for Officer Candidate School and serve my country.