Student-athlete profile on Conor Collins '14
---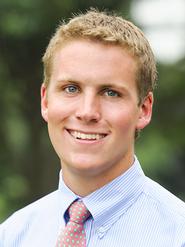 Conor Collins '14 is one of the team captains for the Hamilton College men's swimming & diving team. Conor leads the Hamilton men and women into a home dual meet against Rochester Institute of Technology at Bristol Pool on Saturday, Jan. 18, at 1 p.m. In 2013, Conor was part of an 800-yard freestyle relay that finished in third place at the NESCAC championship and earned all-conference honors.

Q. Can you please tell us a little bit about where you grew up?
A. I grew up in Brookfield, a small town in western Connecticut. It's about 90 minutes north of NYC and 20 minutes from the NY state border. It's definitely the sort of town where people escape from the city to start a family in a rural setting. We also had a great high school swim program, which ended up being a plus for me.

Q. How did you get interested in swimming?
A. I was all over the board as a kid. I tried my hand at just about every sport (with varying success), so when I was 8 years old I signed up for my local club team to try out swimming. I took an early liking to the sport and things just progressed from there. I got more serious about it as I got older, and by the time I reached high school I had pretty much committed myself fully to the sport.

Q. Did you participate in any other sports competitively before college?
A. While swimming was the major sport for me in high school, I was also a member of my school's varsity tennis team. It was definitely a more casual involvement, but tennis is a blast to play and I'm thankful to have learned the sport. It is something that I still like to do recreationally in the spring after the swim season wraps up. Last year our team held the first "Swimbledon" tennis tournament, and I'm hoping to take home the 2014 title.

Q. What factored into your decision to choose Hamilton College?
A. I decided early on that I was looking for a small, liberal arts school, but I initially had some trouble narrowing it down from there. My sister graduated from Hamilton in 2009, and at first I was pretty sure that I wanted someplace new to call my own. That all changed when I stayed overnight with the team during my senior year of high school. Head coach T.J. Davis and Taylor Hogenkamp '13 set up a great visit for me and I got to experience many different elements of life as a Hamilton student-athlete. I knew the next morning that Hamilton was the place for me. The rigorous yet collaborative academic environment coupled with competitive Division III athletics was exactly what I wanted in a college, and I have been beyond satisfied with my experience.

Q. For those not as familiar with swimming, can you give readers some insight into the events you specialize in?
A. I would consider myself a mid-distance freestyler, focusing mostly on 200 yards (8 lengths). This year I have also had the opportunity to try out some sprinting by doing the 50 and 100, which I have enjoyed as well.

Q. The men's and women's teams just returned from a week-long training trip to the Florida Keys. How does that trip help the team as you move forward into the last six weeks of the season?
A. Not exaggerating, the team from before training trip is always very different from the team that comes home from the trip. We are now a fitter and stronger team after a week of intense training, but just as importantly, we are overall a much closer group. This strong team unity will help us motivate and challenge each other to close out the season on a high note, which will be crucial to our success at the NESCAC championships.

Q. As one of the team captains this season, what makes someone an effective leader?
A. Experience and a good attitude are crucial for an effective leader. As a freshman I remember heavily relying on the knowledge and experiences of my older teammates to help me navigate my first college swim season, and I hope to be offering that same guidance to those who are new to the team. Swimming is a sport that can be just as challenging mentally as it is physically, so often times keeping a positive attitude is the best way to get yourself and your teammates through a grueling workout. I frequently try to remind myself of this on the especially tough days.

Q. You were part of an 800-yard freestyle relay that earned all-conference honors at the NESCAC championship for the fourth time in the last five years in 2013. What is it about that event for the men's team?
A. The 800 free relay is something that has become a very special tradition for our men's team. We are not a huge team, and there are times when the conference can seem pretty dominated by two or three teams at the championship meet. The fact that this relay has consistently been able to place among the best in the NESCAC is something that we hold very close to our hearts. It shows how scrappy and tenacious we are when we band together. Being a member of that all-NESCAC relay last year is among my best swimming memories, and I am confident that we can again make a name for ourselves this year.

Q. This Saturday the teams host Rochester Institute of Technology -- a program Hamilton hasn't competed against very often historically. What can fans expect from Saturday's dual meet?
A. We have not competed against RIT in my time here, so it will be a pretty unfamiliar challenge for us. There should be some solid match-ups in some of the stroke events and shorter-distance freestyles. Overall, fans should keep an eye out for a lot of sprinting. We will be swimming the shorter-distance relays, so a lot of the splits should be pretty quick.

Q. Do you have a favorite Hamilton swimming and diving team memory that can be shared?
A. My sophomore year at the NESCAC championship, I tied another swimmer in the 200 freestyle and had to compete in a 1-on-1 swim-off in order to qualify for a particular heat of finals. When I got up on the blocks, my entire team was lined up on the side of the pool, cheering me on enthusiastically. Their energy and support gave me the confidence and drive I needed to edge out the other swimmer. It was so memorable because my teammates helped turn an initially daunting situation into a very rewarding one.

Q. Do you have a favorite professor or a favorite class from your three-plus years here at Hamilton?
A. A class I took this past fall called Scanning Electron Microscopy is one that I really enjoyed. The fact that I am an economics major at a liberal arts school and yet can still use a piece of equipment as high-tech and expensive as a scanning electron microscope says a lot about the school's resources and ability to let you study what you want. In addition to being able to use the machine for an entire semester, I got to keep some of the images that I created -- those are going straight to my fridge.

Inside my major, I really enjoyed Industrial Organization with Professor Jensen. I can make real-world connections to the things I learned in that course on pretty much a daily basis. She is also my academic advisor, and taking a course with your advisor is something I recommend to all students.

Q. What are your plans after graduation?
A. In July I will begin work in New York City as a Consultant for FactSet Research Systems, which is a company that provides real-time financial data to banks and other investment professionals. While I am looking forward to all that lies ahead post-graduation, I am still very excited to make the most of my last semester on The Hill. I have really loved my time here and I look forward to ending it all on a good note -- both in and out of the pool!