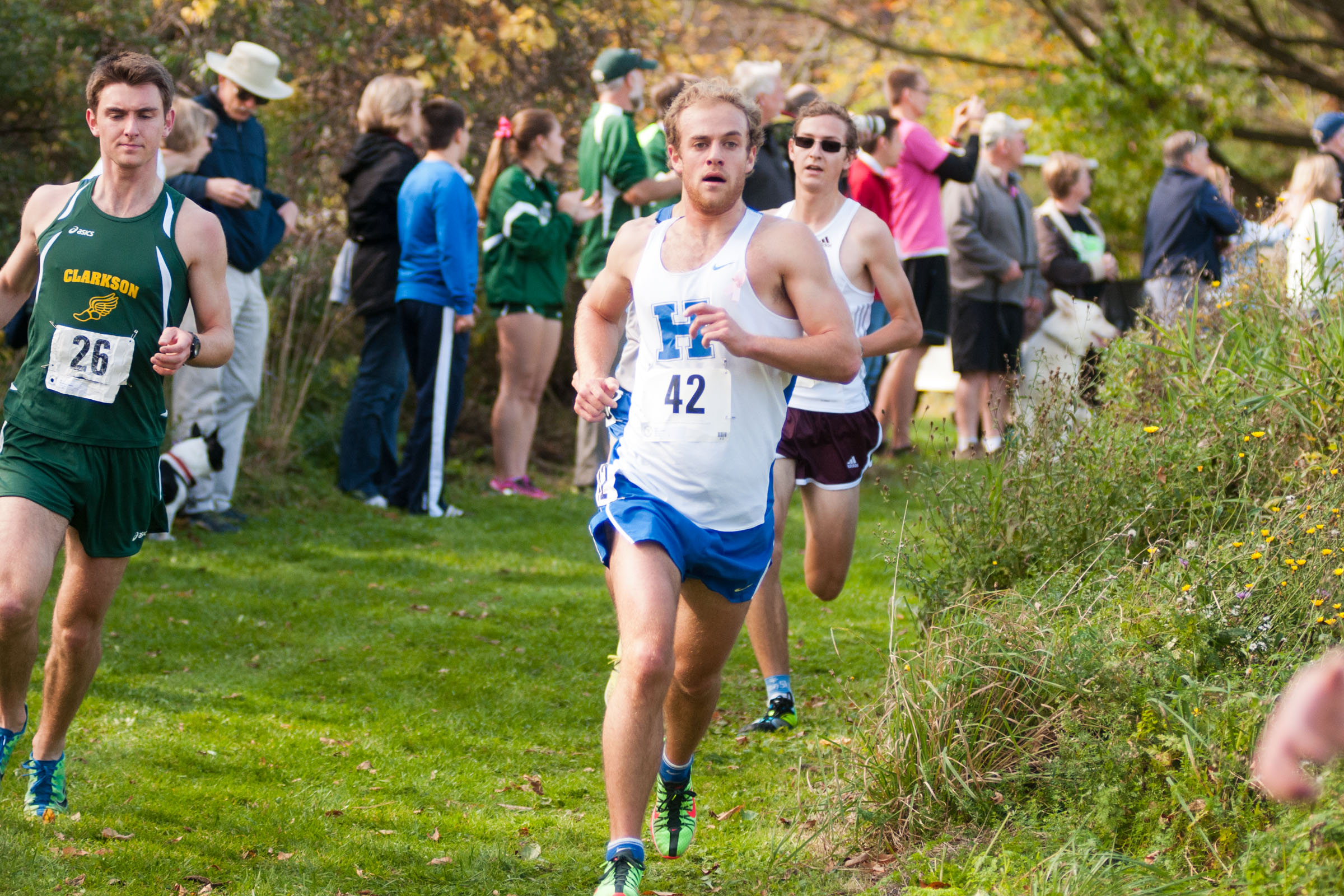 Dan Baer '15 helped lead the Hamilton College men's cross country team to second place at the 2014 New York State Collegiate Track Conference Championship and to eighth place out of 41 teams at the 2014 NCAA Division III Atlantic Regional Championship. Dan is a two-time member of the NESCAC fall all-academic team. He recorded the best 8-kilometer time of his Hamilton career in his last race -- 26:35.5 at the NCAA regional meet on Nov. 15.

Q. Could you tell us a little bit about where you grew up?
A. I grew up in Lenox, Massachusetts, a small town of 4,000 people in the far western part of the state only a few miles from New York. Much like Hamilton, it seems like I know everyone there and can't go anywhere without getting caught in conversation. It's your "typical" quiet New England town which makes it a great place to relax during Thanksgiving break and get ready for the last few weeks of the semester.

Q. How did you become interested in cross country?
A. After playing soccer through ninth grade, I decided it just wasn't for me, and a friend and I realized cross country would be a good option as we always excelled at the fitness component of practice. We set out to bring back a Western Massachusetts championship and two years later we achieved our goal.

Q. Why did you choose to attend Hamilton?
A. After growing up in a small town I wasn't quite ready to give up a tight-knit community, but at the same time I wanted to go somewhere that would allow me to explore a whole host of topics. I found the community at Hamilton is truly amazing and I'm always amazed at how far it reaches. At the same time, I really enjoy all the different lecturers and academic experiences available to Hamilton students that are often hard to find at many schools our size.

Q. Your best time this year was 35 seconds faster than your best time from the previous three. To what do you attribute this season's performance?
A. The biggest thing was to use all the lessons I learned from the past three years, including what type of training works best for me to prevent injury and to get to top shape as the foundations to build a training program with Coach Hull that would put me in the best position for a successful season. Taking that to the next step was just committing 100 percent to that plan and doing whatever it took to get my workouts in over the summer, whether it was getting up at 5:30 to run before work, hopping on the treadmill after dark, or taking my lunch break to get a lift in. This mindset has definitely carried through to the school year and helped me juggle all my course work and cross country.

Q. As one of two seniors on the roster, did you assume a responsibility to take on a leadership role this year?
A. I would say so, and I was fortunate enough to be elected as a captain by my teammates. The real difference with that was that it forced me to think critically about both individuals and the team to specifically figure out how we could get better. Then, I worked with Coach Hull to fine tune the system so that people felt at their best for any given race.

Q. What is your favorite Hamilton cross country memory?
A. Bringing home the second-place trophy from the state meet this year and giving Coach Hull his best team finish at that meet during his time here has been the high point. The team has come a long way during the past four years and it was really nice to see those concrete results. I know that there are a lot of better things to come and this is just the tip of the iceberg, I'm really hopeful I'll have the chance to come back and see even greater results as a spectator!

Q. What internships/research projects have you participated in?
A. This past summer I was fortunate enough (in large part through the help of the alumni network) to intern with GE Transportation in Chicago. At the end of the summer I was offered a position to return in a full-time capacity in the Financial Management Program after graduation and I cannot wait to start next July.

Q. Where is your go-to place for studying?
A. If it's open (which it rarely is), I'm a huge fan -- maybe even a groupie -- of the awkward back corner of KJ that's on the almost "second-and-a-half" floor. It is really quiet but I don't feel like I'm locked up.

Q. What has been the most interesting part of your majors so far?
A. I think the most interesting part about double majoring in government and economics is how much the two interact, both in the classroom and in the real world. While I would have done well had I only pursued one, the double major has helped me develop a more complete understanding of the two topics and how important it is to understand how each impacts the other.

Q. What was your favorite class outside of your major? Why?
A. Ceramics with Professor Murtaugh. It required an entirely different skill set than all my other courses and got me thinking in a different way, which was a very nice change of pace.

Q. If you could have lunch with anyone, who would it be and what one question would you ask them?
A. I'd have lunch with Jesse Owens because he was not only an exceptional runner but was able to succeed in all his accomplishments despite a very prejudiced environment. I'd ask him if he could go back to before his Olympic championships, what if anything would he do differently and what would he make sure to do the same.