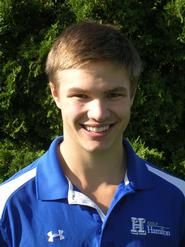 John "Gipper" Gailor '15 is a member of the Hamilton College men's golf team. Gipper shot a pair of 79s in the NESCAC Golf Championship Qualifier at The Skenandoa Golf Club in Clinton, N.Y., on Sept. 27 and 28, and helped lead the Continentals to second place as they qualified for the 2015 NESCAC Championship. That event will be held on Middlebury College's campus in late April, and the winner earns a trip to the NCAA Division III Golf Championship.

Q. Could you tell us a little bit about where you grew up?
A. I grew up in Granby, a small town in northern Connecticut. It's a pretty rural town with a lot of small farms and cows, so there's not always a lot to do. The area around us is really nice, though, and there are a lot of good golf courses with some spectacular views.

Q. How did you become interested in golf?
A. I first became interested in golf when I was very little because my dad played. He would take my brother and me to the driving range with him or to a pitch-and-putt course where we really learned to play. I played a lot with my brother during summers growing up and really became serious about golf when I entered high school. I also was, and still am, an avid mini-golfer.

Q. Why did you choose to attend Hamilton?
A. I chose to attend Hamilton because I was really impressed with the community and how friendly everyone was. I felt at home right away when I visited and with great academics and a beautiful campus, there wasn't much not to love.

Q. As a senior, what does the opportunity to play in the NESCAC Championship Qualifier on Hamilton's home course mean to you?
A. It means a lot. Having played Skenandoa for four years, we are very comfortable on the course and have a little bit of a home-course advantage. The team has qualified for the NESCAC championship before during my time on the team, but as a senior, it would mean a lot to qualify one more time and have a chance to go to the NCAA championship in the spring. This team is one of the most talented we've ever had, and to qualify at home with the support of friends and family would make it even more special. It would be a great way to finish my last home tournament.

Q. Anyone that is a college football fan already has a good idea about the answer to this, but what is the story behind your nickname?
A. That's probably the question I've been asked most in my life. My dad is a die-hard Notre Dame football fan and wanted to name his kids after some of Notre Dame's most famous players and coaches. My brother got the name Knute after Knute Rockne, and I was named after George Gipp, who is the subject of the famous "win one for the Gipper" speech that Knute Rockne gave to his team before a big game. I'm actually in the process of legally changing my name to include Gipper. So, come springtime, Gipper will be more than just a nickname.

Q. What is your favorite Hamilton golf memory so far?
A. My favorite Hamilton golf memory has to be the Saturday round of our home tournament during my junior year. The entire team dressed up in old-school golf attire, complete with the knickers, shirts and ties, and newsboy hats. It was a lot of fun planning the idea and seeing the reactions when we got to the course. To top it all off, the team had its best tournament of the season.

Q. What extra-curricular activities do you participate in?
A. I've spent a lot of my time at Hamilton serving in various capacities as a member of the Student Assembly. I have always played in several intramural leagues (I'm still waiting for the coveted champions T-shirt), and this year I am a member of HALT (Hamilton Alumni Leadership Training).

Q. Where is your favorite place on campus?
A. My favorite place on campus is the golf team's indoor putting green. During my sophomore year my brother, who was a senior on the golf team at the time, built a putting green for the team to use during the off-season with the help of Greg Scott '14. Last year, my co-captain Mac Pivirotto '15 and I went to the golf room late at night and painted an entire wall with a big Hamilton H. We never told anyone on the team about our plan until it was done the next day; it was fun to surprise the team with it. Between all the time I've spent painting the walls and practicing there with a lot of my best friends on the golf team, the room really means a lot to me.

Q. Is there a class you have taken that has been especially rewarding/interesting?
A. The Early U.S. History class I took with Professor Ambrose has probably been the most interesting and rewarding course I've taken at Hamilton. Professor Ambrose helped us look at American history from a really interesting perspective and in ways I never had before. His lectures were incredible and I was always very excited to go to class. It was definitely a challenging course between reading and papers, but it was worth the time put in.

Q. What is something most people don't know about you?
A. I do a lot of Bikram Yoga in the summer. It's 90 minutes of pretty intense yoga in a 105-degree room. It's a great workout and you feel really good when you're done.