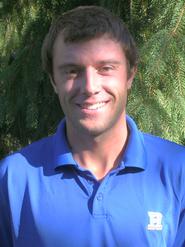 Greg Scott '14 has enjoyed a fantastic career for the Hamilton College men's golf team. In 2011, Greg made the Golf Coaches Association of America's (GCAA) Division III All-Freshman Team and became the third golfer in program history to receive All-America honors. He is a three-time member of the GCAA Northeast Region All-Region Team, the NESCAC All-Conference Team and the NESCAC Men's Golf All-Sportsmanship Team. His Hamilton career scoring average for 18 holes is 75.4.

Q. Can you tell us a little bit about where you grew up?
A. I grew up just outside of Middlebury, Vermont. It's a great area. As a kid I was into skiing, snowboarding, obviously golfing and basically anything that let me get outside. Vermont is full of close-knit communities. I was very fortunate to live in such a supportive environment. When you know almost everybody in your town, you're going to be able to build great relationships. I will always be grateful for growing up in my community.

Q. How did you get interested in golf?
A. My dad was the assistant superintendent at Ralph Myhre Golf Course at Middlebury College, or as we call it, The Ralph. He used to take my brother and me out on the course to hit some shots while he worked. I guess I was about 2 years old when he first started doing that. I have been hooked for as long as I can remember. I did the local golf camps, started playing in tournaments in sixth or seventh grade and really became a golf addict.

Q. Did you participate in any other sports competitively before college?
A. I played basketball throughout high school. That's a completely different arena. Golf is all about individual gains and losses. Basketball required a whole team effort. I really miss it, actually. Not that I was a great player, but we used to have the most energetic crowds at our games. The whole community would come out and get pretty rowdy.

Q. What factored into your decision to choose Hamilton?
A. I was looking at liberal arts schools that allowed me to balance rigorous academics, golf and a social life. It came down to Middlebury and Hamilton, and I believed that I needed to get out and broaden my experiences. I also really enjoyed the people at Hamilton. It was the only place where everyone I met seemed genuinely interested in who I was. It seemed like a community where I could really be comfortable and grow.

Q. In 2011 you made the Division III all-freshman team and earned an All-America selection. Did you ever think you would have that much success so early in your collegiate career?
A. My only real goal coming into college was to play every weekend. I knew I had some game. I had pretty good high school and junior tour careers. The junior tour was especially helpful. There are a number of kids from Vermont who have turned pro and have had really great Division I careers. I was able to learn a lot about pressure by playing with them week in and week out. At Hamilton, I expected to play well enough to get into tournaments, but I didn't know what the intensity level would be like in matches. I settled in pretty quickly though when I realized that it wasn't too much of a step up from junior tour. It also helped that I played 18-hole matches in high school. A lot of kids play nine-hole matches in high school and don't have the experience of trying to grind out full rounds.

Q. In your last tournament freshman year you tied the program record with a 67 for 18 holes. What do you remember from that round?
A. Every shot (laughs). It was just a solid round where things were going my way and I made a lot of putts. I hadn't been playing well at all going into that tournament, but I just kept telling myself to stay in the moment. I've been in that situation a lot of times and have a tendency of getting ahead of myself. I just focused on making good swings and stayed out of my own way.

Q. Was there a particular golfer who influenced you as you were growing up?
A. Absolutely. Tiger Woods was my role model. Tough to call him a role model now, I guess, but back in the day he was a really great guy. He helped kids with his Tiger Woods Learning Centers, had a lot of energy on the course, was very respectful and hit some golf shots that were just unbelievable. Everybody wanted to play like Tiger.

Q. What is your favorite golf course (besides The Skenandoa Club), and why do you like that course?
A. I have to give it to my true home course, The Ralph. I like it because everyone hates it. It's one of those courses that is frustrating to play. It's pretty quirky, has small greens and doesn't really give anyone an advantage. That being said, if you can deal with the frustrating breaks that it gives you, The Ralph will really respect you and you can put up a good number. I've played it enough that I just understand that it's going to be a grind and I embrace it. Jack Nicklaus once said, "When it rains, half the field quits." Playing The Ralph is a lot like playing in the rain. You already have half the field beat if you stay positive. That why I think it gives me an advantage.

I also really enjoy playing Taconic. It's a great test of golf and it's a beautiful course. I was lucky enough to play there for 17 tournament rounds, so it's almost like a second home course. I always get excited for the weekends at Taconic.

Q. Is there a part of your golf game that is better than the rest?
A. I wouldn't say there's anything really flashy about my golf game. I'm pretty average at everything, but I think I manage what I have pretty effectively. If I am hitting the ball well, I can go pretty low because my normal game is somewhat erratic. My rounds are pretty interesting because I will hit a lot of good shots, but I will also find myself scrambling from odd positions trying to grind out pars. More than anything though, I am really good at missing shots. By that I mean when I hit a bad shot, I leave myself in a good position to recover.

Q. You are a three-time NESCAC all-sportsmanship team honoree. How do you conduct yourself on the golf course?
A. Golf is all about building relationships. I'm not out there to give the cold shoulder to my opponents. I am playing to make friends and enjoy learning about myself and other people. Respect is obviously a huge part of golf, and I hope the respect I show to the people in my group is reciprocated. I've met my closest friends on the golf course. This great game brings people together and allows everyone to develop close relationships.

Q. Do you have a favorite professor or class from your time here at Hamilton?
A. It's tough to pick out one professor or class, but I would choose Professor Ambrose in the history department. The amount of energy in his classrooms is incredible, and he really tries to get people to participate in lectures. I took three classes with him and his class was always the highlight of those semesters.

Q. What are your plans after you graduate at the end of the month?
A. I am actually moving to Portland, Maine! I just accepted an offer at a mobile marketing firm and will be starting sometime this summer. Hopefully I'll have some time to play golf back home before I head "down east." It should be an exciting summer.