Student-athlete profile on Hillary Kolodner '14
---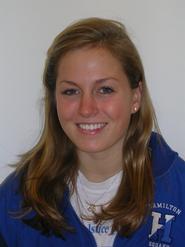 Hillary Kolodner '14 and the Hamilton College squash teams host the 2014 NESCAC championships at the Little Squash Center from Friday, Jan. 31, through Sunday, Feb. 2. The Hamilton women are seeded fourth, which is their best seed in the eight-year history of this event, and they will play No. 5 seed Middlebury College in the quarterfinals on Saturday at noon. Hillary is a team captain this season, and she earned NESCAC Winter All-Academic Team honors in 2012-13.

Q. Can you please tell us a little bit about where you grew up?
A. I have lived in the same house my entire life in Baltimore, Maryland. I attended Friends School of Baltimore, a small Quaker school, for 12 years. My older brother, father and uncles also attended Friends.

Q. How did you get interested in squash?
A. My father had played squash for 20 years but I was never interested in it until my school started a co-ed junior varsity and varsity program my freshman year of high school. My older brother Bradley, who was a junior at the time, decided to join the team, and I decided to quit indoor soccer and try it. I played casually on JV my freshman and sophomore year and was the first and only girl to make varsity my junior year. That was when I really started to get excited about the sport and realized that I could possibly play squash in college. I signed up for a few summer squash camps, practiced with my brother and father and became captain of the boys' team my senior year.

My father helped start the teams and was one of the JV coaches, so it was great having his support. Last winter after I returned from a semester abroad in Melbourne, Australia, I was the boys' JV coach for Friends School. It was a great experience to reconnect with my school and to help get the students excited about the sport that I grew to love so quickly.

Q. Did you participate in any other sports competitively before college?
A. My dad is a soccer fanatic, so I started soccer when I was a toddler and played up until my junior year of high school. I also played lacrosse for 10 years. I stopped playing soccer and lacrosse when I decided to commit to squash and try to play in college. I dabbled in field hockey for a few years and was on a summer swim team from first grade until the summer before college.

Q. What factored into your decision to choose Hamilton College?
A. I loved being part of such a close-knit community at Friends School. I like small classes and knowing my teachers and classmates well, so I knew I wanted to attend a small college. When I realized I wanted to play squash, that narrowed my choices down to NESCAC schools and similar small colleges. I fell in love with Hamilton during my first visit. I loved the open curriculum because I have always had many different interests. I was excited about the excellent academics offered at Hamilton as well as the beautiful campus. In the fall of my senior year, head coach Jamie King (everyone calls him "Kinger") arranged for me to stay with a senior on the team. I met all the girls at a team lunch and they were so friendly and enthusiastic about the school and Kinger. It was an easy choice for me and I've loved my experience here!

Q. The NESCAC men's and women's championships begin this Friday and Hamilton will host the event for the first time in its eight-year history. How long have you been looking forward to this weekend?
A. Since my first year there was talk of trying to host the NESCAC championships and now, my senior year, it is finally here. We have beautiful facilities that we are excited to share with the other teams, and all our friends and family will come out and support us in some of our most competitive matches. It is going to be a great weekend!

Q. You have 33 career wins (not counting exhibition matches) at Hamilton, is there one that stands out above the rest?
A. We were playing Wesleyan University in the "C" division semifinals at the national championships my freshman year. It was tied 4-4 and I was the last one on court, so I had to win my match for us to advance to the finals. I remember it was really close and everyone was cheering really enthusiastically. When I won the match my excited teammates and all the parents congratulated me and hugged me. I was teary-eyed because it was so exciting.

However, I was in the same position last year at the national championships against Bowdoin College and I lost the deciding match, so I know how it felt for my Wesleyan opponent. Even then, my team was so supportive and understanding, which is the great thing about our team. Even though squash seems like an individual sport, it is a team effort 100 percent of the way and we all back up each other.

Q. The program received a national award for sportsmanship from the College Squash Association near the end of your first year. How does coach King instill those ideals in you and your teammates?
A. Kinger's emphasis on sportsmanship is one of the main reasons that he is such an amazing coach. He really knows what is important about playing college sports. While winning is great, the most important thing is how we carry ourselves on and off the court. Kinger has explained to us that no one will remember you for winning or losing a match if you give it your best. They will remember how you carried yourself on the court and if you were a good sport about it. No one should feel good about a win (or loss) if they had a bad attitude and were unsportsmanlike. What is the point of competing? We play because we want to challenge ourselves, get great exercise and enjoy the experience with the team.

Q. You are one of two team captains this season. What does it take to be an effective leader?
A. It is important to be supportive of every teammate while having an open dialogue with the team and coach. I try to lead by example by working hard to improve and displaying good sportsmanship.

Q. You made the NESCAC winter all-academic team last season. What is the key to effectively balancing athletics and your studies?
A. As I am answering this question I am studying in the library with three teammates, Hilary Gray '15, Annie Pooley '16 and Lindsay Arader '16! We are all very supportive of each other outside of squash and head to the library together after team dinners. Practice is also a great time to get a break from work for a few hours every day.

Q. What is your involvement with Teach for America?
A. I am going to be a Teach for America corps member in New York City. I received the offer the night before the first day of practice in November. The team was so excited for me and I was thrilled.

Q. Do you have a favorite professor or a favorite class from your three-plus years here at Hamilton?
A. This is a really hard question because I have had an amazing experience with the professors here. Professor Cannavo is my advisor and has been so helpful to me as I have navigated the academics here. Dean Orvis' government course Poverty and Development, Professor Olarinmoye's government course Fragile States, and Professor Sciacca's Food for Thought were especially influential to my interests. The philosophy department as a whole is excellent and has really taught me to think critically (Professor Werner, Professor Doran, Professor Simon to name a few). Everyone should take Professor Helmer's public speaking course before graduating because it is so helpful.

Q. What are your plans after graduation?
A. I will be moving to New York City in June to start the summer training for Teach for America, which is a two-year commitment. I am interested in education reform, but at this point I can't say if I will still be in the classroom or working in policy or some other form of education. And I will definitely continue to play squash!