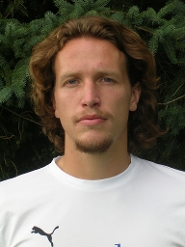 Jacob Frost '15 is a three-year starter and a four-year varsity letter winner for the Hamilton College men's soccer team. Jacob will help lead the Continentals into their 2014 regular season finale against NESCAC opponent Williams College on Hamilton's Love Field on Wednesday, Oct. 29, at 3 p.m. The economics major will earn his second NESCAC Fall All-Academic Team honor in November.

Q. Could you tell us a little bit about where you grew up?
A. I grew up in Patterson, New York, a small town about 90 minutes from NYC. It isn't a terribly interesting or lively town, but it is a beautiful part of New York with a lot of small farms. I live on one of those small farms, so I spent my summers working in the field as I grew up.

Q. How did you become interested in soccer?
A. My dad and both my older brothers played, so I picked it up from them. I started playing when I was about 3 years old, and haven't stopped since. My family is very competitive and soccer was always the big way I tested myself against my brothers. Not to mention when you live in a small town, sports are the best way to pass the time.

Q. Why did you choose to attend Hamilton?
A. That's a funny story. When I started the college process, I was sure I wanted to go to a big school in the south located in an urban area. So naturally I chose Hamilton. But no, there were basically three big reasons; I wanted to play college soccer at the Division III level, I wanted to sing in an a cappella group and I thought Hamilton's open curriculum made a lot of sense.

Q. What position do you play and what are your responsibilities?
A. I'm a center midfielder so I'm involved in both the team's defense and offense. In the middle of the field I act as a focal point, allowing us to move the ball from left to right and up the field. Also, being 6 feet 2 inches tall means that I am one of the ball winners in the air on goal kicks and corner kicks.

Q. The last home game of your college career is next Wednesday against Williams. What thoughts will go through your head prior to that afternoon?
A. Prior to the game I'll be focusing on winning our last home game, beating Williams for a second year in a row and ending the year on a good note. I already know that afterward it's going to be bitter knowing that it's over, but for now, I'm going to try and just focus on winning.

Q. What is your favorite Hamilton soccer memory so far?
A. Best memory so far was beating Williams in the last game of the season last year putting us into the NESCAC championship for the first time. We set out knowing that it was do-or-die and we made it happen, and it was a great feeling.

Q. How did you become involved with Hamilton's all-male a capella group, The Buffers? Where have you traveled to perform with them?
A. I actually sang in a similar group in high school and really enjoyed it, so I knew right away that I wanted to continue at Hamilton. We've travelled all over the northeast, singing at other colleges and universities like Dartmouth, Middlebury, Williams and Union. We've also sung on Broadway. Last year we were invited to perform at the 33rd annual John Lennon Tribute Concert.

Q. What internships/research projects have you participated in?
A. Summer of my sophomore year I worked at a marketing firm that focused on cross-cultural and pharmaceutical marketing. This past summer I stayed in Madrid and worked at a non-governmental organization called Economistas sin Fronteras (Economists without Borders), translating their Spanish material into English.

Q. What was your favorite class outside of your major? Why?
A. I would have to choose Rick Werner's History of Ancient Western Philosophy. It was an enjoyable discussion-based format, and it provoked a lot of important questions (about happiness) that changed my perspective on life in one way or another.

Q. Where is your go-to place for studying?
A. Second floor of the library. I like having a table to spread out on and it's quiet for the most part. I can't stand the KJ atrium because there are too many distractions, and living in the Griffin Road apartments make it equally difficult to get to just about any study space.

Q. What is the greatest lesson you have learned from being a student-athlete?
A. Prioritization. Given scarce resources (time and energy), you've got to make decisions about what you're going to get done. Learning to effectively time manage and figure out what is important is something every college student has to do, but even more so for student-athletes.