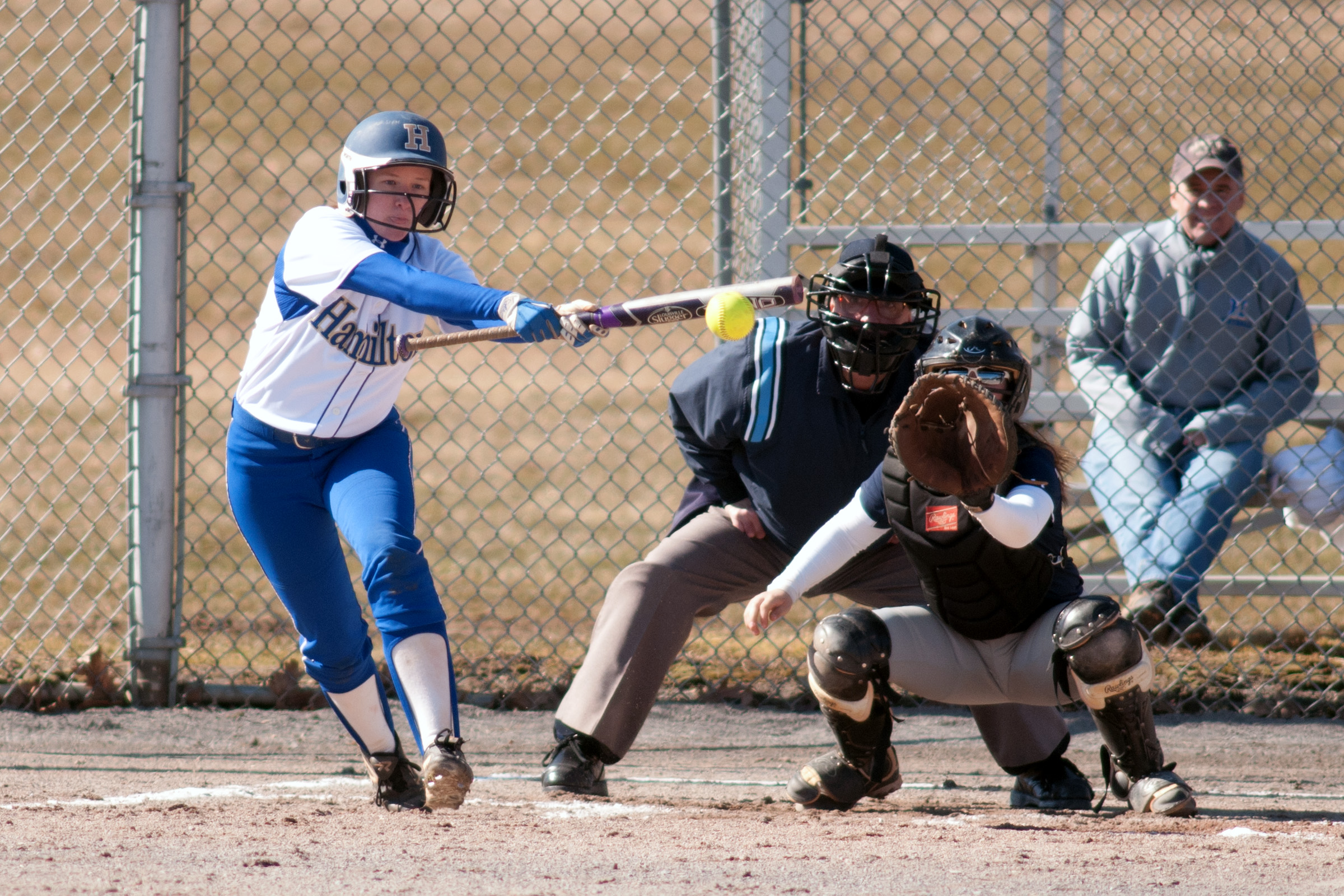 Jenn Rougeux '14 finished her Hamilton College softball career on Sunday, April 27, with a doubleheader split at St. Lawrence University. Jenn played 132 games in the outfield -- a number that is tied for the most games played in program history -- and was in the starting lineup for 125 contests. She ended up second on the team's career lists with 40 walks and 375 at-bats, and is fourth with 114 hits. Jenn is currently sixth in the NESCAC with 11 stolen bases this year.

Q. Can you tell us a little bit about where you grew up?
A. I grew up in Oneida, which is only about 20 minutes away from Hamilton College. Oneida is a little bigger than Clinton but is pretty similar all in all.

Q. How did you get interested in softball?
A. I started playing T-ball when I was in kindergarten. T-ball turned into Little League and I never looked back.

Q. Did you participate in any other sports competitively before college?
A. In high school I played soccer and basketball as well as of softball.

Q. Since you grew up about 20 minutes away from campus, what did you already know about Hamilton College before you arrived here in 2010?
A. I had actually come to sleep away camp at Hamilton for soccer and basketball (softball didn't have a camp). I loved the campus then and thought it was so beautiful (I still hold that opinion). A funny story is when my parents came to pick me up from the soccer camp, they asked what I thought of the school. I said I liked it and they said something along the lines of, "Well, you are going to have to work very hard to get into a school like this." It worked out pretty well.

Q. Three different NESCAC West Division teams have played in the NCAA Regionals since 2010. What is it like to compete in this division?
A. This is a difficult division but it is great competition. Hamilton softball has come so far in the four years I've been here, and it's great that we are competitive with all the NESCAC teams!

Q. You have a unique hitting style. How did you start hitting that way and can you describe to readers why it is effective?
A. The way I hit is called slapping. I started slapping my junior year in high school. One day before practice my coach came up to me and said, "You're fast, you are going to start slapping today." He taught me how to slap and as it turned out I was pretty good at it, so I never went back to hitting on the right side. Slappers hit on the left side and run through the batter's box while they hit the ball. Being on the left side gets me that much closer to first base. By running through the box, my momentum is already going forward when I hit the ball and it gives me a little bit of an edge. My goal in slapping is to hit the ball through the gaps of the infield and use my speed to get on base.

Q. The team played 15 games in Florida during spring break, including three in one day. What was that experience like?
A. We played a lot of games this year! It was great to be able to play so many games in the nice weather in Florida versus the less-than-ideal weather we have here. We technically played four games in one day because our game the night before the tripleheader went past midnight. One of the games that day was against Tufts University, the defending national champs. All I can say about that day is that I sure slept well that night. Even with such a hectic game schedule Florida was a great time!

Q. You just wrapped up the final week of your collegiate softball career. Have you had much of a chance to reflect back on the last four years?
A. I have had an amazing four years at Hamilton! I am just trying to soak in the time I have left so I'm leaving most of my reflecting for after graduation.

Q. What has been your fondest Hamilton softball moment?
A. My favorite moment is definitely our win last year against Amherst. That was the first time since I had been on the team that we beat a NESCAC team. I was playing in center field and caught the last out of the game. After I caught the ball everyone on the bench ran onto the field, including (former) coach Spicer, who proceeded to give me a huge bear hug! That win was an awesome feeling!

Q. Do you have a favorite professor or a favorite class from your time here at Hamilton?
A. I have taken a lot of great classes here but my two favorites were Counseling Psych and The Pursuit of Happiness with Professor Wycoff. They were both extremely interesting and they taught things that can help in life after Hamilton.

Q. What are your plans after graduation?
A. My plans for after graduation are not solid yet but I am looking for a job in the non-profit world. I want to work for a few years before I eventually go back to graduate school.