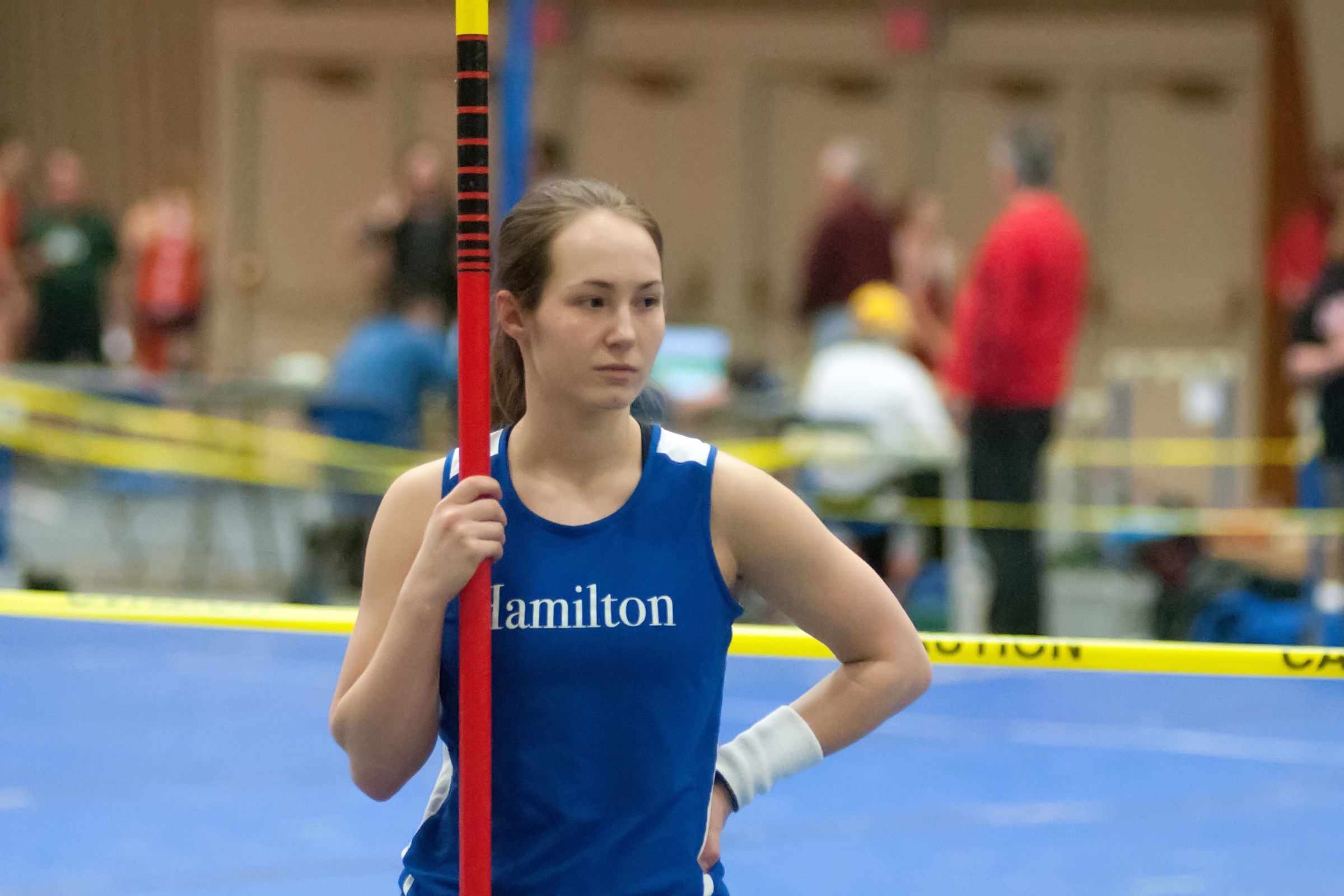 Kristine Oren '14 competed in the pole vault on the women's indoor and outdoor track & field teams. Kristine was a four-time NESCAC all-academic team honoree for the winter and spring seasons. She recently was elected to the Epsilon chapter of Phi Beta Kappa, which is the nation's oldest and most prestigious honor society.

Q. Can you tell us a little bit about where you grew up?
A. I grew up in Danville, a rural area of central Pennsylvania where there are more cows than people. So it's actually not that different from Clinton. The people of Danville are a close but welcoming community who basically hold their town hall meetings at Friday night football games. A lot of kids my age wanted to leave the area to head for the big city, but I am one who loves the quiet, slow pace of Danville. Even though my career path will take me toward a more urban lifestyle, Danville will always be my home.

Q. How did you get interested in track & field?
A. I competed in gymnastics throughout middle school and into high school. Upon entering high school, I decided to transfer my aerobic abilities to the pole vault runway. Many of the skills that gymnastics encompasses are the same ones needed for pole vaulting, so it was a smooth conversion. At Hamilton, my coach is actually a gymnastics and pole vault coach.

Q. What factored into your decision to choose Hamilton College?
A. Originally, I tried to sort through all the different objective qualities of the schools I was considering. Hamilton stood out, because it had an open curriculum, a fantastic semester-in-Washington, D.C. program and a high placement rate into law school. However, as cheesy as it sounds, I ended up making the decision with my heart. I knew without a doubt after the first tour that I belonged at Hamilton. In the end, it was the community and spirit that Hamilton offered me that ended up being the deciding factor.

Q. For readers that aren't familiar with track & field, can you please explain the art of your specialty, the pole vault?
A. As Coach Jerry Tine puts it "run, jump, swing!" Pole vaulting requires an 80-foot sprint down a runway, a jump at take-off and then a kick of the athlete's left leg to swing her body upside-down in order to propel herself over the bar. A vaulter has three attempts to clear a bar at one height, and the bar is raised higher and higher until she fails at a height three times. Therefore, vaulting is a sport in which no matter how well an athlete does, she always ends in failure by knocking down that bar. While there's a lot of down time in between jumps, there is a great deal of pressure for a short amount of time during the vault, which makes it both a physical and mental sport.

Q. On behalf of Hamilton indoor and outdoor track & field athletes everywhere, what's it like to be "in season" for six months out of the school year?
A. Six months is a pretty long time to do any kind of physically intense activity and pole vaulting is no exception. Fortunately, I love vaulting and would do it all year, if possible. However, all athletes' bodies have limitations, and so at the end of the outdoor season I always find myself struggling with wear and tear on my body.

Q. Which do you prefer, indoor or outdoor, and why?
A. Definitely outdoor. Ironically, it's worse for pole vaulters to be outside because a wind blowing against the direction of a vaulter's run can make vaulting more difficult. Any kind of weather can influence the style of a vault, which makes for an unpredictable meet. However, I love being outside because after being in field houses for the previous three months it becomes a little claustrophobic. Being outside is like a breath of fresh air… literally!

Q. Did you participate in Hamilton's off-campus study program your junior year? If so, where did you go and describe your experience.
A. I did! I participated in Hamilton's Semester-in-Washington, D.C. program in the spring of 2013. It was a tough decision because I had to sacrifice a full semester of track & field. However, I wanted to attend the spring program because the politics directly following the 2012 elections were much more exciting than the fall. The experience shaped who I am today. I interned at a lobbying-law firm, Williams & Jensen. Two Hamilton alums who worked there, George Baker and Frank Vlossak, took me under their wings and showed me the ropes of the D.C. lobbying scene. I received a fast lesson in politics, law and real-world work environments. I also came into my own personally by living on my own in a city where I was largely in charge of myself. The semester was very fulfilling. I recommend it to anyone considering an off-campus experience.

Q. What was your fondest Hamilton women's track & field moment?
A. My favorite moment was a feeling. It was early in the indoor season my sophomore year. All the vaulters, Hannah Jaiven, Jimmy Alexis, Ethan Ayres and I had grown very close. My coach was one of my strongest supporters. One of my other closest friends, Maggie Doolin, was a thrower on the team. I realized that what was once just a team for me had morphed into a family. My teammates and coaches are the people who supported me throughout the good times and the bad. They worked with me, side by side, as we all focused on achieving our respective goals. They believed in me when I didn't believe in myself. It was only when I realized the strength of my track & field family did I recognize how blessed I was.

Q. You have been on multiple NESCAC all-academic teams. How do you manage to balance athletics and academics?
A. I never sleep. Well, that's a slight exaggeration. I promised my coach I would get at least six hours every night, but some nights are tougher than others. As a student-athlete, it's important to be efficient with my time. I don't spend a long time at dinner and get right to work afterwards. Working during the day is very important, as is working on Saturdays at meets. As a single-event pole vaulter, when I'm done vaulting for the day, I have a lot of down time!

Q. You received The Soper Essay Prize on Class and Charter Day. What was that for?
A. It was for my analysis of the anti-competitive traits of the American Airlines - U.S. Airways merger to determine whether the merger was monopolistic. The Soper Essay Prize is awarded for the best essay written on a subject determined by the department in an economics course above the 400 level.

Q. Do you have a favorite professor or a favorite class from your time here at Hamilton?
A. I do. Professor Betsy Jensen in the economics department is not only my favorite professor, but also an understanding boss, wise mentor and good friend. I look to her as my "second mother." She has helped me through everything from challenging problem sets to challenging life dilemmas, including writing recommendations, advising about law schools, supporting my vaulting career, helping with two different theses, calming me down about the future and much more. I cannot thank her enough for all she has done for me.

Q. What are your plans after graduation?
A. I will attend the University of Virginia School of Law in the fall. I hope to one day work as a criminal defense attorney.