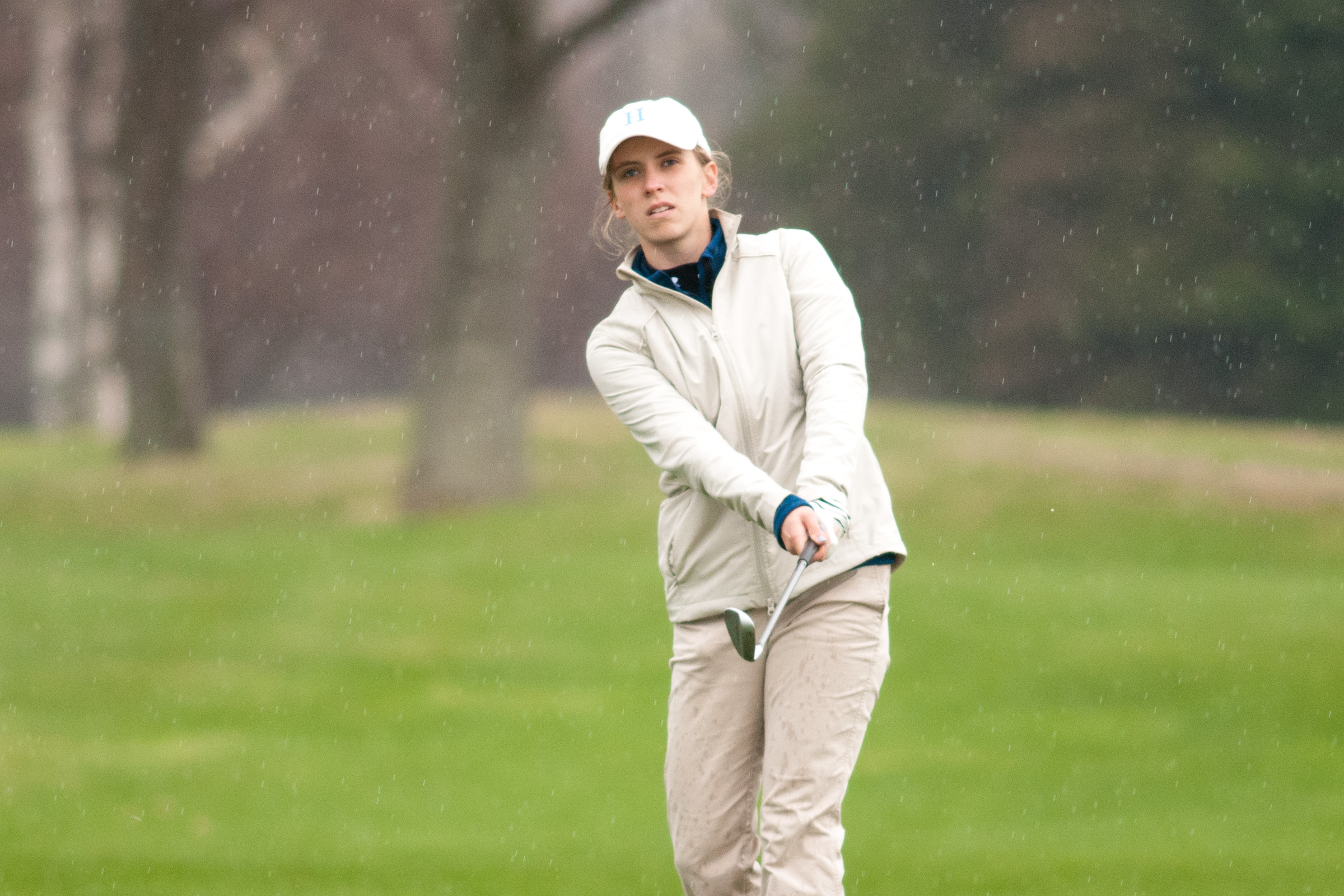 Liz Morris '16 just wrapped up her second season with the Hamilton College women's golf team on April 27 when the Continentals hosted their first tournament in the program's two-year history. Liz carded a career-best round of 88 on that day and Hamilton finished second behind Division II Le Moyne College. She earned a spot on the 2013 NESCAC Fall All-Academic Team and competed in all eight events this season.

Q. Can you tell us a little bit about where you grew up?
A. I've lived in Riverside, Connecticut, since I was 2 years old and loved it. There is always something to do and if not, it's only 42 minutes on the express train to NYC.

Q. How did you get interested in golf?
A. My dad is a big golfer, so I grew up watching The Masters and other golf tournaments on TV, as well as playing with a snazzy set of plastic golf clubs. There are some funny home videos of me, age 3, naming golfers on the TV. My family also competed in a parent-child alternate shot tournament every year since I was 5. My brother was the golfer before I was, but since he found other sports that interested him more, I became the golfer in the family. My interest became more serious when I joined the varsity golf team my sophomore year.

Q. Did you participate in any other sports competitively before college?
A. In addition to golf, I played soccer, basketball and squash competitively during high school.

Q. What factored into your decision to choose Hamilton?
A. I really valued schools with accessible professors and small classes, which was true for most of the ones I liked. Ultimately, it was the people at Hamilton that convinced me. I had engaging conversations with faculty, students and coaches during my short visits, and it was clear to me this was where I wanted to make life-long friends and learn.

Q. What was it like to participate in the first tournament ever hosted by the Hamilton women's golf program?
A. It was an incredible experience. Since I was familiar with the course and how the tournament was going to be run, I felt completely at ease and focused during warm-ups and during my round. What made the tournament truly special was having teachers, friends and family come to the course to support me. It was neat to have friends see me in action and I know they were a big part of my success that weekend. The best part was seeing Katie Veasey '17 win the individual title. She is a talented golfer and I was elated to see her hard work pay off!

Q. You posted your best 18-hole score in college in the final round of the Hamilton Spring Invitational. When did you know it was going to be a good day?
A. On Saturday, I was even through the first six holes and posted my best nine-hole score of 41. The back nine wasn't as pretty that day, but I woke up Sunday with confidence from my last round that I was capable of a career best. Before my Sunday round, I received advice from teammates and coaches that proved handy for keeping my focus. During the round on Sunday, I was continually making good contact and good decisions about when to be aggressive with shots. I knew I was playing well, but I didn't add up my score until the end of the round and was pleasantly surprised that the final round of the season was my best.

Q. You are an original member of this two-year varsity program. Has the experience been everything you thought it would be so far?
A. I was not planning on playing a varsity sport in college. I lucked into a wonderful chance to continue playing a sport I love. Playing on the women's golf team has given me incredible opportunities for personal growth, friendship and continual improvement of my golf game. I'm not sure what I was expecting but it has been a marvelous experience.

Q. Do you have a favorite golf course (besides The Skenandoa Club), and why do you like that course?
A. The courses we play during the fall season are beautiful. Specifically, Taconic Club is an incredibly challenging course, but the views of the mountains surrounding the town at the peak of foliage are unparalleled. Taconic is a course that can get you into a bunch of trouble -- it rewards those who play smart and keep focused when things don't go well. My home course in Connecticut is The Stanwich Club, which I also love. It has some of the toughest greens in the country and they test your chipping and putting, which is the biggest part of your golf score.

Q. Is there a part of your golf game that is better than the rest?
A. This changes every season, but at the moment my driver is doing really well. I've picked up a bunch of distance and it's going where I want it to. I'm also pretty good with 40- to 60-yard approach shots. My swing isn't wicked fast so I've learned how to control those shots and be patient.

Q. What has been your fondest Hamilton women's golf moment thus far?
A. Golf is funny because you and your team are competing at the same time but you have almost no idea of how the others are doing. So, my fondest memories are ones with the team together; laughing during practices, recounting our rounds at dinner, cheering for each other on finishing holes or the jitney road trips. My teammates are my family and it is always an adventure with them.

Q. You made the NESCAC all-academic team in the fall. How do you balance academics and athletics?
A. I find that I'm far more organized and diligent in getting my work done while in season. It takes planning and capitalizing on the free 30 minutes during the day (and self-will not to try to sneak in a nap). Our team does a good job of supporting each other in studying and keeping each other on task during the weekends.

Q. What are your plans for this summer?
A. I'm headed back to YMCA Camp Coniston for my fourth summer as a camp counselor. Coniston is my second home and I couldn't be more excited to return!