Student-athlete profile on Martin Bawden '14
---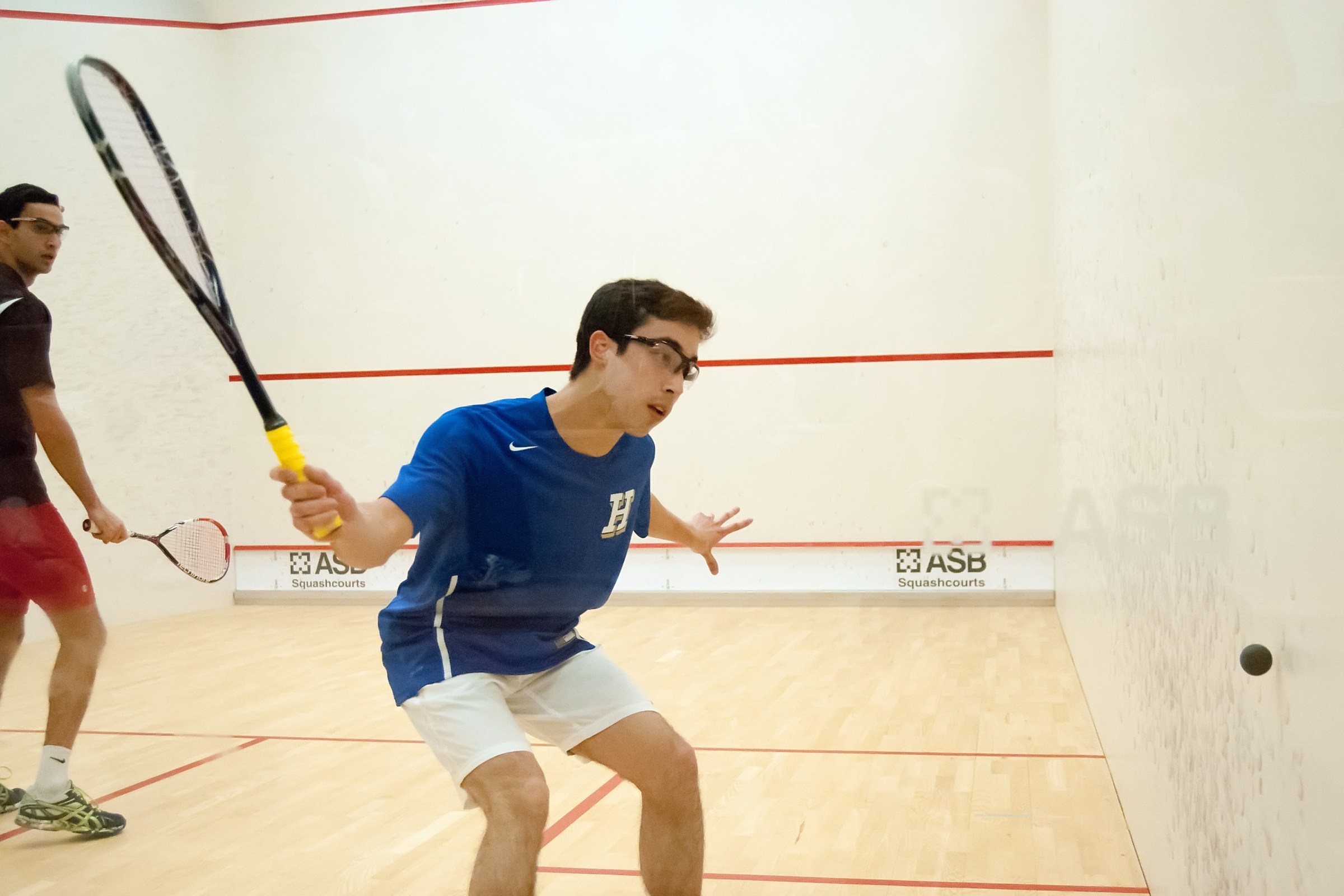 Martin Bawden '14 has been one of the top players on the Hamilton College men's squash team since he stepped on campus as a freshman in 2010. Martin competed in the College Squash Association individual championships in 2011 and 2013, and he is a two-time member of the NESCAC all-conference team. He was selected to the 2011-12 NESCAC Winter All-Sportsmanship Team and is the team captain this season. Martin leads the Continentals into a match against Middlebury College at Hamilton's Little Squash Center on Saturday, Nov. 23, at 2 p.m.

Q. Can you please tell us a little bit about where you grew up?
A. I lived in Tokyo, Japan, from the age of 2 to 11 and then moved to Short Hills, N.J., a small suburban town where I have lived ever since.

Q. How did you get interested in playing squash?
A. My father plays squash recreationally, and when I lived in Tokyo I was often forced to wait for my dad while he played. To reward me for my patience, he would sometimes hit a few balls with me after his match. However, it wasn't until I moved to New Jersey when I really picked up the sport. My father fortunately heard about the Chatham Club, a local squash club that has a phenomenal junior squash program, and took me along for a lesson. The rest is history.

Q. Did you participate in any other sports competitively before college?
A. I played a lot of soccer growing up but gave that up upon entering high school because it coincided with squash tournaments. My freshman year after the squash season ended, I was bored so I joined the track team to stay in shape. Running track ended up being a fantastic experience, not only because I was able to challenge myself physically, but also because of the people I met and the friendships I made with people on the team.

Q. Your older sister Alyssa '12 also came to Hamilton and graduated from here a couple years ago. Was that a factor in your decision to choose Hamilton College?
A. Actually, my older sister attending Hamilton was a reason against applying to Hamilton. When I began my college application process, I really did not want to go to the same school as my sister. I wanted to create my own path. However, after I visited Hamilton, met with coach (Jamie) King and had a great experience during my overnight, I really fell in love with the school and realized that I shouldn't base my decision on one small factor. Four years later I am so glad I didn't, not only because I've enjoyed my time at Hamilton, but because going to the same school as my sister made us so much closer.

Q. Middlebury plays here on Saturday. What can fans expect to see in that match?
A. Middlebury is a great team. They are always extremely fit so fans should expect quite a battle. I enjoy playing Middlebury because both their coach and players are always class acts. A good friend and teammate of mine from high school is one of the Middlebury captains, which makes our match even more exciting for me. Hopefully we can do well so I can have bragging rights.

Q. Hamilton hosts the NESCAC squash championships for the first time later this season. What does that mean to you and the program?
A. It means a lot. Hamilton has been trying to host the NESCAC championships for a while now and to finally be able to do so during my senior year is phenomenal. Moreover, it really gives us a chance to display our world-class facility, especially to those schools that have not yet traveled to Clinton. We always have extremely close matches during the NESCAC championships, so hopefully our fans can get behind us and help us win a tight match.

Q. In January the team will travel to Stanford and the Bay Area for a training trip. What do you hope to get out of that experience?
A. It should be a fantastic time. It's the first time my class ('14) is going on a training trip and we all are very excited. While on the squash side it will be good to play some West Coast schools and athletic clubs, it's the team-building side that I am most looking forward to. We have a great group of guys who are always entertaining.

Q. As someone that has been honored individually and as a member of a team for sportsmanship, what influence does head coach Jamie King have on you as far as how you play the sport?
A. He has had a huge influence on how I play squash. Coach King doesn't simply encourage good sportsmanship, he mandates it. In fact, he is one of a handful of individuals who have won the college squash sportsmanship award both as a player and a coach. One of my favorite Coach King comments is that while winning does matter, it is how an individual conducts him or herself on court, not the final score that will be remembered. From my three-plus years of college squash experience, I can say this is 100 percent correct. Court conduct says a lot about a person outside the courts. After all, if you can't keep your cool on court, how can you keep your cool when the stakes are so much higher?

Q. You are the lone four-year senior on the roster. Do the younger players on the team look to you for veteran leadership?
A. I hope so! I'm not too much of a loud, vocal leader, so I rather try to lead by example. I hope that by always giving 100 percent effort, others will be more inclined to do so as well. Hard work is contagious.

Q. Do you have a favorite Hamilton men's squash story that can be shared?
A. As far as matches, my favorite was last year when we beat Drexel University (which was ranked ahead of us) 5-4 at home. We had a great turnout for the match, including one fan that brought bongo drums and one fan that wore a green man suit. However, the moments I will remember forever are the times spent on the bus, in hotel rooms or hanging out in Commons after practice.

Q. Do you have a favorite professor or a favorite class from your three-plus years here at Hamilton?
A. I really enjoyed Professor Jensen's American Economic History course. Not only is the combination of Economics and History very interesting, but Professor Jensen does a great job teaching and relating the material to her students. I also really enjoyed my Behavioral Economics course with Professor Wu and my Evolutionary Psychology course with Professor Frederick. Consequently, I plan on merging both evolutionary psychology and behavioral economics for my senior thesis.

Q. What are your plans after graduation?
A. I am not yet sure. Right now I am hoping to travel and teach English in a foreign country for a year but I won't hear back from the programs I applied to until next semester. Public service announcement: If anybody wants to offer me a job, it would be greatly appreciated!