Student-athlete profile on Nikki Haskins '14
---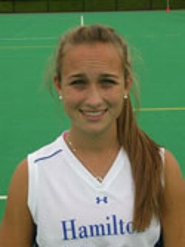 Nikki Haskins '14 is a varsity letter winner on the field hockey and women's ice hockey teams. Nikki leads field hockey into a NESCAC game against nationally ranked No. 11 Amherst College at Campus Road Athletic Field on Saturday, Oct. 5, at 11 a.m. She ranks fourth on the field hockey program's all-time list with 24 career goals, despite the fact she missed the entire 2012 season due to injury. In ice hockey, Nikki has scored 26 goals and added 16 assists for 42 points in 69 games.

Q. Tell us a little bit about where you grew up.
A. I grew up in Quincy, Mass., which is a city right outside of Boston. I have lived in the same house my whole life and my dad even grew up right across the street from where we live. My neighborhood was filled with kids my age and we were always playing outside on our dead end street. Sports were always a big part of my life growing up.

Q. How did you get interested in playing field hockey?
A. When I went to Southfield School, in eighth grade every student had to play a sport each season and my choices were soccer or field hockey. I played soccer when I was younger and really didn't enjoy it so the only other option was field hockey. After I signed up to play, my dad brought me to a bookstore and made me sit down and read a book about field hockey because I literally knew nothing about the sport. I ended up loving it and have been lucky enough to make it to the college level.

Q. Besides field hockey and ice hockey, did you play any other sports competitively before college?
A. Yes, as I mentioned in the previous question I had played soccer when I was younger. At Southfield, I used the spring to try different sports. I played lacrosse for four out of my five years at Southfield and played softball for a season as well.

Q. What factored into your decision to choose Hamilton College?
A. I had never heard of Hamilton until I received an email from Brendon Knight, who was the head ice hockey coach at the time. I came up for a campus tour and an overnight visit and really loved the campus and the team.

Q. How do you balance academics and playing a sport from September until early March?
A. Time management. I know I have little time to do all my work, so I need to take advantage of the time I have.

Q. You didn't play field hockey your junior year due to injury. Was that the most difficult situation you ever had to endure as far as athletics is concerned?
A. Yes. Finding out that I was not going to be able to play for a full season was very hard to hear. Luckily, I was able to still be a part of the team that season and was at the field every day, which helped.

Q. Despite missing an entire year, you are ranked in the top five at Hamilton in career goals. What are the keys to being a good goal scorer in field hockey?
A. You need to have the determination to put the ball in the net. You may only get a few chances a game to score, so you need to capitalize on those chances.

Q. Four NESCAC teams, including the one you play on Saturday, are ranked in this week's Top 20 coaches poll. What's it like to compete against these teams every week?
A. It is exciting knowing we get to play against the top teams at the Division III level. No matter what the opposing team is ranked, we know we have a chance to win any game.

Q. Do you have any favorite Hamilton field hockey memories that you can share?
A. One of my favorites is the night we were on our way back from Bowdoin College and got stuck in Massachusetts because of a snow storm. We had to stop and stay at a hotel for the night. We got there and five minutes after we checked into the hotel, the power went out and was still out by the time we left the next morning. We stayed up as a team in the hotel lobby laughing and playing games for hours on end. It was a great team-bonding experience and despite our playoff loss that day, we were able to enjoy ourselves.

Q. Do you have a favorite professor or a favorite class from your seven semesters so far at Hamilton?
A. My favorite class here at Hamilton was Computer Science 105.

Q. I'm guessing that since you are from Quincy you may be a Bruins fan. What are Boston's chances of returning to the Stanley Cup finals in 2014?
A. I believe the Bruins can return again this year, but the difference will be that they will win it this time around.

Q. What are your plans after graduation?
A. After graduation I am interested in joining Teach for America.