Student-athlete profile on Olivia Pimm '14
---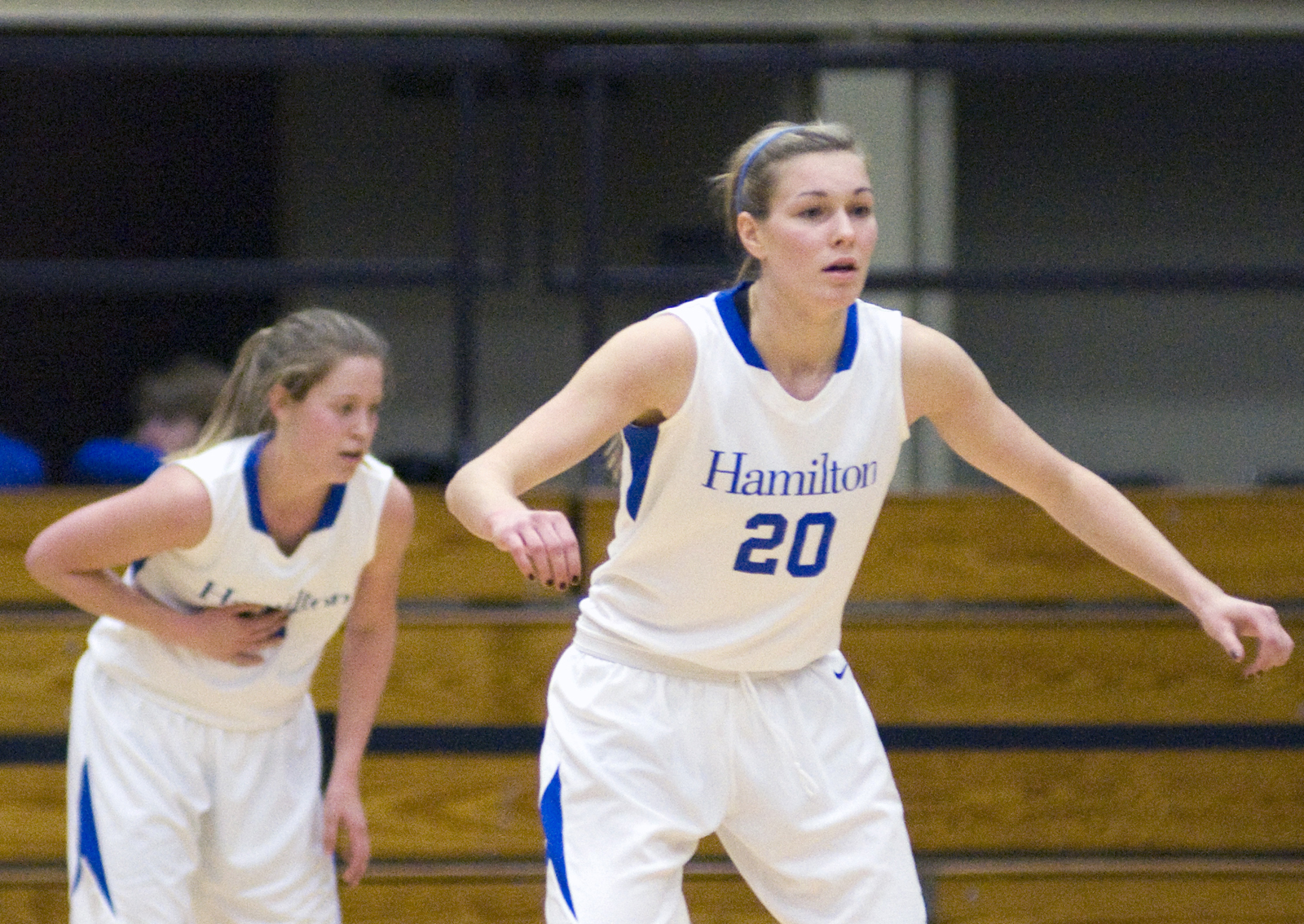 Olivia Pimm '14 leads the Hamilton College women's basketball team into their first NESCAC games of 2013-14 this weekend. Hamilton is at nationally ranked No. 3 Amherst College on Friday, Jan. 10, at 6 p.m. and at Trinity College on Saturday at 2. Olivia has played in all 11 games and started 10 for the 6-5 Continentals, and she is currently ranked fourth in the conference with 8.5 rebounds per game. Olivia is a two-time member of the NESCAC Winter All-Academic Team.

Q. Can you please tell us a little bit about where you grew up?
A. I grew up in a town north of Boston. I consider the town in which my high school is located -- just 20 minutes away -- as much my "home." I hope to return to the Boston area at some point post-Hamilton.

Q. How did you get interested in playing basketball?
A. We're a basketball family. My brother excelled at basketball and played for a NESCAC team as well. As a younger sister who mimicked her brother, I naturally liked basketball. I have memories of spending hours in the driveway with my dad and brother, my two true "coaches."

Q. Did you participate in any other sports competitively before college?
A. In addition to basketball, I played field hockey and tennis in high school. I preferred tennis until I realized that individual sports were a challenge for me mentally, so I decided to devote myself to basketball. I continue to enjoy tennis recreationally, though the team aspect of basketball offers me so much greater satisfaction.

Q. What factored into your decision to choose Hamilton College?
A. I wasn't a recruited athlete, so I made my decision independent of the basketball program. Hamilton's beautiful campus and unparalleled academic opportunities appealed to me. I also noticed a similar atmosphere between Hamilton and my high school. I knew I would thrive as a student and feel immersed in community life.

Q. The team has a 6-5 record going into the first NESCAC games this Friday and Saturday. What can Hamilton women's basketball fans expect to see this weekend?
A. We've been anticipating the start of NESCAC play since November 1st. We've developed so much since then and I expect our competitiveness to surprise the league. As long as we approach each game with intensity and purpose, we're going to be successful.

Q. You are ranked fourth in the conference with 8.5 rebounds per game. What are some keys to being a good rebounder?
A. My coach's motto is that a good rebounder possesses heart and hustle. I agree, and beyond positioning, a certain mentality is the key to that skill.

Q. Four NESCAC women's basketball teams are ranked in this week's Division III Top 25 coaches poll, including Friday's opponent in Amherst. What's it like to compete in this conference?
A. I consider it an honor to be a NESCAC athlete. Such talent and prestige is associated with NESCAC athletics. NESCAC teams show a higher level of discipline and commitment than I've ever experienced.

Q. Do you have a favorite Hamilton women's basketball memory that can be shared?
A. My memories consist of "down time" with the team, whether on bus rides or the daily locker room shenanigans. This is the closest team I've ever been a part of. I'm going to miss that sense of camaraderie, not the early morning pre-season workouts! In reality, however, I wouldn't trade any aspect of my experience.

Q. You are a two-time NESCAC winter all-academic team honoree. How do you balance your academic workload and a varsity sport?
A. I consider academics my ultimate priority, though structure actually benefits my productivity. I appreciate the two hours each day that basketball occupies, which forces me to maximize my available time. My academic success is due in part to my athletic commitment.

Q. Do you have a favorite professor or a favorite class from your three-plus years here at Hamilton?
A. My favorite class was The Pursuit of Happiness, which analyzed how happiness relates to different factors such as race and income. I learned that the pursuit of wealth and material things does not coincide with happiness. Rather, health and social relationships offer happiness. That class impacted me in profound ways.

Q. What are your plans after graduation?
A. I don't yet know my long-term plans, though I've discovered through my on-campus position as a Senior Admissions Intern, my interest in education administration. In the short-term, I see myself in admissions at an independent school. Regardless, I'm excited and ready for the next phase!