Student-athlete profile on Sarah Pfund '14
---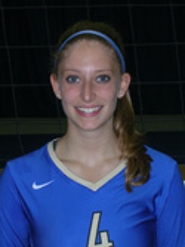 Sarah Pfund '14 is a two-time captain for the Hamilton College women's volleyball team. Sarah, who is ranked seventh in the NESCAC in assists per set, will help lead the Continentals into a conference match against Middlebury College and a non-conference contest against Union College during Fallcoming Weekend. Action gets underway at 2 p.m. on Saturday. She earned a spot on the NESCAC fall all-academic and all-sportsmanship teams in 2011 and 2012.

Q. Tell us a little bit about where you grew up.
A. I grew up in a small town in northern New Jersey called Ho-Ho-Kus. People tend to recognize it when they pass it on the highway because of the hyphens. I always get a picture of the sign from someone either driving to or from Hamilton. When I say small, I mean really small. I graduated from middle school with about 50 kids, and had to go to a regional high school in a different town because we didn't have enough people.

Q. How did you get interested in playing volleyball?
A. I started playing in seventh grade when my middle school started a team. My phys ed teacher asked if I wanted to play and since I wasn't exactly great at soccer, I figured I might as well give it a try.

Q. Did you play any other sports competitively before college?
A. I played softball competitively through most of high school, but volleyball was my main sport since I played all year.

Q. What factored into your decision to choose Hamilton College?
A. I definitely thought about which schools I could play volleyball at and which ones I couldn't. I ended up choosing between a few schools where I could play, but landed on Hamilton because of the students and curriculum. I ended up applying Early Decision, and knew I was coming here by December before graduation.

Q. As a two-time team captain, what do you think makes someone an effective leader?
A. An effective leader needs to learn to listen. It's not just about being a voice for the team and managing what's happening on a daily basis. It's about listening to your teammates and working together to figure out what's best for the entire unit.

Q. You are currently ranked seventh in the NESCAC in assists per game. For those of us not as familiar with the sport, what are the setter's primary responsibilities on the floor?
A. The setter is essentially the quarterback on the floor because setters run the offense. They make decisions based on the effectiveness of their own hitters while keeping in mind the weaknesses that exist in the opposing team's defense. In order to run an effective offense, communication between the setter and the rest of the team has to be on par.

Q. Do you have any favorite Hamilton volleyball memories that you can share?
A. My favorite specific Hamilton volleyball moment was when we beat Trinity in four sets my sophomore year. It was the first time Hamilton had a major NESCAC win in a few years, and we had worked so hard at it for a long time. Other than that, my favorite part about Hamilton volleyball is always how close we are as a team, and how many close friendships are created because of it.

Q. You have been on the NESCAC fall all-academic team and the all-sportsmanship team twice. What are some keys to excelling in both academics and sportsmanship?
A. It's definitely all about time management. Being able to balance time between sports and school is not easy. The great thing about being in season though is that it forces you to be good at those kinds of things. You only have a certain amount of time to do work because the rest is dedicated to volleyball. So understanding how to delegate your time is really important.

Q. On Saturday the team hosts Middlebury College in NESCAC play and Union College for a non-conference match. Can you preview what fans can expect this weekend?
A. Fans can expect a lot of great volleyball. All three teams work hard and you know every point is going to be earned in one way or another.

Q. Do you have a favorite professor or a favorite class from your seven semesters so far at Hamilton?
A. There are actually a few too many to pick from. I love small classes because of the active discussions they create. As I've become older, I've taken more high-level classes that produce this kind of environment, which I prefer over a class that is solely based on lectures.

Q. Since you are from New Jersey, do you have a favorite town or place on the Jersey Shore?
A. I actually don't go to the Jersey Shore as often as people expect! My grandparents have a house in Harvey Cedars on Long Beach Island, which I loved visiting when I was younger. It's not exactly the type of town you'll find the cast of Jersey Shore in, but it's a great place to go.

Q. What are your plans after graduation?
A. I'm not entirely sure what I'll be doing after graduation. Right now I'm looking into a few different things including youth leadership and development. I'll definitely go to graduate school at some point, but right now it's all up in the air!