Student-athlete profile on Stephanie Lang '14
---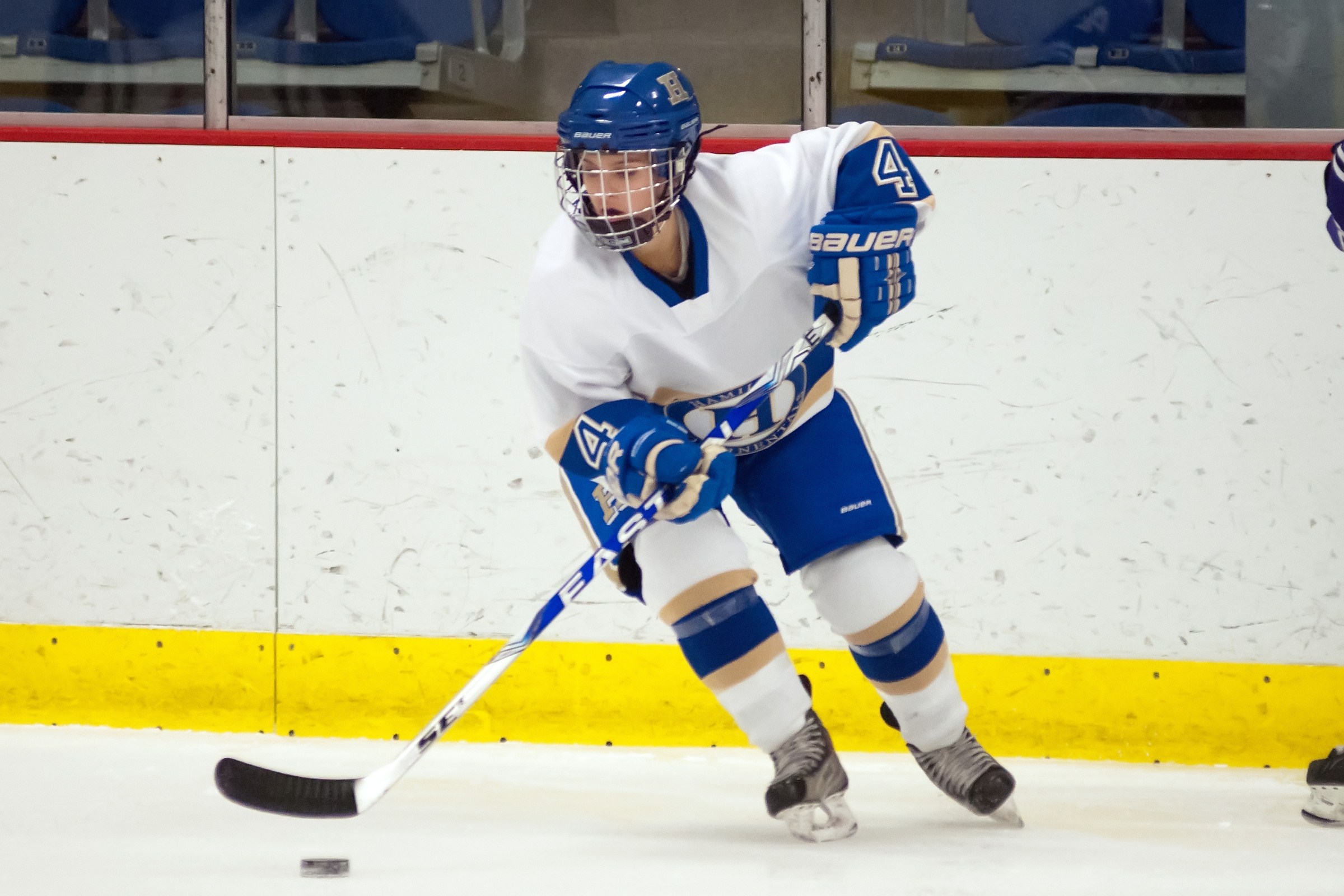 Stephanie Lang '14 will help lead the women's ice hockey team into a two-game NESCAC series against Amherst College this weekend. Hamilton opens 2013-14 at home against Amherst on Friday, Nov. 15, at 7 p.m. Stephanie has 17 goals and 18 assists in 64 career games, and she earned a spot on the 2012-13 NESCAC Winter All-Academic Team.

Q. Can you please tell us a little bit about where you grew up?
A. I was born and raised in Ann Arbor, Michigan, and I feel very fortunate to be from such a liberal, close community. My high school is kitty corner to the Big House (Michigan Stadium), so naturally I am a huge University of Michigan fan. My father, mother, brother and sister all attended Michigan. I'm also a big Detroit Tigers and Red Wings fan.

Q. How did you get interested in playing ice hockey?
A. I played just about every sport my older brother did. He played hockey for a little bit locally when he was younger, so I was able to get into it. I only played a year or two with boys until a 10-and-under Ann Arbor travel girls' team came about. I was always busy traveling for hockey given the fact we played upwards of 80 games a year. My dad and grandpa were tireless supporters and took me to practices and tournaments all over the U.S. and Canada.

Q. Did you participate in any other sports competitively before college?
A. I played all sorts of sports growing up including soccer, tennis, swimming and softball. I was a very competitive and successful wrestler when I was younger. I also played attack in lacrosse for four years in high school.

Q. What factored into your decision to choose Hamilton College?
A. I played with Gigi Fraser '14 on my travel team, Honeybaked. She committed to Hamilton before I did and encouraged me to take a trip out and visit the campus. Driving up The Hill for the first time with my mom, I remember very vividly just being in utter and complete awe of the campus. (Former) coach (Brendon) Knight and I had talked prior, but I was impressed with how laid back and confident he was. He was also the one coach I spoke with who said that studying abroad could be an option for me. Hamilton is also the closest NESCAC college to Ann Arbor, so it was appealing in that my mom could easily drive the eight hours to come see my home games. There were also four other girls on the team from Michigan coming in with me, so that was a nice perk.

Q. Last season the team tied the program record with 13 wins in a season. With 14 home games coming up, what are the expectations like for 2013-14?
A. We definitely need and want to take advantage of playing a lot of our schedule on home ice this season. We have plenty of depth with our freshmen, so we know we have the underlying talent to win. We truly want to be known as the hardest-working team in the NESCAC because the key is consistency, whether that means in games or showing up with a similar mentality to practice. We expect to have home ice advantage for the first round and at least make it to the second round of the NESCAC championship.

Q. You open the season with two games against Amherst this weekend. What should we expect to see in that matchup?
A. We are coming in with the attitude that we should, and will, win both games. Last year we came out great and controlled the first game but fell short by a goal. We won the second game at home in overtime, which was invigorating and a feeling a lot of this season's returning players remember very clearly. Amherst is always a solid team, so we anticipate games with a high level of intensity.

Q. Do you have a favorite Hamilton women's ice hockey story that can be shared?
A. In the past three years we won a couple big games. My freshman year, we swept Bowdoin College and Colby College in Maine. I was fortunate to get a couple goals against Bowdoin, one of which was a huge fluke many of the seniors remember, but nonetheless exciting. We beat Middlebury College at home on a breakaway goal by Laura Dicarlo '12 in overtime my sophomore year, and beating Amherst last year in overtime was incredible. All of those wins involved bench-clearing celebrations. That feeling is unparalleled and something we should look forward to this year as well.

Q. You earned 2012-13 NESCAC Winter All-Academic Team honors. How do you manage to effectively balance athletics and academics?
A. Given our practice schedule, which involves late practice to about 8 p.m. two to three times a week, I find it important to get work done during the morning and afternoon. I like to relax during the evenings and often times practice is so exhausting, I'm mentally drained by the time it gets dark. One of the keys is being efficient and productive during the day. I'm also fortunate enough to have a major and take classes with content I find to be genuinely interesting, so it makes getting work done less stressful and pretty enjoyable.

Q. You participated in Hamilton's Off-Campus Study program as a junior. Where did you go and what was that experience like?
A. Glad you asked! I studied abroad with SIT's Community Health and Development program in Kenya last spring. Coach (Emily) McNamara was kind enough to support my decision to leave in the spring and I could not be any more gracious to her for that. It was the most eye-opening, extraordinary experience of my life. I spent a lot of time in the Kenyan capital of Nairobi, some time on the coast in Mombasa in Maasiai land or other rural areas and in Tanzania. We lived with a couple host families throughout the program and that was one of the most challenging, yet rewarding parts of the program. I made a Kenyan cookbook for my independent study project and traveled around learning from women how to cook local dishes. Everyone was so hospitable and kind. I truly loved every second of my study abroad experience.

Q. The 2014 Winter Olympics are in three months, and Canada has won the gold medal in women's ice hockey at the last three Games. What will it take for the U.S. to claim gold for the first time since 1998?
A. There is definitely clear animosity between these two teams! This is pretty evident with the last scrimmage in October that led to a fight. The games have been pretty close and the talent is similar for the U.S. and Canada, but putting forth that little extra effort and keeping the intensity high should pay off in the long run. Most wins, regardless of the teams, come down to "winning dirty" and scoring the "dirty" goals. The U.S. needs to bear down and do just that.

Q. Do you have a favorite professor or a favorite class from your three-plus years here at Hamilton?
A. I really enjoy all the classes I take with the Women's Studies department! Probably my favorite was with visiting professor Michele Paludi on gender and violence. I'm very interested in violence prevention work with youth, so that really appealed to me. It was also a five-person class, so there was always quality discussion. I also loved Gender and the Environment with Professor Barry and Nature and Technology with Professor Galusky.

Q. What are your plans after graduation?
A. Post-graduation is one of the few times in my life when I'll be almost free of any serious obligations or attachments, so I want to take the opportunity to explore and travel domestically and internationally. In terms of work, I want to move out west to California, Seattle or Denver. I spent this past summer interning at a non-profit for school-based health care in Oakland, Calif., and I absolutely fell in love with the Bay Area and San Francisco. I want to see myself at a non-profit, ideally focusing on violence prevention or educational equality.