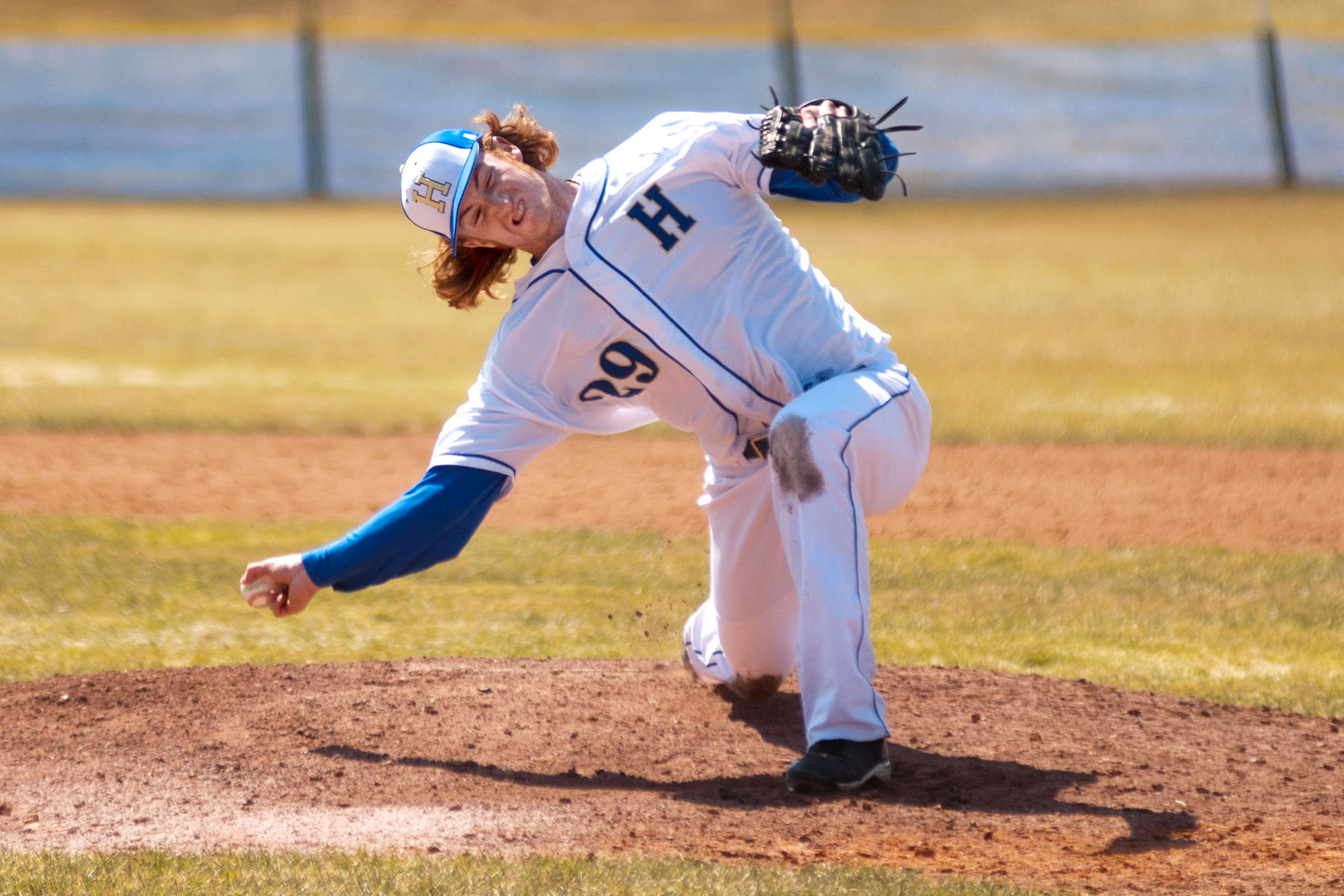 Tommy Moriarty '14 is a relief pitcher and team captain for the Hamilton College baseball program. Tommy and the rest of the Continentals host Wesleyan University for a three-game NESCAC West Division series on Friday and Saturday, April 18 and 19. He is one of four seniors who will be honored prior to Saturday's noon doubleheader. Tommy set team records in 2013 for most appearances (27) and saves (6) in a season. In 2012, he earned a spot on the NESCAC Spring All-Academic Team.

Q. Can you tell us a little bit about where you grew up?
A. I grew up outside Boston. We moved to Newton when I was 10 and before then we lived in Wellesley.

Q. How did you get interested in baseball?
A. My grandfather loved baseball and was a tremendous college player. I remember playing baseball with my family before I started Little League. I've been drawn to baseball since a young age. It's a beautiful game!

Q. Did you participate in any other sports competitively before college?
A. I played some football, ran cross-country and wrestled at various points in middle school and high school. I got into grappling during my year between high school and college. I love sports in general, but I didn't take any of the other ones as seriously as baseball.

Q. What factored into your decision to choose Hamilton College?
A. I wanted a small school, an excellent academic school, and my dear mother (bless her heart) had a preference for me to stay in the Northeast. What set Hamilton apart from other schools that also fit those criteria was my campus visit. I had a good talk with Coach Byrnes, the campus was (and still is) stunning, and everyone was so welcoming and friendly!

Q. The team is scheduled to host a three-game series against Wesleyan University on Friday and Saturday. What can fans expect to see this weekend?
A. Wesleyan's a good team. We've demonstrated that we are capable of competing with anyone on our schedule. I'm expecting three quality NESCAC baseball games.

Q. Saturday will also be Senior Day for you and three teammates. What makes your senior class special?
A. It's a special group of guys. We're a class that's worked hard. Three of the four of us, myself included, walked on to the team. We love the game and want to win. The four of us have also become pretty close over the course of our time at Hamilton. Colin Henneberger '14, Joe Wagner '14 and I all live together, and Steve LaRochelle '14 spends a lot of his waking hours in our common room.

It's also been very cool to take part in the transformation of Joe as a physical specimen. I remember Colin, Steve and I teaching him how to lift his freshman year. The kid didn't know a pushup from a barbell squat. Now we can't keep him away from the gym!

Q. Last year you pitched in 27 of the 37 games the team played and you set a program record for saves in a season. Did you think any of that was possible when you started your Hamilton baseball career?
A. I definitely came in ready to work hard and thinking that the sky was the limit. Last year was pretty cool. I've been blessed to be able to benefit from the opportunities and coaching I've had over the past four years.

Q. The team usually spends nearly two weeks in Florida during spring break. How does that trip benefit the program?
A. It's always a fun time of year. We have a chance to get a sense for one another as teammates and play a bunch of games in warm weather before we start our conference season.

Q. What has been your fondest Hamilton baseball memory thus far?
A. Being part of the wins against Trinity College and Amherst College last year was amazing!

Q. As a member of the 2012 NESCAC Spring All-Academic Team, how do you balance athletics and academics?
A. It gets tight on time sometimes, but I find that the busy schedule provides structure.

Q. Do you have a favorite professor or a favorite class from your time here at Hamilton?
A. Professors Cryer (Theatre) and Dykstra (Math) have been awesome. They have such a passion for their subjects and it shows. They've also helped me out a lot in advising and/or mentoring roles.

Q. What are your plans after graduation?
A. I don't, strictly speaking, have a "job" lined up yet, but I'm looking at a variety of opportunities in the education world. It is my dream to one day open up a charter school in Goulds, Fla., with one of my close friends. I'm looking to get into the field by teaching in a traditionally underserved area next year.