Student-athlete profile on Will Tifft '14
---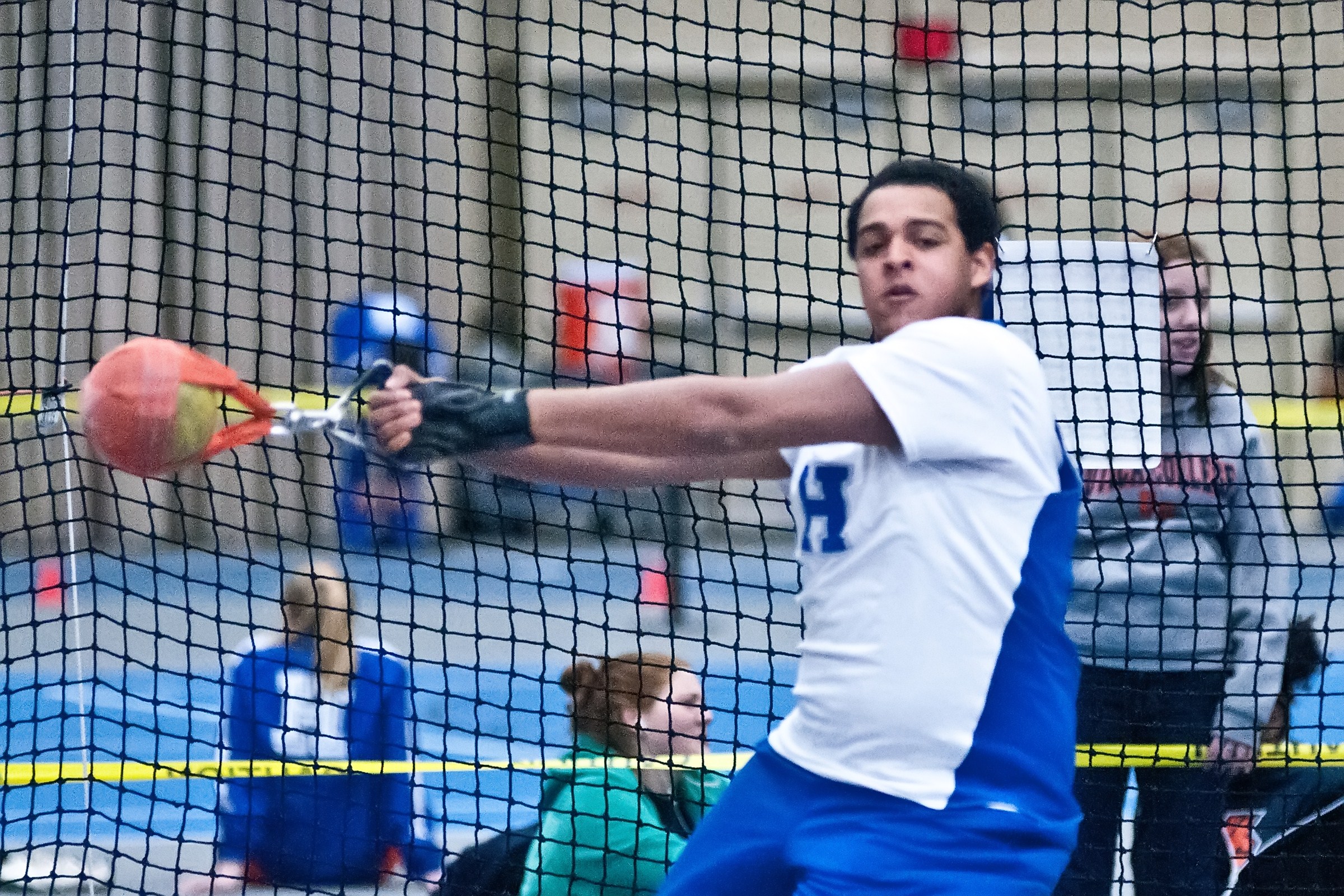 Will Tifft '14 is a three-year letter winner on the Hamilton College men's indoor track & field team and competes during the outdoor season in the spring. Will finished seventh in the 35-pound weight throw at the 2014 New York State Collegiate Track Conference Indoor Championships held at St. Lawrence University on March 1. The Hamilton track & field programs are at the 2014 Eastern College Athletic Conference Division III Indoor Championships in Boston on Friday and Saturday, March 7 and 8.

Q. Can you tell us a little bit about where you grew up?
A. I grew up in Fairlee, a small town on the east side of Vermont about 20 minutes north of Dartmouth College. It's a very typical small Vermont town with a population of about 1,000. There isn't much to do in the town except the drive-in movie theater. For the most part it's a great place to grow up with lots of families and friends.

Q. How did you get interested in track and field?
A. I never had a chance to participate in track and field in high school so when I came here I became friends with Molly Brooks through Rainbow, and she convinced me join the team as a thrower. So I went to a meet and met the throwing coach. He was really encouraging and since I was bored I decided to join. My roommate, Cal Bobola, was also planning on joining the team as a sprinter so it made my decision easier.

Q. Did you participate in any other sports competitively before college?
A. I began playing soccer and basketball in elementary school. Because the schools in the area are so small, there weren't many options for sports outside of soccer, basketball and baseball/softball.

Q. What factored into your decision to choose Hamilton College?
A. I chose Hamilton for the academics. The spring of my senior year my aunt passed away from cancer. She was a professor at Duke University and a journalist, and I knew she valued education. I knew she would approve of the opportunities Hamilton could give me, so it wasn't a hard choice after that.

Q. For those readers unfamiliar with track and field, please describe the events in which you compete.
A. For indoor I compete in the 35-pound weight. It's a 35-pound ball at the end of a short chain with a handle. When you throw the weight you turn in circles, which produces the necessary momentum to move the weight. After doing a set number of turns the thrower releases the weight into the sector. This is a designated area where the weight must land for the throw to be measured. For outdoor I throw the hammer and discus. The hammer is very similar to the weight only about twice as long and a little under half the weight (about 16 pounds). The turns for the hammer are pretty much the same as the weight. The discus is like a smaller, heavier version of a Frisbee and is thrown using a spin. This is just one turn that is used to move the thrower from the back of the circle to the front.

Q. Earlier this season you recorded distances of 15-plus meters at two meets, which was pretty close to the 25-year-old school record of 15.31 meters. Were those your best performances at Hamilton?
A. For the weight they were definitely my best individual throws. At other meets I have been more consistent with my throws. Hopefully this weekend I can have some even better throws and finish my indoor career strong.

Q. Besides Hamilton's Margaret Bundy Scott Field House, which venue do you most enjoy competing in and why?
A. I've enjoyed competing at Cornell and St. Lawrence. Cornell always has good competition, which makes it easy to throw well. St. Lawrence has a circle similar to ours so it isn't a big transition to a different surface.

Q. Which do you prefer, indoor or outdoor season and why?
A. It is hard to say, I've done well in both the last two seasons so I can't really say I prefer one to the other. This indoor season has had its ups and downs so I'm excited to move on to outdoor but I'm still sad to end an event I've done well in the last few years.

Q. What is your favorite Hamilton track and field memory that can be shared?
A. Last spring at the outdoor state meet I had a really good day and set a new personal record. Between indoor and outdoor my turns that day made it feel like I wasn't pushing anything. I haven't had many of those types of days so it's a feeling I'll remember for a while.

Q. Do you have a favorite professor or a favorite class from your time here at Hamilton?
A. I've really enjoyed taking classes with Cindy Domack in the Geoscience department. She is really passionate about what she teaches, which makes it easy to come to class every day, and she teaches subjects that fall within my interests. She's also very knowledgeable about all the subjects she teaches, which range from micropaleontology to coastal geology and metrology.

Q. What are your plans after graduation?
A. My hope is to work in museum paleontology with either the permanent collections or working on collections in digs. Hopefully at some point after that I'll go back to school, but it is still very up in the air.