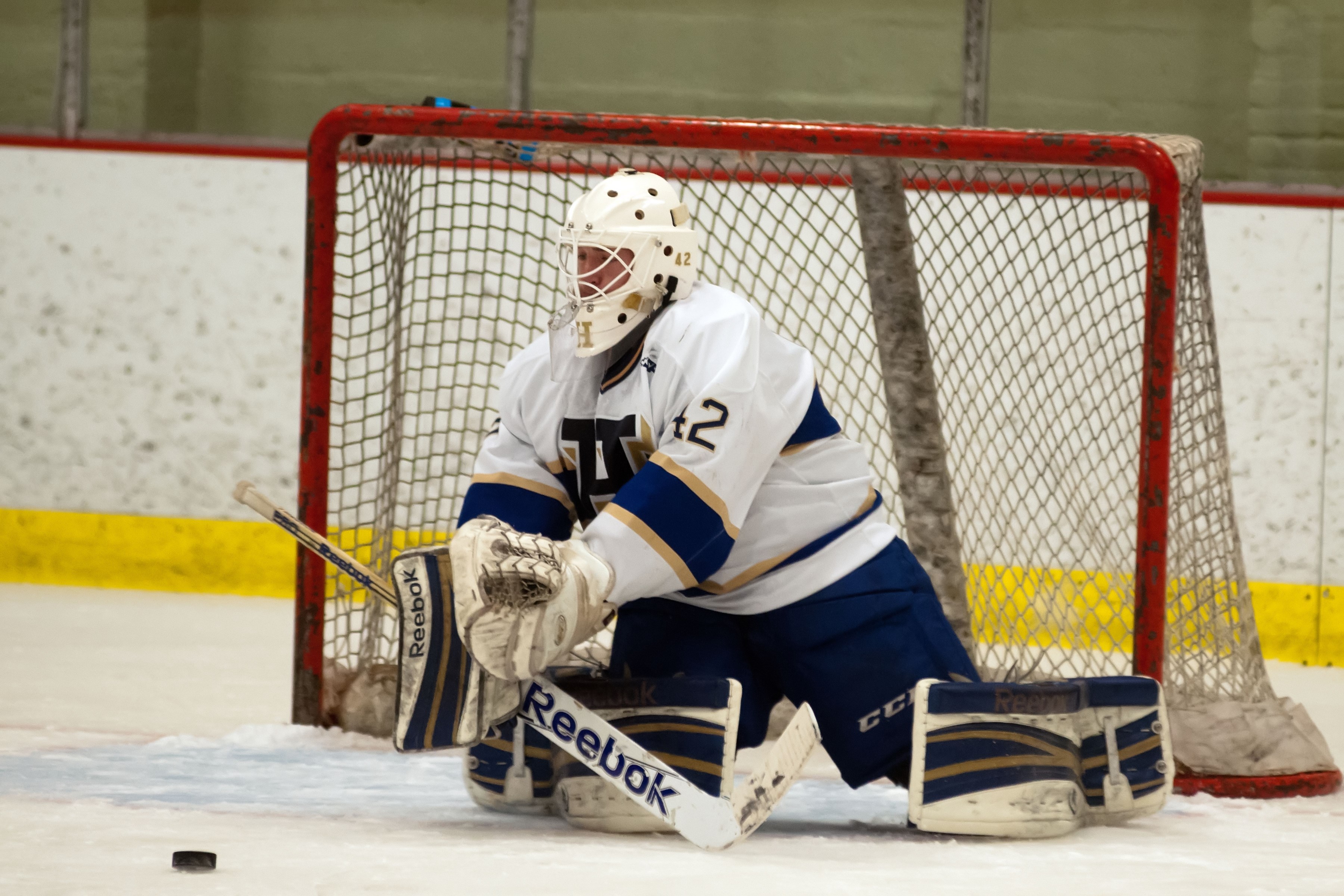 Zach Arnold '15 is a goalie on the Hamilton College men's hockey team. Zach and the Continentals host Wesleyan University on Friday at 7 p.m. and nationally ranked No. 3 Trinity College on Saturday at 3 p.m. The computer science and mathematics major earned a spot on the 2014 NESCAC Winter All-Academic Team. So far this season, Zach has a 2.74 goals-against average and a .925 save percentage in four starts.

Q. Could you tell us a little bit about where you grew up?
A. I grew up in Concord, Massachusetts. It is a small town 30 minutes outside Boston with a lot of Revolutionary War history.

Q. How did you become interested in hockey?
A. My dad, having played himself, got me into the game. At a young age we all rotated playing goalie and I soon found that I was better suited to it so I stayed in the cage. I don't think anyone else on my team was crazy enough to like it like I did anyway.

Q. Why did you choose to attend Hamilton?
A. I chose Hamilton because of the small-community feel that I enjoyed in prep school, the devotion to the flexibility of a liberal arts education and the strong hockey history.

Q. You were selected to the UMass Boston Codfish Bowl All-Tournament Team in early January. Is it safe to say that is your favorite Hamilton hockey memory so far?
A. That is certainly my favorite memory from this year thus far. My favorite memory of all time is getting my first collegiate start in the Utica Memorial Auditorium in front of 4,000 people last year and playing them to a 4-4 tie. That one is going to be tough to beat.

Q. Martin Brodeur, considered to be one of the best goalies ever, retired this week. Is there a hockey player you looked up to when you were growing up?
A. My favorite player growing up was actually not a goalie, but a defenseman named Nicklas Lidstrom. I believe he was the best defensive defenseman of all time and he was a treat to watch. I also think you can only appreciate how valuable he was if you are a goalie.

Q. Where is your go-to place for studying?
A. I am a computer science major, so I am generally studying somewhere in the science center.

Q. Which academic/extra-curricular/community service project that you have been a part of has been the most rewarding? Why?
A. One of the best programs that the hockey team is involved with is the Breaking Bread program. This program involves being "adopted" by a Clinton hockey family. The program has meant a lot to everyone on the team as it allows us to connect with the Clinton hockey community, as well as mentor the youth hockey players. Whether they are having us over for dinner or we are helping out with their practices, we all enjoy the great company and receive a refreshing reminder of why we fell in love with the game in the first place.

Q. What has been the most interesting part of your major so far?
A. I think everything about my major has been fantastic. Coming into college I had no background with computers, but Hamilton's computer science program sparked an interest inside of me and now I am extremely passionate about my field and career in the technology industry.

Q. What has been your favorite class outside of your major? Why?
A. The classes outside my major that have fascinated me the most have been Classics courses. I love learning about what life was like back in ancient Rome and Greece.

Q. How will your combined academic and athletic experiences help you in your future endeavors?
A. Both will serve me tremendously. The academics at Hamilton have prepared me as well as any could for my career in technology. In addition to technical skills, Hamilton has fostered a solid foundation of written and verbal communication skills that computer science majors at other institutions do not possess. Athletically, my participation on the hockey team has supplied leadership experience, revealed the importance of resiliency across all walks of life and, most importantly, taught me that hard work pays off in the end.

Q. What internships/research projects have you participated in?
A. I have had numerous software development internships during my summers. After my sophomore year I interned at IBM and this past summer I worked at a company called Agency Oasis, which was founded by three Hamilton alumni.

Q. What do most people don't know about you?
A. Anyone really close to me knows this and I gave it away with my favorite player, but I am a huge Detroit Red Wings fan despite growing up just outside of Boston. People are always surprised when they hear it.