Student-athlete profile: Rachel Cackett '13
---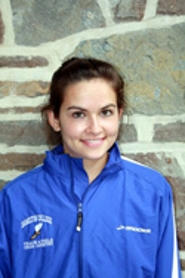 Rachel Cackett '13 is a four-year member of the Hamilton College women's cross country team, and has also been a part of the women's indoor and outdoor track & field teams. On October 6, Rachel posted a personal-best time for a 5K race, and Hamilton won the team title in its own invitational. The team aims to ride the momentum of its recent victory into the 2012 New York State Collegiate Track Conference Championships, which will be held at Center Park in Fairport, N.Y., this Saturday, Oct. 20.

Q: Tell us a little bit about where you grew up.

A: I grew up in Pittsford, N.Y., just outside of Rochester. It gets just as cold and snows just as much in Pittsford as it does in Clinton. My grandmother actually lives in Clinton at the bottom of the hill, so I spent a lot of time as a kid running around the Root Glen.

Q: Did you participate in any other sports or activities before you came to Hamilton?

A: I ran track and cross country in high school. I also played Ultimate Frisbee and rock-climbed during the offseason.|

Q: How did you first get interested in cross country?

A: I played field hockey my freshman year in high school, and my favorite part of practice was when we got punished and they would make us run laps on the track. I decided it was probably better to join the cross country team than be the one who gets excited when the team has to do wind sprints.

Q: What attracted you to Hamilton College and the cross country program?

A: I knew I wanted to run in college. I really liked Hamilton for its ability to balance academics with athletics. I also really liked Coach Hull when I visited, and overall the team was a great fit.

Q: On October 6 your team finished first in the Hamilton College Invitational and you posted a personal-best 5K time of 19:24.8. How did that feel?

A: It was a really exciting meet for everyone. There were personal bests all around. Most of our top seven runners broke into the top 20 Hamilton times for that course. It was the last race before championship season and it will give us the momentum we need to do great things when it counts. It was a big win for us.

Q: What has been your favorite Hamilton cross country highlight from all of your seasons?

A: It's extremely hard to pinpoint one highlight. I look forward to running with the team at practice just about every day. Running is a very individual sport, so I feel extremely privileged that we have developed such strong team unity over the past four years. We push each other. I know my teammates rely on me as much as I rely on them. I can't imagine a better environment to improve as an athlete.

Q: You studied abroad last spring, where were you? Tell us about your experiences.

A: I studied abroad in New Zealand at the University of Otago. It was an unbelievable experience, so many beautiful beaches and mountains. I ran a half-marathon through the mountains that were used as Mordor in Lord of the Rings. It doesn't get much better than that.

Q: What has been your favorite class at Hamilton?

A: My favorite class at Hamilton has probably been Paleontology with Professor Cynthia Domack. I'm a hands-on learner and I love going out and collecting fossils.

Q: What will Rachel Cackett be doing five years from now?

A: That is an excellent question. I wish I had even the faintest idea. Hopefully, I will be on a beach after winning the lottery, and having a great time with all my friends and family. And ideally I will have won the Boston Marathon four out of the past five years. Wish me luck!