Student-athlete profile: Stephen Rosenman '13
---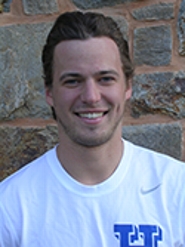 Stephen Rosenman '13 and the Hamilton College men's tennis team wrap up the season with a NESCAC match at Connecticut College on Saturday, April 27. With a victory, the Continentals would have their highest win total since 1995-96. Stephen won two matches and advanced to the semifinals of his singles bracket at the 2012 St. Lawrence University Fall Classic. He was on the 2012 NESCAC spring all-academic team, and played third flight doubles in his last home match on April 22 against Union.

Q: Tell us a little bit about where you grew up.

A: I grew up in Bryn Mawr, Pa., which is just outside of Philadelphia. I went to school minutes away from home and was fortunate to live within a few miles of many of my close friends.

Q: How did you get involved in tennis?

A: My dad is definitely the one responsible for getting me into tennis. He played in college and continues to play several times a week before and after work. I picked up a racket sometime around the age of 4 and have played sporadically since then.

Q: Did you participate in any other sports before arriving at Hamilton?

A: Definitely. Tennis actually took a backseat from middle school on when I became more serious about playing ice hockey. Hockey became a year-round commitment and I ended up not playing much tennis (only played during my freshmen year of high school), other than with my dad.

Q: What attracted you to Hamilton College and the men's tennis program?

A: I began looking at liberal arts schools (specifically NESCAC) because I really enjoyed attending a small, private high school, and I was able to get the most out of my experience there due to the close interaction with faculty and peers. Though most of the schools I visited all started to blend together, and it seemed as though facilities/events/dining halls were all on a fairly level playing field, something about Hamilton struck me that it was the right fit.

While inherently one of the smaller teams on campus, the men's tennis team is comprised of a very tightly-knit group of guys, who have always got along extremely well on and off the court during my time on the team. Being able to enjoy playing every day with close friends, sharing a week together in Florida over spring break and great memories from every road trip has made being a part of the team one of the most exciting aspects of my college career.

Q: This year you made it all the way to the semifinals in the C flight singles bracket at the St. Lawrence University Fall Classic. Talk about that experience.

A: The main part of the season (all our NESCAC matches) is during the spring. But the team competes in several tournaments against a wide range of schools, including some Division I teams, in the fall. St. Lawrence University is always one of those tournaments we look forward to grabbing a few championships in the various flights. This year, I was able to make it through the first two rounds before falling short to the eventual winner from the University of Rochester.

Q: The team defeated three regionally ranked opponents this spring. How can the program continue building off this success?

A: The team has definitely improved the past few years and is very much headed in the right direction. The NESCAC is an especially tough conference for tennis as many of the teams are often ranked nationally and able to beat a number of Division I teams out there. While we have had a difficult time pulling out some of the close NESCAC matches, we continue to beat non-conference teams that regularly make the NCAA championship.

Q: It seems like we are in a golden age of tennis with stars like Novak Djokovic, Andy Murray, Roger Federer and Rafael Nadal. Who is your favorite tennis player to watch?

A: I would have to go with Roger. When he is playing at the top of his game, it seems as though he can make shots no other player in the world can make. Though at this point in men's tennis, any matchup between these guys in the semis or finals of one of the Grand Slams could be the match of the year.

Q: If you could compete in any Grand Slam event, which would it be and why?

A: The U.S. Open. While Wimbledon is obviously known as the most prestigious of Slams, playing on home turf under the lights in Flushing Meadows with a rowdy New York crowd would be a pretty awesome feeling.

Q: You are a 2012 NESCAC spring all-academic honoree. What is your advice for excelling both on and off the court.

A: Any athlete would say this, but effective time management is essential. It is definitely not easy being in-season, having a tough workload, fitting in other extracurriculars, managing to get at least three meals a day and a solid night's sleep and still have some form of a social life. While athletes often prioritize athletics above academics (especially while in-season), I have found it helpful to approach my academics with the same competitive mentality that I do for athletics.

Q: What has been your favorite class at Hamilton?

A: On the note of prioritization of athletics and academics, I have to say Philosophy of Sport with Professor Simon (which I am taking this semester). We have covered a range of topics from the role of athletics in a university setting, to how recruited athletes fare in school versus the rest of the student body with a focus on the NESCAC in relation to large Division I schools, to the ethics of cheating at various levels of play.

Q: What will Stephen Rosenman be doing five years from now?

A: If you had asked me where I thought I would be next year during my freshmen year at Hamilton, I would have been way off. So with that in mind, five years from now sounds like roughly the time I plan on graduating from business school. Next fall I will be starting the first few years of my time in the real world working for Deloitte in their Federal Analyst Program.