Student Researchers Explore Hypothyroidism
---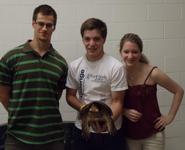 Place your hand on your throat. Whether you know it or not, you're holding your thyroid glands, some of the most important in your body. The team of Sloane Lipkin '11, Andrew Brodsky '11 and Evan Taddeo '11, working under Professor of Biology David Gapp, are working this summer to determine the effects of decreased thyroid function, or hypothyroidism, on mice.

The thyroid glands are essential to the development, growth and metabolism of an animal. It secretes two major hormones, triiodothyronine (T3) and thyroxine (T4). Lipkin, Brodsky and Taddeo are administering small amounts of a drug called propylthiouracil (PTU) to mice. PTU causes the thyroid to secrete less T4, which will affect the mice's body mass and growth.

The team began administering PTU to the mice when they were just one month old. For the four weeks of the experiment, four of the 12 mice received food that was .25 percent PTU, another four received food that was .5 percent PTU, and the final four were the control group. During the four weeks the team weighed each individual mouse and collected its blood. Now that the experiment has ended, the team is finishing its analysis, looking at the overall effects of decreased hormone levels on different organs in hypothyroid and normal individuals, as well as blood glucose concentration and thyroid levels in the blood serum. The team is still processing the results from their experiment, but there appears to be a positive correlation between hypothyroidism and smaller body mass.

For their senior projects this coming school year, Lipkin and Brodsky hope to use the various organ tissues from this experiment stain for different receptors, such as epinephrine, insulin, and neurotensin, and to examine the differences between the hypothyroid and control animals.

The effects of hypothyroidism over only four weeks would not be long-term. Future studies will try to administer PTU over a longer period to see if there are more extreme effects.

Lipkin hopes to continue with her study of the thyroid, analyzing the neuropeptides and other receptors of thyroid-secreted hormones as well as extending her study to animals other than mammals. Outside the lab, she volunteers often with HAVOC, is the secretary of Hillel, and is a member of the pre-veterinary club.

Brodsky will also continue analyzing the effect of the thyroid, examining the differences between receptors for various hormones. He is a member of the swim team and the cycling club as well as Student Assembly treasurer.

Taddeo has already begun the project that will become his thesis, documenting the life cycle of the parasite Heligmosomoides bakeri. He is on the executive board of Students for International Public Health Awareness (SFIPHA), plays intramural soccer and volunteers with Study Buddies.

Lipkin is a graduate of West Springfield High School in Springfield, Va; Brodsky graduated from Edward Little High School in Auburn, Maine; Taddeo is a graduate of Cromwell High School in Cromwell, Conn.