Students Attend Real Food Challenge Summit
---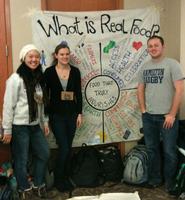 Hamilton sent a delegation of three students (Taylor Davis '15, Ellie Fausold '13 and Lauren Howe'13) to the Real Food Challenge National Summit at Johns Hopkins University in Baltimore on Feb. 15-17. Real Food Challenge (RFC) is both a network of students and a national campaign to increase the procurement of "real food" on college and university campuses across the country.

RFC defines "real food" as community-based, ecologically sound, fair and humane. The campaign has a long term goal of shifting to 20 percent real food by the year 2020, which would be roughly equivalent to transferring $1 billion from the industrial food system to a more sustainable model.

This year's summit, Breaking Ground 2013, was the second national RFC gathering and it brought out more than 200 student supporters. Students traveled to Baltimore from Alaska, California, Florida and everywhere in between to learn concrete skills in leadership development and campaign work, as well as workshops about anti-oppression and food justice issues. Hamilton Student Assembly for funded the delegation to the conference. If interested in getting involved with Hamilton's Real Food campaign contact Lauren Howe at lhowe@hamilton.edu.