Students Conduct Trials on Drug That Could Help OCD, ADHD
---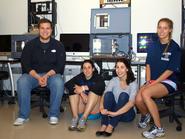 Pharmaceutical research is usually dominated by corporations and large research universities, but student researchers Hallie Brown '13, Summer Bottini '14, Scott Pillette '14 and Liza Gergenti '14 are conducting preliminary animal trials on the psychoactive drug Quinpirole as Hamilton undergraduates. They're studying Quinpirole's effect on contrafreeloading under the direction of Visiting Assistant Professor of Psychology Michael Frederick.
Contrafreeloading is a phenomenon often compared to Obsessive–Compulsive Disorder (OCD) which occurs when animals choose to work for rewards (such as food) which can otherwise be obtained without effort. While Quinpirole has been under research since the mid 1990s, this is the first study of its kind to be conducted in the United States. The students are using Skinner boxes, an animal conditioning chamber invented by Hamilton graduate and behavioral psychology pioneer B.F. Skinner, in order to induce rats to work for their water. They will observe the behavior of a control group of rats and a group of rats exposed to Quinpirole in order to determine if the drug has an effect on learning ability in the form of contrafreeloading.
According to Bottini and Brown, the trials have an extra significance because "continuing work about behaviorism is a nod to [Skinner's] legacy here."
Quinpirole increases the amount of time D2 and D3 dopamine receptors remain open. This change increases motor activity and can cause hyperactivity and stereo-type behaviors in rats, such as increased sniffing and scratching. Past studies have shown Quinpirole to induce symptoms similar to OCD; however, it is not known if these symptoms result from an increased trend in behavioral rigidity (the desire for structure and repetition) or increased environmental flexibility (the desire to explore and try new things). Bottini says that "by figuring how exactly Quinpirole affects behavior, future research can hopefully make use of it for treating or understanding behavioral disorders such as OCD or ADHD."

The first step in the students' research was to train their 24 rats to associate depressing a Skinner box lever with receiving water. The rats were deprived of water for 24 hours and then placed in a Skinner box. The researchers trained the rats by rewarding them with small amounts of water for actions such as looking at the lever or walking towards the lever. Because the rats require a regimented schedule, they needed training seven days a week, requiring time and dedication on the part of the students. They have divided the rats into two groups for training and have observed that one rat, who they named Franklin, has been the quickest to complete every trial, even without the assistance of Quinpirole. The rats quickly associated the action of depressing the lever receiving water, surprising the researchers with the speed of their learning. The students then began their Quinpirole trials.

Twelve rats were given Quinpirole while another 12 rats were kept unmedicated as a control sample. The first step of the Quinpirole trials, which will be conducted over the remainder of the summer, is to repeat the Skinner box water test on the control group and the Quinpirole group. The researchers will look to see if exposure to Quinpirole increases the rats' rate of lever depression.

After data is collected and the results are analyzed, student researchers in either the coming spring or fall will add "free" water to the Skinner boxes that the rats can access without depressing a lever. Researchers will also add other reward systems which the rats can interact with in order to obtain water. If the rats exposed to Quinpirole continue to opt for the water obtained by the lever as opposed to the free water or water obtained by another reward system, Quinpirole's effect will indicate an increase in behavior rigidity. However, if the rats pursue other methods of obtaining water instead of simply drinking the free water, Quinpirole's effect will indicate an increase in environmental flexibility. If either behavioral rigidity or environmental flexibility is brought on by Quinpirole, the drug's potential for increasing understanding and treatment options of ADHD and OCD will be significant.

Brown is pursuing a dual concentration in psychology and mathematics, while Bottini is a psychology concentrator with a minor in communications. Pillette and Gergenti are both neuroscience concentrators. Brown and Bottini are both interested in pursuing further studies in clinical psychology, and Brown has a specific interest in psychology as it applies to education. Gergenti plans to pursue a career in medicine.

Hallie Brown is a graduate of the Beacon School (N.Y.), Summer Bottini graduated from Millbrook School (N.Y.), Scott Pillette is a graduate of Sunset High School (Ore.) and Liza Gergenti graduated from Warwick Valley High School (N.Y.)