Seniors Present Posters at Geological Society Meeting
---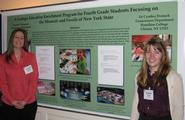 Jennifer L. Thompson '11 and Heather D. Parker '11 presented posters at the Northeastern/North-Central Geological Society of America Joint Section Meeting held in Pittsburgh on March 22. Both were in the Geologic Education session of the conference.
Thompson's poster was titled "A Geologic Education Enrichment Program for Fourth Grade Students Focusing on the Minerals and Fossils of New York." Parker presented a poster titled "The Development and Implementation of a Meteorology Enrichment Program for Third-Grade Students at Clinton Elementary School in Clinton, New York."
The work presented by the students was based on their off-campus after-school enrichment programs and their senior theses with Prof. Cynthia Domack in the Hamilton College Geosciences Department.