Students Volunteer With No More Deaths in Tucson
---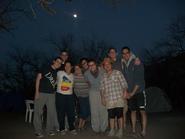 Nine Hamilton students spent a week of spring break volunteering with the humanitarian aid organization No More Deaths in Tucson. Students making the trip were Kerry Coughlin '11, Ilse Zoerb '11, Sam Doyon '12, Connor Brown '12, Ephraim McDowell '12, Elizabeth Costello '13, Grace Lee '13, Chip Sinton '13 and Barsha Baral '13.

No More Deaths invites U.S. college students to travel to the borderlands in order to provide direct aid to migrants in need and learn firsthand about immigration and border justice issues. The organization works not only to create long term solutions and changes to the current immigration situation, but to also ensure that those crossing the desert have access to food, water and medical care.
Coughlin said the students were given basic training that included border history, legal issues and medical care. They then set up camp in the Sonoran Desert near trails known to be frequented by migrants. "We went out twice a day on patrols, where we carried food, water, and medical kits on trails that NMD has mapped out to see if we ran into anyone who needed help. We also left water and food at various points on the trail for those who are crossing," she said.
After returning from the desert some of the students were also able to witness Operation Streamline proceedings in a courthouse in Tucson, where those undocumented migrants who have been identified by law enforcement plead their case before it is determined whether or not they will be deported. They then met with all other NMD volunteers from the week who were at other camps, as well as long-term volunteers of the NMD team, to reflect and debrief.
The students' trip was fully funded by Hamilton College with support from the Kirkland Endowment, Cultural Education Center, Dean of Students, COOP and Student Assembly.