Hamilton College Breaks Ground for New Theatre and Studio Arts Center
---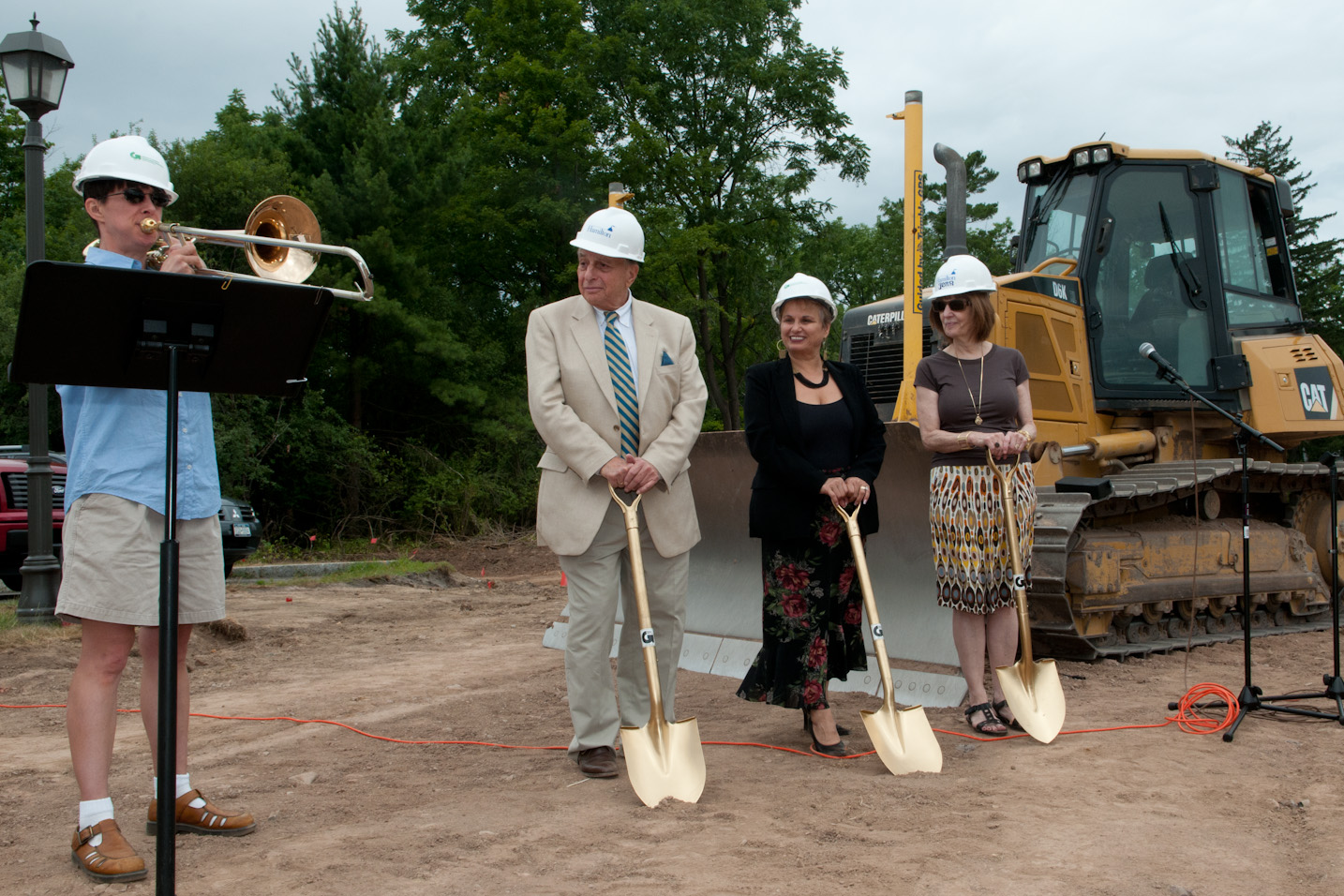 On the eve of the completion of the Ruth and Elmer Wellin Museum of Art, groundbreaking for the College's new theatre and studio arts center was celebrated on Friday, July 20. There were plenty of hard hats and shovels for attendees including members of the theatre and studio art faculty, President Joan Hinde Stewart, Vice President of Communications and Development Richard Tantillo, Assistant Vice President, Career Center Mary McLean Evans '82, Associate Director of Physical Plant William Huggins P'13, Wellin Museum of Art Director Tracy Adler, and Museum Associate Director Susanna White. F. Eugene Romano '49, who made a $2.8 million lead gift for the theatre, was also in attendance along with representatives from Charles A. Gaetano Construction Corp. of Utica.

The ceremony was followed by refreshments. Associate Professor of Heather Buchman performed a fanfare composed by Leonard C. Ferguson Professor of Music Samuel Pellman for the occasion.
"The planning for this facility has been under way for well over a decade now, and for many of us it has been one of our major creative projects," said Pellman who led the campus planning committee for the new arts facilities. "Now we begin executing the concept. Beginning two years from now, this facility will enable Hamilton to bring forth for generations of future students a powerful vision of the arts in our society."

The theatre and studio arts center is part of an arts complex that includes the Machado and Silvetti-designed Ruth and Elmer Wellin Museum of Art. The complex also incorporates the McKim, Mead and White-designed Molly Root House, which houses the art history department, and a revitalized pond and landscaping by Reed Hilderbrand. The Board of Trustees approved the design construction documents in June for the $46.8 million structure in June. The building will be completed in the summer of 2014.

New facilities for the visual arts and theatre departments have been among the three priorities for the ongoing Bicentennial Initiatives campaign. A key component of the new facilities is a unique kind of studio art space: large common areas for classes and exhibitions, smaller workshops and studios surrounding those areas, and a new interdisciplinary, digitally based Studio for Trans-media Arts and Related Studies (STARS). The combined spaces far surpass the offerings of the List Art Center, which was originally built in 1970 and renovated more than 15 years ago.

The core areas in the new studio art facility will be common areas: large classrooms for a new Foundations course and for drawing, and an exhibition space where students can share their work and have it critiqued. Instruction at Hamilton is highly personalized. The intensive, one-on-one studio experience in which professors serve as both critics and advocates requires dedicated spaces designed and located with the needs of the discipline in mind, Pellman said.

Surrounding the core areas will be workshops, studios and support spaces for painting, printmaking, sculpture, woodworking, metals and ceramics, photography and other media.

The new theatre will enable the department to expand its productions and provide students with vastly improved performance and teaching venues. Currently, the lack of adequate wing space and fly space in Minor Theater severely limits the plays that can be produced and the manner in which they are staged. In addition, cramped and ill-equipped scenery and costume shops make the teaching of technical theatre difficult and constrain the kinds of sets and costumes that can be constructed. The addition of a smaller teaching theatre will make classes in directing and performance more effective.

Hamilton's theatre productions consistently draw full audiences so the new building has been designed to accommodate larger audiences. It will include a fully equipped, flexible theatre (175 seats), with support spaces and dressing rooms, that will accommodate various types of productions from any culture or period.

A smaller laboratory theatre (100 seats) will be used for senior projects, class projects, guest artists and some public performances. This space will be largely student-driven.

In addition, a studio space with seating, lighting and sound equipment will be used to teach courses with a performance element. An adjacent seminar room will augment the studio so that classes can move between the two spaces without disruption. Scene shops, costume shops and storage areas are also planned.

In expressing his vision for the new facility, Romano said, "the new theatre will give more Hamilton students additional opportunity to acquire and practice the art of producing and acting. I would like to see more Hamiltonians give their unique touch to Broadway."