Swimming & diving team participates in Alzheimer's Association Memory Walk
---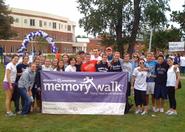 Twenty-three members of the Hamilton College men's and women's swimming and diving team participated in the Alzheimer's Association Memory Walk in Utica, N.Y., on Sept. 12.
The student-athletes raised approximately $700 to benefit the association. The group included Megan Schlosser '13, Jillian Halak '13, Ellie Fasold '13, Chessie Crane '10, Emma McCarthy '10, Liz Bucceri '11, Maja Feenick '13, Gabrielle Gionoe '12, Rachel Lieberberg '13, Jeanie Folan '12, Carolyn Meyer '10, Bryan Erickson '10, James Crafa '12, Jared Mereness '10, Chris Crowell '10, Jake DeConinck '11, Lizzie Buhl '12, Chris DeConinck '11, Elsie Swank '11, Courtney Neuber '11, Andrew McDermott '12, Jon Fung '12 and Diane Paverman '13.

The Memory Walk has been held annually since 1989 and has raised more than $260 million for the cause. The walk is the nation's largest event to raise awareness and funds for Alzheimer care, research and support. All donations raised through the event benefit the Alzheimer's Association, whose mission is to eliminate the Alzheimer's disease through advancing research. The association also works to provide and improve care for all of those living with the disease, and to promote brain health in order to reduce the risk of dementia.