Swimming & diving teams earn all-academic honors
---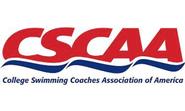 The Hamilton College men's and women's swimming & diving programs have earned 2012 College Swimming Coaches Association of America Scholar All-America Team honors.

2012 Division III Men's Scholar All America Team
2012 Division III Women's Scholar All America Team

To be a scholar all-America team, the institution must have achieved a team grade point average of 3.0 or higher during the 2012 fall semester. The men's team recorded a 3.39 grade point average, which ranked sixth in Division III, and the women ranked 20th with a 3.47 grade point average. A total of 64 men's programs were honored and 114 women's teams made the grade.