Tamagawa University Taiko and Dance Group to Perform
---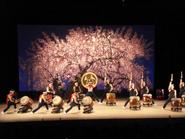 The Japanese Program in the Department of East Asian Languages and Literatures will present a free concert of Japanese taiko drumming and dance on Friday, April 2, at 7 p.m., in Wellin Hall on the Hamilton campus. The drumming and dance group consists of about 40 students.

The Tamagawa University Taiko Dance Group is known worldwide for their taiko drumming and Japanese dance. Since the group's inception in 1961, they have visited Mexico, England, Greece, Canada, Malaysia, Russia, Indonesia, Africa and the U.S. to introduce their new style of performing art. In addition to New York, their schedule includes a return to the National Cherry Blossom Parade in Washington, D.C., as well as performing at the Philadelphia Cherry Blossom Festival, and at various colleges in the Northeast.

The program director and choreographer is university professor and renowned Japanese dance master Isaburo Hanayagi, who studied under his father Yoshigosaburo Hanayagi. Trained as a Nihon Buyo (Japanese dance) performer in the Hanayagi-ryu (Hanayagi school), Isaburo made his stage debut under his father. The Hanayagi-ryu is the largest school of Nihon Buyo. Beginning in 1978, Isaburo has participated in dance programs in the U.S. and Canada. Subsequently, he has toured and held Nihon Buyo workshops at colleges around the world.

This event is free and open to the public. Tickets are not required. For more information, please contact Kyoko Omori, associate professor of Japanese (komori@hamilton.edu) or Cynthia Smiegal in the Foreign Languages Office @ (315) 859-4771 (csmiegal@hamilton.edu).

This event is made possible by the President's Office, Dean of Faculty Office, Diversity Initiatives Fund, East Asian Languages and Literatures, Asian Studies, Dance and Movement, Theatre, and Music.