Tamagawa University Taiko (Drum) and Dance Group Visit is April 3
---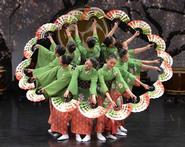 The Tamagawa University Taiko (Drum) and Dance Group will give a workshop and performance on Wednesday, April 3, in Wellin Hall, Schambach Center for Music and the Performing Arts. The workshop will take place from 4 to 5:30 p.m. and the performance will follow at 7 p.m. The workshop and performance are free and open to the public.
The Tamagawa University Taiko Dance Group has been touring the world since 1961, visiting Mexico, England, Greece, Canada, Malaysia, Russia, Indonesia, Africa and the United States. Their performance of high-energy Taiko drumming and Japanese folkloric dance has received rave reviews from The New York Times and other media. The 30-member group won third prize in competition against 450 other groups at the Tokyo International Taiko contest in 2006. With growing numbers of fans every year, they return to the U.S. to perform at the Cherry Blossom Festival in Washington D.C.
A reception will be held immediately following the performance. The events are sponsored by the Dean of Faculty, East Asian Languages & Literatures Department, and Asian Studies and hosted by the Performing Arts Department and the Japanese Program.