Taneja Receives Peace Studies Award
---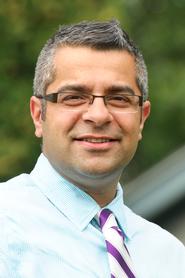 Amit Taneja, director of the Days-Massolo Center, has been honored with a Peace Studies award from The Central New York Peace Studies Board and Peace Studies Conference Committee. He received the award at the organization's 23rd annual conference on Nov. 12 in Syracuse.
Taneja received the Graduate Paper of the Year award for his paper "Imprisoning LGBTQ People." A doctoral candidate in the School of Education at Syracuse University, his dissertation focuses on the intersections of race, class, gender and sexual orientation for LGBT students of color at historically white college campuses.
Taneja is the past chair of the Consortium of Higher Education LGBT Resource Professionals. He serves as a consultant and speaker on a range of diversity issues, and actively volunteers with community organizations to improve equity and access for marginalized communities. Taneja is currently working with other community leaders to establish transgender protections in the Syracuse City Fair Practices Law.