Technical Theatre Students "Stump the Rigger" at Competition
---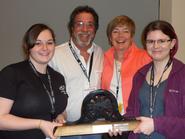 Three technical theatre students recently traveled to the U. S. Institute for Theatre Technology Conference in Charlotte, N.C. Juan Hurtado '11, Lauren Lanzotti '14 and Mary Lehner '12 took part in the four-day event where they sat in on lectures, demonstrations and Q&A forums with professionals in the theatre technology industry. Lanzotti and Lehner won the "Jack Suesse Memorial Stump-the-Rigger" competition.
In this contest of engineering prowess, participants were asked to present a problem that they had to solve in their own theatre. The professionals, theatre faculty and students in attendance were asked to work out a solution.
Bill Sapsis, CEO of contest sponsor Sapsis Rigging, described the Hamilton-submitted problem in his company's newsletter. "The winning question came from Lauren Lanzotti and Mary Lehner from Hamilton College in upstate New York. Their question involved rigging a piece of scenery, a 28' tall ship's mast to be exact, that had to stand at a steep angle on a turntable and revolve with the turntable. Complicating the situation was the fact that the mast did not sit centered on the turntable but offset from center by four feet." The trophy was presented by Sapsis and Gwen Suesse, widow of the late Jack Suesse, a famous theatre world rigger for whom the trophy is named.
While no one at the competition was able to figure out a logical way to rig the set, Hamilton technical theatre students and faculty were able to find a solution to the seemingly impossible design. Their work will be on display in Minor Theater during the upcoming Spring Theater Production, Wet or Isabella the Pirate Queen Enters the Horse Latitudes, by Liz Duffy Adams (April14-16, 20-23).
The students' trip was advised by Director of Technical Theatre David Stoughton and funded by Student Activities, the Kirkland Endowment and Untitled@Large.

.