Tenzing Lama '13 Interns in Nepal Hospital
---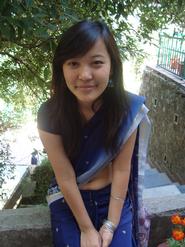 A trip to the emergency room can be a harrowing and frustrating experience, especially given the rising cost of medical care. In cities such as Bhaktapur, Nepal, many people lack the funds to receive necessary medical care. With support from a Jeffrey Fund for Science Internship, Tenzing Lama '13 is working with doctors and nurses at Siddhi Memorial Hospital that provides much-needed medical care at low costs.

With a population of about 70,000, Bhaktapur lacks the medical facilities available in bigger cities, such as Kathmandu. Founded in memory of a young man who died in a road accident, Siddhi Memorial Hospital provides access to emergency care to the women and children of Bhaktapur and the surrounding villages. The hospital is able to provide service at such low cost by raising funds and collecting donations to minimize the financial burden on its patrons. "Most of the patients [at Siddhi Memorial Hospital] would not have been able to afford the cost of medical care at other hospitals," Lama said.

Interning at Siddhi Memorial Hospital not only gives Lama experience with medicine in Nepal, but also with the practices of a successful non-profit organization. On a daily basis, Lama finds that the best way to achieve both of these goals is by interacting directly with the patients. She starts and ends each day in the children's ward, dividing her time between the nurses who are providing care and the patients in the playroom, providing a different type of care that is not medical but is still important. She also shadows various doctors in the outpatients department, where more than 50 patients visit the doctors each day. As the summer goes on, she hopes to be offered an opportunity to work in the laboratories at the hospital to practically apply what she has learned in lab classes at Hamilton.

So far, Lama has found that personal interaction is a key component of successful healthcare, no matter the country. "Throughout my time here at the hospital, I have met many patients who have benefited from both the low-cost care available here as well from the company of interns and volunteers," she said. "Patients admitted to the wards, especially sick children, are usually a little scared and homesick. When interns and volunteers take the time to talk to them, that fear is decreased."

Lama is learning first-hand that little changes can have huge effects, both externally and internally. She will continue to volunteer her time in a broad range of community service projects when she returns to Hamilton, and she will use her experience in the medical field to help her further pursue studies in a health-related field upon her graduation.

Lama's internship is funded by the Jeffrey Fund for Science Internships, which supports full-time, off-campus internships related to science. The fund is administered through the Career Center.

Lama is a graduate of Woodstock School in Mussoorie, India.