The Beat of Different Drummers
---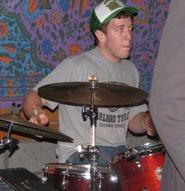 Legendary trumpeter Clark Terry once said that true musicianship can be achieved through imitation, assimilation and innovation. This summer, Tim Carman '11 intends to tackle the "imitation" aspect; working with an Emerson grant and Professor of Music Lydia Hamessley, he will create a manual of the most important drum grooves for drummers to study.

Carman has been drumming since the fifth grade and, as time went on, his pastime turned into his passion. Although he has become much more knowledgeable in music theory due to his music major and improved his writing significantly as a history major, Carman has found his time for drumming slowly drained by other obligations. This summer he has decided that he will follow his passion that he honed at Hamilton in his research.

Through his years of extensive training, Carman realizes how much a musician must know about the history of music to be successful today. "In order to become a professional drummer in today's competitive environment, an understanding of all grooves and styles is essential," Carman said. "However, most drum books or manuals seem narrow, usually focusing on teaching the student technical elements of only one style."

His manual will cover all the main styles that contemporary drummers should know—funk, jazz, rock, r&b/soul and Latin—by citing some famous or particularly demonstrative examples. He organizes the grooves both chronologically and topically and will include a small introduction to each section in which he will describe the evolution of that particular style as well as key figures that have influenced this development. "This project will have two objectives: provide musicians with a taste of key styles of drumming, and teach musicians the history and evolution of these styles," Carman explained.

But the process of arriving at this finished product is not an easy one. Besides sifting through and attempting to summarize prolific amounts of material about the development of particular musical styles, Carman is taking on the daunting task of transcription. He listens to a different solo or groove, such as Brian Blade's on "Jazz Crimes," or John Bonham's on "When the Levee Breaks," and writes it out on a computer program called Finale. He will then double-check his notation by playing it through, fixing any errors he has made. By the end of the summer Carman hopes to have at least 35 solos or grooves transcribed.

"This research has really helped me hone in on the different styles and feels of the top drummers," Carman said. "Each drummer has his or her own flavor, and by transcribing their parts, I've slowly figured out what makes each of these incredible drummers unique. This has inspired me to find my own style."

Carman intends to continue composing this book of essential imitation into the academic year, writing it and continuing to learn the full songs as part of his thesis for his music major. He is composing the book for the purpose of helping Hamilton music students learn and practice a broad range of styles in one consolidated manual. Carman hopes to attend music school after graduation from Hamilton.

Carman is a graduate of the Rivers School in Weston, Mass.