The Buffers Complete Winter Tour
---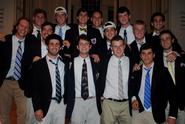 The Buffers, Hamilton's oldest and only all-male a cappella group, completed their annual tour of the Northeast over winter break.

The tour began in Schenectady, N.Y., where they co-headlined a concert with Hamilton's Duelly Noted at Union College on January 5. The next morning, after grabbing breakfast at a local diner and serenading their waitress with a rendition of the barber-shop classic, "Love Me Tender," they made the short trip across the Massachusetts border to Williams College. In Williamstown, they visited the renowned Clark Museum of Art before joining the Williams Octet and Ephlats in an impromptu dorm concert.

On Jan. 7, The Buffers swept across rural Vermont and into New Hampshire to visit Dartmouth College. After briefly re-tuning their repertoire in Dartmouth's beautiful music facilities, they joined the Dartmouth Decibelles for a concert in the living room of a sorority house.

The next day the group headed south to the Dorchester section of Boston, hometown of music director extraordinaire James Keefe '13. They performed a short set and enjoyed a hearty meal at Tavalo, a neighborhood Italian restaurant.

The Buffers' winter tour was funded in part by Hamilton's Student Activities Office.

On Jan. 28, The Buffers grew restless and hit the road again. They sojourned down to Carmel, N.Y., to sing before an adoring crowd at the Gipsy Trail Club. After selling dozens of CDs and signing a few autographs, the group shared a communal meal and retired to a rustic, lakefront cabin.

Founded in 1950, The Buffers are one of America's oldest collegiate a cappella groups. Today, the 16-man group is composed of six varsity athletes from five different sports teams, five members of the College Choir and three members of the renowned College Hill Singers. Their multifaceted repertoire ranges from old-time classics like "Earth Angel" and "In the Still of the Night" to contemporary jams like "No Diggity" and "Remix to Ignition."

The Buffers are now looking forward to February 10, when they will resume their Valentine's Day tradition, "Buffergrams." For $5, purchasers can surprise their significant other, favorite professor or even coach with a heart-felt love song. Sign-ups will be held in the Beinecke Student Activities Village from February 7-9 during lunch.