The Great Divorce Author Ilyon Woo to Lecture
---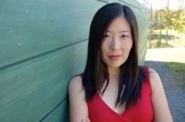 Ilyon Woo, author of The Great Divorce: A Nineteenth-Century Mother's Extraordinary Fight against Her Husband, the Shakers, and Her Times, will discuss her book in a lecture at Hamilton on Thursday, April 14, at 7:30 p.m., in the Science Center's Kennedy Auditorium. Woo used materials from Hamilton's Burke Library Special Collections in doing research for the book, which is the true story of a 19th-century mother's fight to recapture her children from the celibate Utopian sect of the Shakers. The lecture is free and open to the public.

Woo holds a bachelor's degree in the humanities from Yale College and a Ph.D. in English from Columbia University. She has been interviewed by NPR's All Things Considered and The Diane Rehm Show and by the Library of Congress for The Great Divorce, which is her first book.

The Great Divorce has garnered attention from national media outlets such as The Wall Street Journal, The New Yorker, The Washington Post and The New York Times. The book was named a "Hot New Release in History" by Amazon. Reviewer Elaine Showalter in The Washington Post said of The Great Divorce, "Provocative..Woo tells [this story] in nuanced and absorbing detail." The New York Times Book Review wrote "Modern Americans, bombarded with stories of celebrity divorces, probably assume that the tabloid breakup is a recent phenomenon. This lively, well-written and engrossing tale proves them wrong."

Also on April 14, the Burke Library will hold a formal re-opening of the Emerson Rare Book Room, honoring Patsy Couper and Walter Brumm, with a dedication of the Patricia Pogue Couper Research Room at 4:15 p.m. on the second floor landing of the library.
Couper is a long-time benefactor of Hamilton College, who with her late husband trustee Richard Couper '44, established an endowment to fund the director's position for the Burke Library, and supported in other ways the college's library and its collections. Brumm is a scholar whose research focuses on the expansion and disappearance of Shaker communities in upstate New York and how they adapted-- and failed to adapt-- to changing social conditions.