The Honorable Hillary Rodham Clinton is Next Guest in Sacerdote Great Names Series
---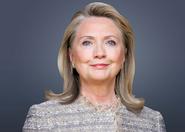 The Honorable Hillary Rodham Clinton, former Secretary of State and former U.S. Senator from New York, will give a free public lecture at Hamilton College on Friday, Oct. 4, at 6:30 p.m., in the Margaret Bundy Scott Field House.
Secretary Clinton served as U.S. Secretary of State from Jan. 21, 2009 until Feb. 1, 2013, after nearly four decades in public service as an advocate, attorney, first lady and senator. Her visit is part of the Sacerdote Great Names Series at Hamilton, named in recognition of a significant gift from the family of Alex Sacerdote, a 1994 Hamilton graduate and current trustee of the college.
As First Lady, Hillary Rodham Clinton advocated for health care reform and led successful bipartisan efforts to improve the adoption and foster care systems, reduce teen pregnancy and provide health care to millions of children through the Children's Health Insurance Program. She also traveled to more than 80 countries as a representative of the United States, winning respect as a champion of human rights, democracy, civil society and opportunities for women and girls around the world.
In 2000, Clinton made history as the first First Lady elected to the United States Senate. As a strong advocate for New York, she worked across party lines to expand economic opportunity and access to quality, affordable health care, including for wounded service members, veterans and members of the National Guard and Reserves. After September 11, 2001, she was a strong advocate for funding the rebuilding of New York and the health needs of the first responders who risked their lives working at Ground Zero.
In 2007 and 2008, Clinton made her historic campaign for president, winning 18 million votes, and more primaries and delegates than any woman had before.
In her four years as Secretary of State, Clinton played a central role in strengthening America's standing in the world and asserting its global leadership. Her "smart power" approach to foreign policy elevated American diplomacy and development and repositioned them for the 21st century -- with new tools, technologies, and partners, including the private sector and civil society around the world.
As America's chief diplomat and the president's principal foreign policy adviser, Clinton spearheaded progress on many of our greatest national security challenges, from reasserting the United States as a Pacific power and imposing crippling sanctions on Iran and North Korea, to responding to the challenges and opportunities of the Arab Awakening and negotiating a ceasefire in the Middle East. She pushed the frontiers of human rights and demonstrated that giving women the opportunity to participate fully is vital to security, stability and prosperity.
Secretary Clinton will be the fourth former Secretary of State to speak as part of the Sacerdote Series, following Colin Powell, Madeleine Albright and Condoleezza Rice. Other speakers in the Series have included President Bill Clinton, who visited Hamilton College in November, 2004, Jon Stewart, Rudy Giuliani, Jimmy Carter, Archbishop Desmond Tutu, Lady Margaret Thatcher, and F.W. deKlerk. In 1998, jazz and blues singer/musician B.B. King was the first artist to appear as part of the series.
Further details about Secretary Clinton's visit and information about group reservations will be forthcoming after Sept. 1. For updated information, visit the Hamilton College Great Names website.