The Hub of Wellness & Fitness
---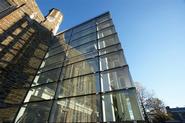 Since its formal dedication at Fallcoming in October, 2006, The Charlean and Wayland Blood Fitness and Dance Center has established itself as the hub of campus fitness and wellness activities.
From wellness lectures and chair massage, to varsity team training and cardio classes, the 33,000- square-foot Fitness Center offers something for everyone. The center hosts smoking cessation, office ergonomics and nutrition workshops, blood drives and flu shot clinics and is home to the Climbing Wall. "The use of the facility is outstanding – we have 300 to 400 people a day coming in here," says Dave Thompson, director of the center and campus wellness. "My hopes for this have been realized far more than I expected."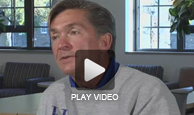 Thompson says the most popular aspect is general fitness, thanks to the center's collection of 75 state-of-the-art exercise stations and the place is "really hopping between 3:30 and 5:30 p.m." Students enjoy the social aspect and particularly classes such as spinning, power yoga and cardiokick. On the more unusual end of the scale, the Center has hosted korfball, cricket, fly-fishing, and recently a Dodgeball tournament. Workshops led by physicians and registered nurses have covered nutrition, stress management diabetes and high blood pressure.

Thompson is open to just about any Fitness Center suggestion that comes his way. "There are really no limits to what we can do," he remarked. "We ask 'will this help people be healthier?' Wellness isn't just about classes and exercise."

The Blood Fitness Center is named for the parents of David Blood '81, the third generation of the Blood family to attend Hamilton. Thomspon credits the Bloods and the College for "having the vision to create this. The result is a better, healthier campus."