The New Jim Crow Author, Legal Scholar Michelle Alexander to Lecture
---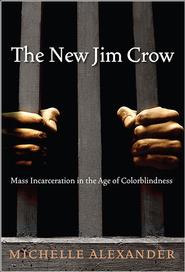 Author and legal scholar Michelle Alexander will present a lecture titled "The New Jim Crow: Mass Incarceration in the Age of Colorblindness," on Wednesday, April 17, at 7:30 p.m., in the Hamilton Chapel. Her lecture, based on her best-selling book of the same title, is part of the Levitt Center's Inequality and Equity series and is free and open to the public.
The New Jim Crow is an account of the rebirth of a caste-like system in the United States, one that has resulted in millions of African Americans locked behind bars and then relegated to a permanent second-class status—denied the very rights supposedly won in the Civil Rights Movement. Alexander argues that, by targeting black men and decimating communities of color, the U.S. criminal justice system functions as a contemporary system of racial control, even as it formally adheres to the principle of color blindness.
Since its publication in 2010, the book has appeared on the New York Times bestseller list for more than a year, been dubbed the "secular bible of a new social movement" by numerous commentators, and has led to consciousness-raising efforts in universities, churches, community centers, re-entry centers and prisons nationwide.

Alexander is a civil rights lawyer, advocate, and legal scholar. In recent years, she has taught at a number of universities, including Stanford Law School, where she directed the Civil Rights Clinics. In 2005, she won a Soros Justice Fellowship, which supported the writing of The New Jim Crow, and that same year she accepted a joint appointment at the Kirwan Institute for the Study of Race and Ethnicity and the Moritz College of Law at The Ohio State University.
Since the publication of The New Jim Crow, the book has been featured in national radio and television media outlets, including MSNBC, NPR, The Bill Moyers Journal, the Tavis Smiley Show, C-Span, and Washington Journal, among others.

Prior to entering academia, Alexander served as the director of the Racial Justice Project for the ACLU of Northern California, where she coordinated the Project's media advocacy, grassroots organizing, coalition-building and litigation.
The lecture is co-sponsored by the Chief Diversity Officer and the Days-Massolo Center.