Three Communication Students Present at State Conference
---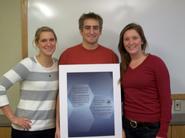 Julia Beaty '13, Becca Hazlett '13 and Greg Newton '14 each presented their papers at the 70th annual convention of the New York State Communication Association on October 19-21, in Ellenville, N.Y.
Beaty's paper focused on how speech communities co-constructed meanings and shaped behavioral outcomes through an analysis of pre-game speeches given by college coaches. Hazlett explored the future of communication technology and its role in shaping the classroom environment. Newton applied ethical theories in communication to the context of conflict to understand how dialogue fosters conflict resolution.
The New York State Communication Association is an organization of faculty, students, and professionals in communication who are dedicated to studying, improving, and applying the principles and practices of communication to all walks of life.