Three Employees Receive Tobin Awards
---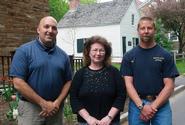 The winners of the Beverly S. and Eugene M. Tobin Employee Awards were announced and employees celebrating significant anniversaries were recognized at Hamilton's 29th annual employee service recognition luncheon on May 20 at Soper Commons.

President Joan Hinde Stewart presented the awards to Director of Web Services Mike Sprague, who was honored in the administration group; Yvonne Schick '13, senior production specialist in the Print Shop, who was recognized in the staff category; and Mike Neidhart, mechanic foreperson, who received the honor in the Maintenance & Operations group.

Employees who had achieved 10, 20 and 30 years of service to the College were also recognized. Mary Beth Barth, director of the critical language program and lLanguage center; Daniel Colter, grounds service worker; Linda Dixon, accounts and records coordinator; Jeannette Fisher, senior counselor, counseling and psychological services, Susan Iffert, correspondence specialist/application processor in Admissions; and Frederick Wampfler, grounds foreperson, were recognized for 30 years of service at Hamilton.

Employees celebrating 20 years of service were Michael Debraggio, assistant vice president for communications; Gena Hasburgh, coordinator, Hamilton programs abroad; Regina Johnson, staff assistant in the Dean of Students office; Yvonne Schick; James Schreve, director of laboratories/head technician; and Robin Treen, custodian foreperson.

The Tobin Employee Awards were instituted in 2006 to annually recognize one representative from each of the College's three non-faculty groups of employees: administrators, staff members and maintenance and operations workers. Monetary awards are made each year from an employee-generated fund established in 2003 to honor Gene Tobin, Hamilton College's 18th president, and his wife Beverly. The fund recognizes the couple's 23 years of service to the Hamilton community.