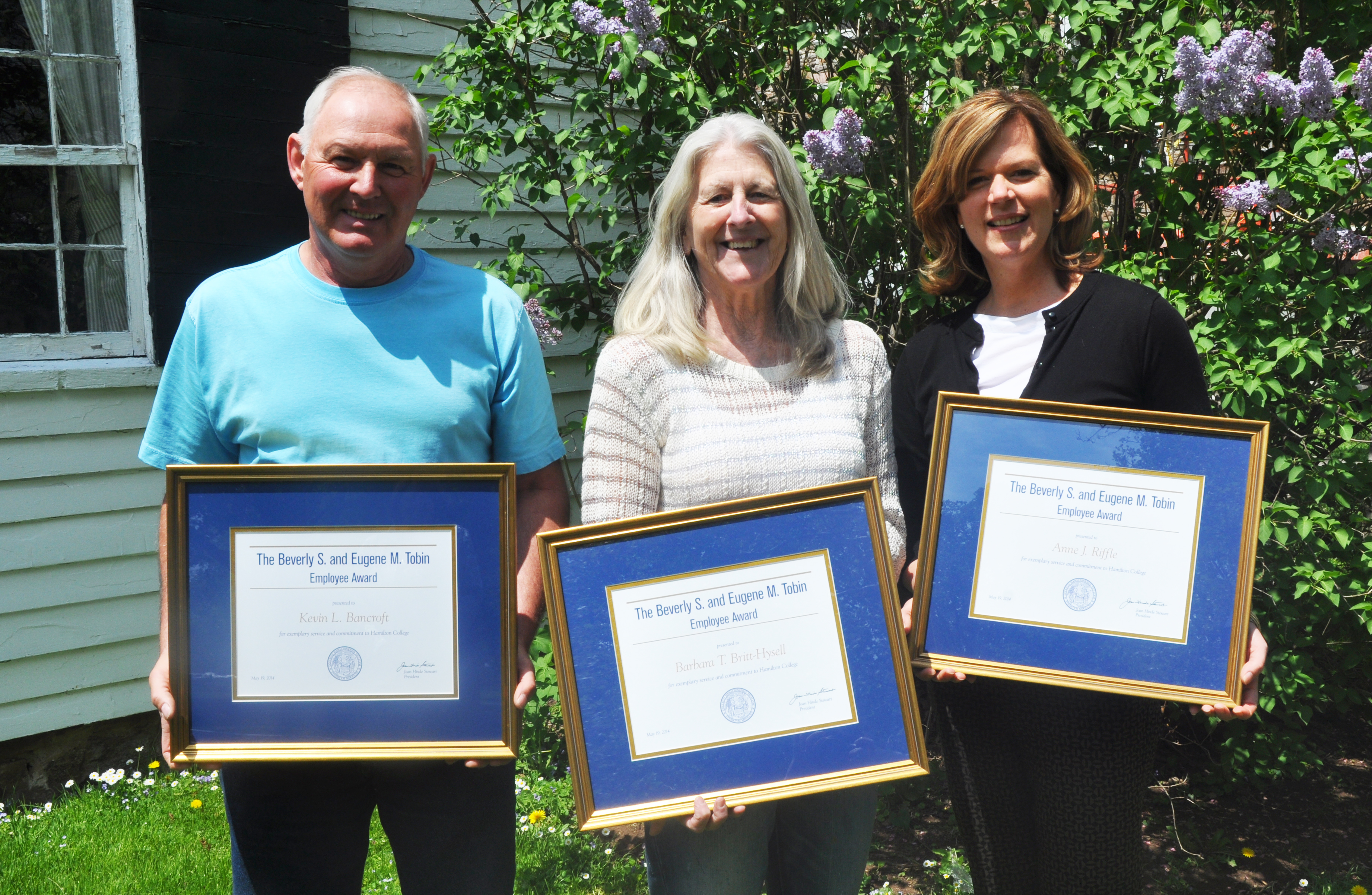 The winners of the Beverly S. and Eugene M. Tobin Employee Awards were announced and employees celebrating milestone service anniversaries were honored at Hamilton's 30th annual employee service recognition luncheon on May 19 at Soper Commons.
President Joan Hinde Stewart presented the awards to Kevin Bancroft, a grounds services worker for Physical Plant in the Maintenance and Operations group; Britt Hysell, coordinator of the English for Speakers of Other Languages (ESOL) Program department in the Dean of Faculty Office, who received the honor in the Administrator category; and Anne Riffle, staff assistant for advising in the Registrar's office, who was recognized in the Staff category.
Employees who had achieved 10, 20, 30 and 40 years of service to the College were also recognized. Diane Brady, staff assistant for registration; Linda Webster, work control assistant in Physical Plant; and Deborah Wood, print shop supervisor, were honored for 40-year milestone anniversaries.
Employees honored for 30 years of service were Physical Plant's Kevin Bancroft; Jim Doolen, ground service worker; Registered Nurse Diann Lynch; and Research and Electronic Resources Librarian Lynn Mayo.
Glynis Asu, research and instructional support librarian, was recognized for 20 years of service.
Those celebrating 10 years of service were Mary Colis, science stockroom and facility coordinator; Kimberley Hutchins, senior assistant in Athletics; Vice President and Dean of Admission and Financial Aid Monica Inzer; Yulah Jarvis, housekeeper; Mark Kinne, carpenter foreperson; stockroom assistant James Maida; custodian Pamela Merriman; Lisa Nassimos, student service assistant and office coordinator for the Chaplaincy; Victoria Palmer, office coordinator for the Career Center; and Maureen Scoones, associate director of IT process improvement and education.
The Tobin Employee Awards were instituted in 2006 to annually recognize one representative from each of the College's three non-faculty groups of employees: administrators, staff members and maintenance and operations workers. Monetary awards are made each year from an employee-generated fund established in 2003 to honor Gene Tobin, Hamilton College's 18th president, and his wife Beverly. The fund recognizes the couple's 23 years of service to the Hamilton community.